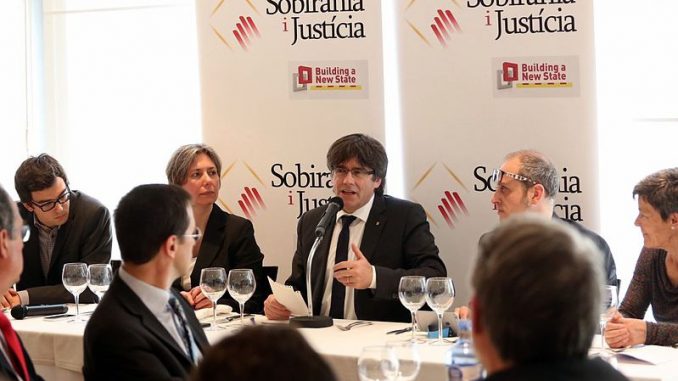 Pig Demont, the Andalusian company that Puigdemont tried to stop, has announced it would be changing name to be able to keep selling its products. 
Artículo disponible en Español | Article disponible en Français
Pig Demont, an Andalusian company selling pork-derived products, has decided to change its name to "Pig De Montes" (Pig Of Hills), due to not being able to register its older name and logo at the Office of Patents and Trademarks. A lawyer of Puigdemont opposed the registration, opposition that was appealed by the Andalusian entrepreneur. At the beginning of this month we found out the final decision of the Office, which refused the registration of said name and logo, as they looked very similar to the Catalonian ex-president currently on the run.

Now, Pig Demont will be called "Pig De Montes" and a flag of… Catalonia has been added to the new logo. The entrepreneur has also announced he would be opening the new website Monday 23rd of July, as well as new products, such as the pig's leg Pig De Montes, the wine "Rufián – Variedad charnego", Iberic sausages "Los Congresistas", wine "Queentorras" and supposedly an oil named "El Puchi". In a few words, all what a Spaniard needs in his kitchen to be… Spanish?

The only thing missing is a cheese named "3%", and then we'll have all the products of the Catalonian independentism. 
With Puigdemont in liberty, somebody should send him souvenirs from Spain, and what better souvenir than a good pack of products of Pig De Montes. But, obviously, the one paying should be Puigdemont, with his 3%, as that's our money.

To see all these products, the website is here.
More on this subject: