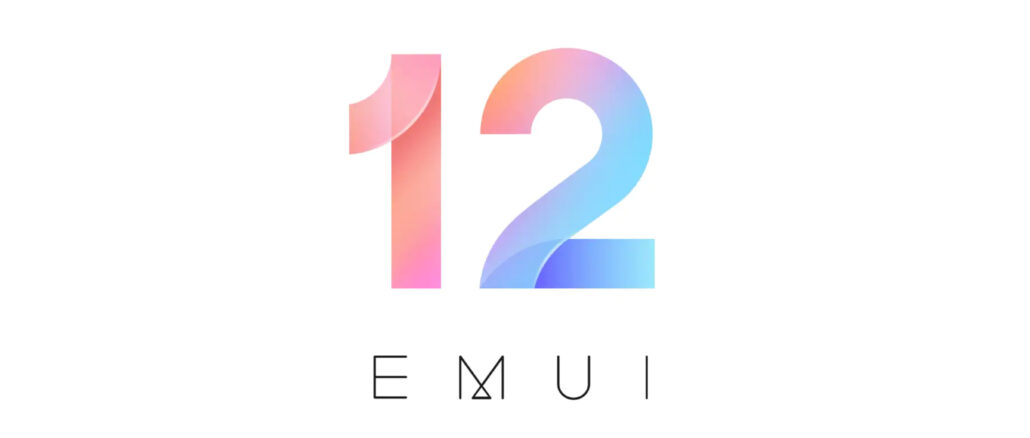 Huawei's Mate Xs has just received EMUI12, bringing new key features such as multi-device and further system optimizations.
Artículo disponible en Español | Article disponible en Français
A year ago, our Huawei Mate Xs [European model, TAH-N29m] received EMUI11, bringing some of the initial features of Huawei's "All scenario" concept. With EMUI12, the manufacturer now makes a huge jump and adds some of the key features to realize this vision, such as multi-device (renamed to "Device+"), an improved overall design to the UI, multiple new features and further polishing to the overall system, making it smoother and faster.
It is important to note that most of the features and design choices found on EMUI12 are directly based on Huawei's HarmonyOS2 operating system, which, for whatever reason, has so far been limited to the Chinese market. We have been able to experience HarmonyOS2 in more detail, due to owning the Chinese variants of both the Mate 40 Pro+ and the MatePad Pro 12.6" (2021), with both having received HarmonyOS2 in mid-2021.
Yet, while Huawei limits HarmonyOS2 to the Chinese market, most of the features have now been added to European models through EMUI12, with features such as "Device+" actually being compatible between different models of different regions. For instance, and as we'll show further in this article, we were able to connect and use our Mate Xs directly from the MatePad Pro 12.6" (2021), which runs the latest version of HarmonyOS2.
But first, let's have a look at the update itself and the patch notes. This major update changes the version from TAH-N29m 11.0.0.206(C432E2R2P1) to TAH-N29m 12.0.0.218(C432E4R2P4) and is 4.73 GB in size. The security patch before the update was December 1st, 2021, and remained as such after the update.
As per usual before installing a large system update, it is important to backup the device, just in case the update goes wrong and forces the user to reset the device. Backups on Huawei can be easily made through either the Huawei [Mobile] Cloud or Huawei HiSuite on a PC.
The patch notes read as following:
This update introduces EMUI 12, providing you with an intuitive interface and a multi-device section in the Control Panel for a better smart collaboration experience.
Innovative Interaction

[Font]

Supports more flexible font adjustment, allowing you to adjust the size and weight with a slider.

[Neumorphic Design]

Applies the concept of neumorphism to UI elements by using simple color tones, shadows, and highlights to create a more realistic effect.

[Smart Folders]

Supports touching and holding app folders on the home screen to enlarge them for easier access to the apps within them.

[Notification Panel and Control Panel]

Allows you to swipe down from the top left side of the screen to access the Notification Panel to view notifications, and from the top right side to access the Control Panel to use shortcuts.
Adds an audio control section to Control Panel, making it easier to switch between different audio devices and audio apps.

Smart Life in All Scenarios

[Cross-Device File Management]

Supports accessing documents or images on your phone using a laptop without having to connect the two devices with a data cable.

[Huawei Share]

Improves the transmission speed of Huawei Share for faster file sharing between Huawei phones, tablets, and laptops.
Once the update installed, we are welcomed with a series of updated service statements for the many services the manufacturer offers on its devices, such as Huawei AI Life, AI Touch or AI Lens. These service statements simply inform the user that, in order to provide said services, some information is shared with Huawei's subsidiary in Europe, Aspiegel SE, based in Ireland. These services can still be enabled/disabled later down the line. We recommend enabling them all, as they greatly improve the overall user experience with many added, useful features.
After accepting/rejecting the updated service statements, we are shown a short summary of the new features brought by EMUI12, such as being able to enlarge folders, the new notification panel and the new control panel with "Device+". Huawei also provides more information, details and recommendations via their application "Tips".
The homescreen hasn't really changed between updates, with the main change being how the notification and control panels are accessed. The Notification Panel can be accessed by swiping down from the top left, while the Control Panel can be accessed by swiping down from the top right, a major change from how this was done previously, and taking several days to get used to.
Moving on to one of the main new features of EMUI12, we find multi-device, called "Device+" on European models. This feature allows quickly connecting and controlling other devices, be it smartphones, tablets, wearables or other IoT devices, as long as a few conditions are met: the devices have to be compatible with this new feature, logged in with the same Huawei ID and connected to the same WiFi network. Furthermore, Bluetooth is needed to connect between smartphones and tablets. The feature can be accessed through the Control Panel, or via the Settings on the dedicated section "Device+":
Once all the requirements fulfilled, the device is added to the list of nearby, compatible devices, with our Mate Xs recognizing the MatePad Pro as compatible and available to connect to, despite the Mate Xs being a European model and the MatePad Pro 12.6" (2021) being the Chinese variant running HarmonyOS2:
As it can be seen, the Huawei Mate Xs is now connected and displayed on our Huawei MatePad Pro 12.6" (2021), allowing us to fully control the smartphone, without having to use this one physically. This allows users to access documents on one device without having to move them to the other one, using communication services such as WhatsApp, WeChat, etc while watching movies or browsing on a tablet, so on and so forth. Furthermore, the screen doesn't need to be on while all of this is happening, and users can decide which device to use to play sound, with the default being the device the screen is being streamed on (in this case, the tablet). "Device+" also allows other more impressive things, such as launching games on the smartphone and then playing them full-screen on a tablet, with minimal latency, which can greatly enhance the gaming experience on some types of games.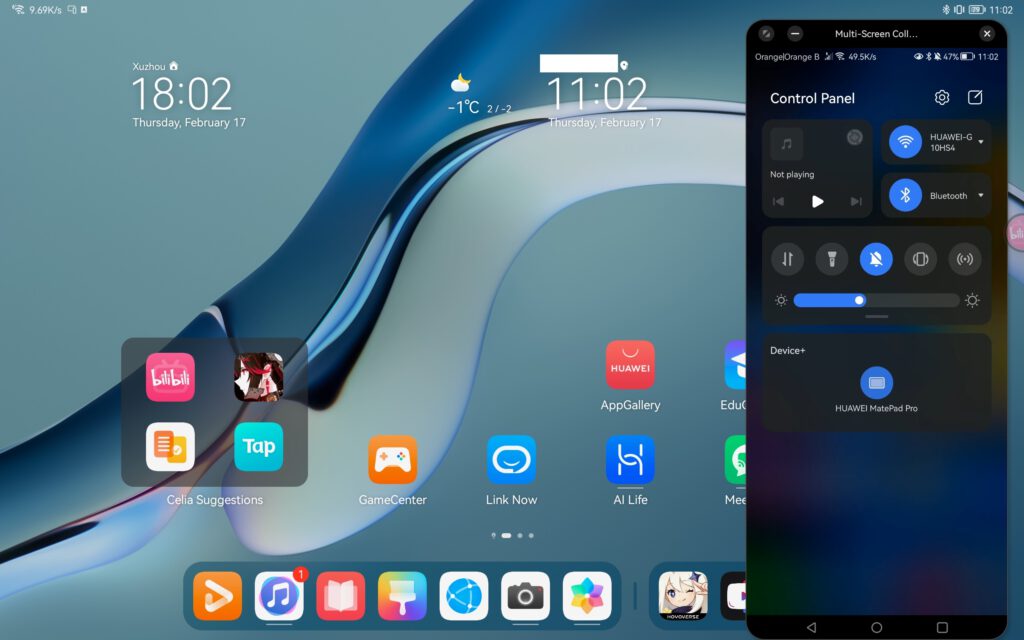 While the screen is being shared, the tablet also works normally, with all the features still accessible. The connection between devices can be cancelled or switched directly from the Control Panel, and, if necessary, the screen sharing can be minimized, similar to how floating apps can already be minimized and then resumed in a single tap.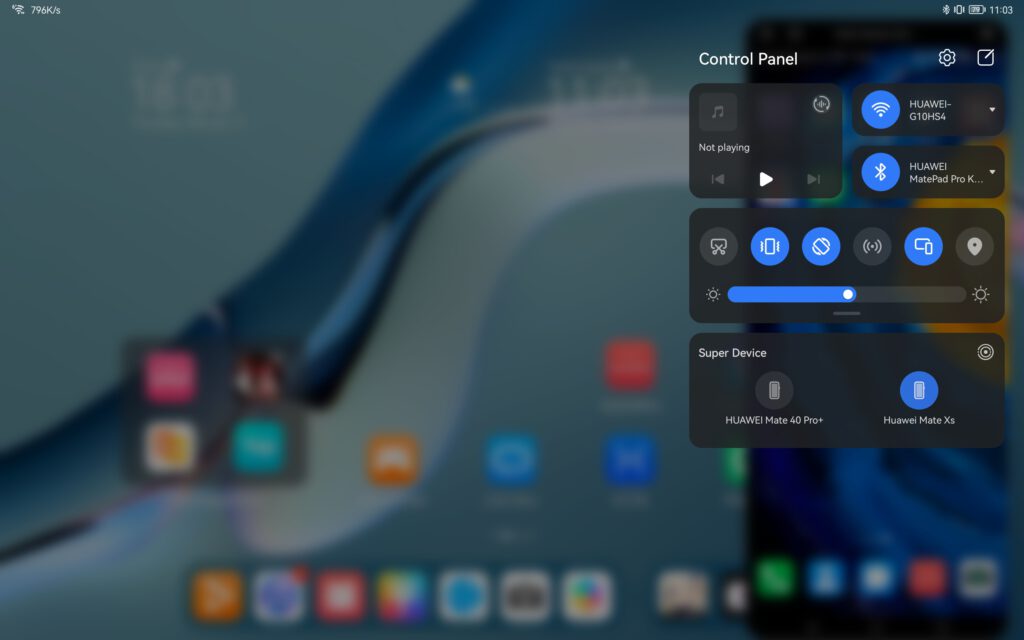 Even more impressive, "Device+" is optimized for foldable phones, recognizing when this one is folded or unfolded, and thus displaying the correct version on the tablet:
Another change is further customization of the UI, now allowing users to have folders of different sizes, which, in turn, allows for more possibilities, such as cramming more apps in a single screen and accessing them without even opening the folder itself:
As previously mentioned, while multi-device is called "Device+" on EMUI12, on HarmonyOS2, and thus Chinese models, the feature is actually called "Super Device", a more fitting name: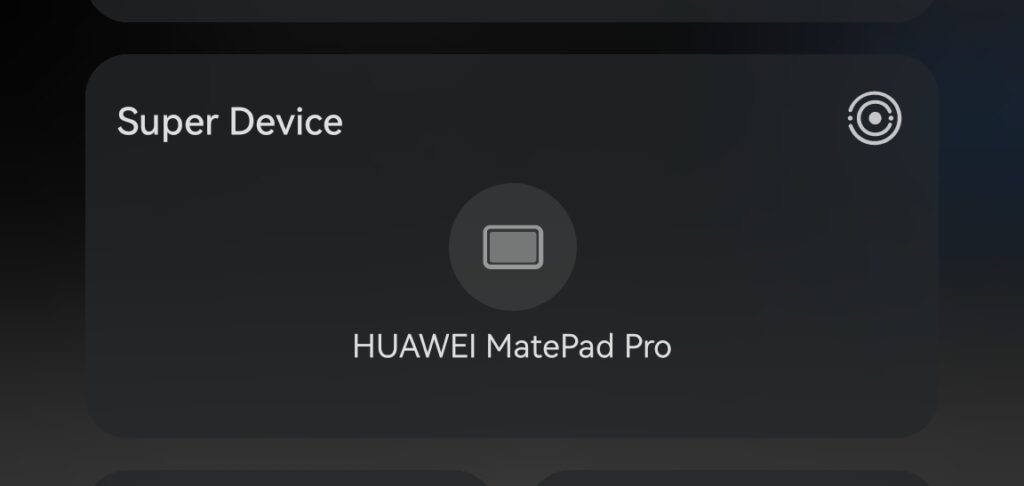 Ultimately, this is the only difference between both versions, with even the UI being identical between the Huawei Mate 40 Pro+ and the Huawei Mate Xs:
In conclusion, with EMUI12, Huawei gets closer to its ideal of a world where everything is connected, greatly improving and simplifying the connection process and interactions between different devices. On top of this, EMUI further refines the overall UI, while bringing many new little settings that allow for further customization of the settings, allowing users to further tweak their experience. Yet, the manufacturer refusing to get rid of EMUI and directly replacing it by HarmonyOS is a strange choice, providing customers outside of China with a cut-down user experience, as HarmonyOS includes a few extra features and more complete services overall.
Regardless, we are happy to see that "Super Device"/"Device+" is compatible between Chinese and global versions, and can only hope that this "invisible barrier" between Chinese and global versions on Huawei devices continues to be blurred, until eventually completely removed.
More on this subject:​