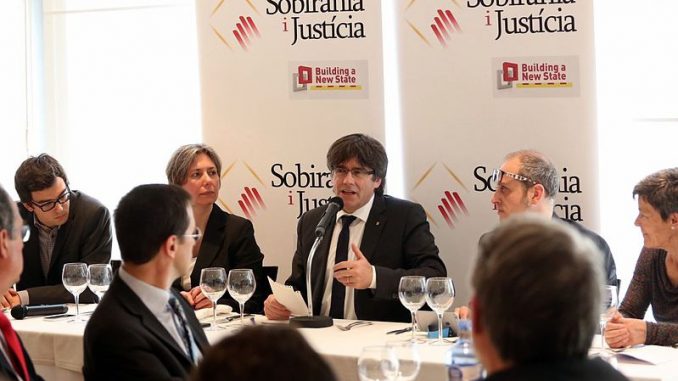 After various weeks of waiting, the German prosecutor has asked the extradition of Puigdemont to Spain. Only the decision from the court of Schleswig-Holstein is missing, but this one doesn't seem very convinced with the Spanish arguments. 
Artículo disponible en Español | Article disponible en Français
Friday the 1st of June, while Sánchez was celebrating his victory over Rajoy, the German prosecutor asked the extradition of Puigdemont to Spain. The prosecutor has confirmed agreeing with the charges of rebellion and misappropriation of public funds, charges under which Spain issued the European arrest warrant.

The prosecutor has also asked putting back Puigdemont in jail, claiming that there is a considerable risk of him fleeing.

Puigdemont was arrested at the end of March, after entering Germany while coming back from a visit from Finland. After a short stay in prison, he paid the 75 000 euros of bail, and chose to live in Berlin until the court decided whether to extradite him or not. The court has one month to give an answer to the prosecutor. We should remind that this court already refused two petitions of extradition from the German prosecutor, alleging that the crimes Puigdemont is being charged of are not serious enough.

Until now, nobody had asked how a man that made around 140 000 euros a year as president of Catalonia could afford renting a house in Waterloo (Belgium), house that costs 4 400 euros a month, a new residence in Berlin and, on top of all this, paying 75 000 euros of bail to leave the jail. In theory, Puigdemont has the right to an ex-president wage, which is around 80% of his old pay. In total, this would be 112 000 euros a year, or 9 000 a month. But Puigdemont refused this wage in November.

The government is currently investigating how the fugitive can afford all these costs, fearing that public money is being used. For now, both Puigdemont, his friends and party claim that all is legal and that they are living on public donations from politicians and party-members. On top of this, he claims he is given this money regularly in cash.

But in reality, it seems Puigdemont and his friends, even if they like to laugh of Bárcenas and company, are being financed with the famous Catalonian "3%". 
More on this subject: