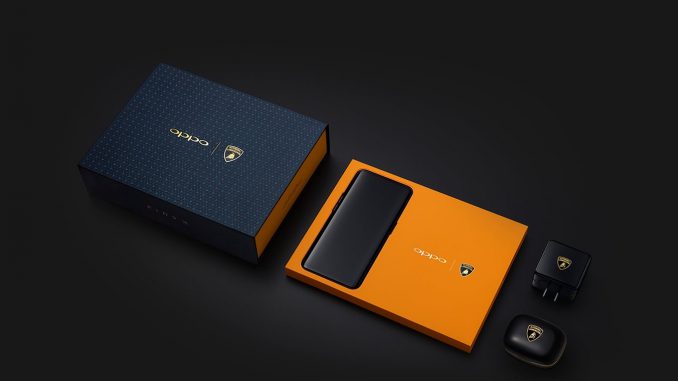 The title says it all. Oppo will be releasing a Lamborghini branded smartphone, similar to Huawei's collaboration with Porsche Design.
Artículo disponible en Español | Article disponible en Français
Oppo just announced their newest flagship, the Oppo Find X, raising the price of flagships even higher, to 999€. But what caught the attention of most people, and what we are interested in, is the Lamborghini branded version.

At first, people laughed at Huawei's partnership with Porsche Design. Now, after 3 smartphones released under Porsches' branding, with the Mate RS being one of the most interesting smartphones this year, it seems other brands have noticed the cash cow, and decided to start milking it.
The latest smartphone manufacturer jumping on the luxury car… bandwagon? Trend? Chinese manufacturer Oppo, currently the second largest manufacturer in China (behind Huawei and in front of Xiaomi), and 5th by global market share.

This article focusses on the Lamborghini version, but we'll cover very quickly the Find X. Here are the specs for the base model:
AMOLED display, 6.42 inches, 93% screen-to-body ratio, 1080*2340 pixels
Android 8.1 Oreo, ColorOS 5.1
Qualcomm Snapdragon 845, with Adreno 630
256GB Internal Storage, supports microSD
8GB RAM
Dual camera (16+20MP) with AI, selfie camera is 25MP, has 3D face recognition
3730 mAh battery
999€
Available in Western Europe in August
It does include some fairly interesting things, such as the top of the phone slides up? Pops up? Revealing where the dual camera is housed, thus allowing the phone to get this theoretical 93% screen-to-body ratio. The solution is rather innovative but does add an additional point of failure to the smartphone.

The version we are interested in is the Lamborghini Edition. This is, indeed, a partnership with the Italian car manufacturer. The design of the Lamborghini Edition is slightly different, with a textured back, supposedly in carbon fibre, 512GB of internal storage, with no microSD card option, the logo of the Italian company on the back, and SuperVOOC fast charge, promising a full charge in 35 minutes. The battery on this version of the Find X is only 3400 mAh, instead of the 3730 mAh on the regular version.

The full name of this version is supposedly "Oppo Find X Automobili Lamborghini Edition" and will cost 1699€.

Curiously, neither the Oppo Find X nor the Lamborghini Edition have the following:
Fingerprint sensor (replaced with just face unlock)
3.5 mm headphone jack (has Bluetooth 5.0)
Wireless charging
IP67/IP68
At 999€, compared to other, cheaper flagships, who include most of these options, the Find X already seems to be… a bit overpriced. The Lamborghini Edition… for those who dislike Porsche, sure, why not.

Now, the question is, which smartphone manufacturer will be next to jump on this trend? Xiaomi with a Ferrari-branded version? Apple with a Tesla variant? Samsung with a… KIA branded smartphone? Who knows?