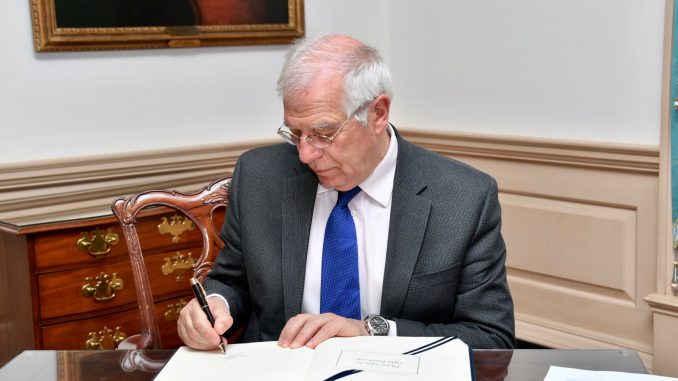 The Government of Sánchez (PSOE) has chosen Josep Borrell as minister of Exterior.
Artículo disponible en Español | Article disponible en Français
Josep Borrell, a Spanish politician from Catalonia, currently 71 years old, has been chosen as minister of Exterior for the new government of Pedro Sánchez. We can consider Mr. Borrell as a veteran, as he was minister under the government of Felipe González from 1991 to 1996, as well as secretary of State of Hacienda, and even president of the European Parliament from 2004 to 2007.

Borrell is also well known by the independentists, as he is opposed to the idea of Catalonian independence, to the point of having criticised them negatively a few times.

As per usual, Puigdemont criticised the decision from Germany, as these events took place nearly a month ago. The truth is, if Puigdemont is so interested in Catalonian politics and wants to form the Spanish government himself by selecting the weakest people, threatening the stability of the country, why doesn't he come back home? Llarena will be waiting for him with open arms and with a big, Spanish prison cell, where he can live, paid by the state, during a few weeks or even months, if that's what he likes. Or years, if Llarena decides he is guilty of what he is being accused of.

Imagine that after robbing the Spaniards for years, with the 3%, and wasting it on lawyers in Germany and Belgium, as well as Belgian fries and waffles, the Puchi could keep living (behind bars, true) from the pocket of Spanish citizens, without wasting a single cent.

While he remains in exile, what is the point of his criticism, if he can't do anything for 20 years? In 20 years he will be old, a bit like Borrell, but the difference will be that Borrell will be remembered for his work, while Puchi… who is he again?

The poor man with Andalusian origins should take a break from Twitter and think about his future. If he decides to come back home, well, whatever, he should tell us beforehand and pick a bottle of wine Rufián, or a bottle of Queentorras, Spanish reserve, to be able to properly celebrate his return. In the other case, he should abandon the political scene and leave the independentism in peace, as they are already planting crosses for the funeral of the movement, though yes, those yellow crosses, people have little respect towards them. It seems some vandal drove over some of them, but, at the end, there are so many that it doesn't even matter.

But whatever, with or without Puchi, what matters is having Pig De Montes, representing the unity of the country, as well as a good cooking oil such as El Puchi, to cook all Spanish meals. 
More on this subject: