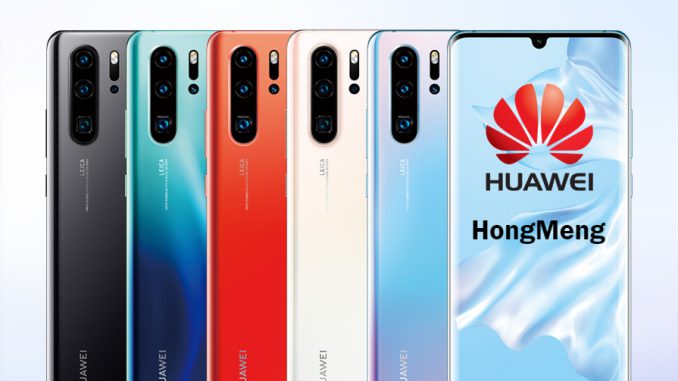 Huawei recently submitted various trademark applications in the European Union for their new operating system.
Artículo disponible en Español | Article disponible en Français
It is no secret that Huawei has recently been in trouble, with the US government adding the Chinese manufacturer to their entity list, essentially restricting business between US companies and the Chinese telecommunications giant. This "ban" not only affects hardware, such as Intel or AMD CPUs or AMD and Nvidia GPUs, but also software, such as Google Services and the Google Play Store. In the current situation, Huawei is unable to install the Google Play Store and Google Services on new devices, with no official confirmation on whether the recently announced Honor 20 series will come with Google's services out of the box or not. The company also managed to obtain a 90 days delay on security updates, which means current users will stick get Google security patches for at least three more months. Other companies such as Microsoft have also recently announced the end of their relationship with the Chinese company, meaning Huawei will be unable to release products such as laptops running Windows 10, and most likely, servers running Windows Server or services based on Azure.
Moving on to the information available, it has been known for a long time that Huawei was working on their own Operating System, as a replacement for Android. Huawei is not the only company doing this, with other manufacturers such as Samsung having in-house solutions too, theirs being Tizen. Huawei already presented, back in October, LiteOS, a lightweight operating system for their smartwatches, but also used in IoT devices. A different OS has been mentioned though, first referred to as "Kirin OS" and now called "HongMeng OS". According to what has been said, this new operating system has been in development since 2012, and will be gradually deployed to smartphones, laptops, wearables, tablets, TVs, and even cars, by the end of this year, 2019, or early 2020.
According to the various sources, Android applications are compatible with HongMeng OS, which could mean it is a "fork" of the open-source Android, although other information points it has been based on Linux. This OS would also use Huawei's EROFS (which stands for Extendable Read-Only File System, and not "Erotic file system", as some have joked about, although this later name would be quite funny to use) file system, which has been in development for at least over a year now. HongMeng also uses "Fangzhou compiler", with most information concerning this compiler available only in Chinese. From the little that has been said, this compiler is used to compile and run applications on this new OS, and has a few advantages over the compiler present in Android, allowing applications to load faster. On the other hand, Huawei's Fangzhou compiler might come with various downsides, such as taking longer to install applications. From our understanding, this compiler is not exclusive to Android OS, and can run on other platforms. An easier and more "international" name for Fangzhou compiler is "ARK Compiler" (thank you to the reader who pointed this out!), which launched with the P30 series and EMUI9.1 in China, with the company claiming the system is 24% more fluent, and system responsiveness is 44% better.
According to the company, Huawei's ARK Compiler (in Chinese, Fangzhou compiler) has been in development since 2009, and launched in April of 2019, although, as previously mentioned, it is currently exclusive to EMUI9.1 in China, due to issues with Google. As the ARK Compiler affects the way Android works, replacing some parts of Google's code, the American company has agreed to let Huawei use it inside the Chinese market, where Google's services are banned, meaning devices running EMUI9.1 outside of China do not feature this novelty.
Coming back to EROFS, EROFS is a complement to existing read-only file systems, focusing on performance instead of focusing on trying to save as much storage space as possible. File systems handle how the data is written and read on the device, of which most actions done by the user depend, such as how fast the device can boot, saving pictures and high-definition videos, etc. Currently, Huawei uses F2FS, originally developed by Samsung, as file system, instead of competing solutions such as Ext4, used by other manufacturers. As already mentioned, Huawei's file system has been under development for over a year, with the team in charge rewriting entire parts of the code, stating that the system is far from ready.
[Update: an earlier version of this paragraph claimed Huawei's EROFS replaced F2FS. This is a mistake on our side. In fact, EROFS complements F2FS, and is mainly used when opening applications, so these open up to 20% faster as shown on Huawei's marketing material for EMUI9.1. We apologize for any confusion created.]
Now that we are done explaining Huawei's new Operating System, let's come back to the title of the article: according to various Chinese websites, Huawei's HongMeng OS has recently been trademarked in China, with the application submitted at the end of August 2018 and accepted the 14th of May of this year, 2019. Meanwhile, inside the European Union, it can be seen on EUIPO's website that Huawei applied for the trademark on "Huawei HongMeng" the 14th of May, meaning they applied the same day they received approval in China, and submitted a different application on the 22nd of May for "HongMeng".
You can find the application information for "Huawei HongMeng" here.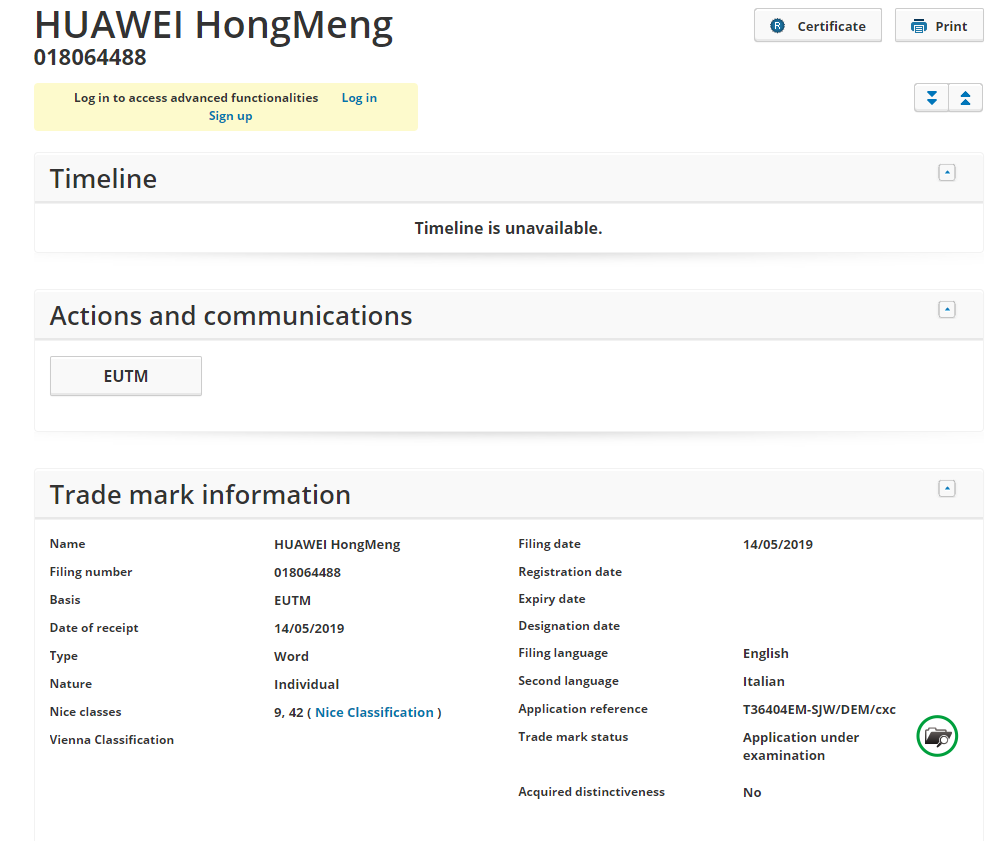 For "HongMeng", the information is available here.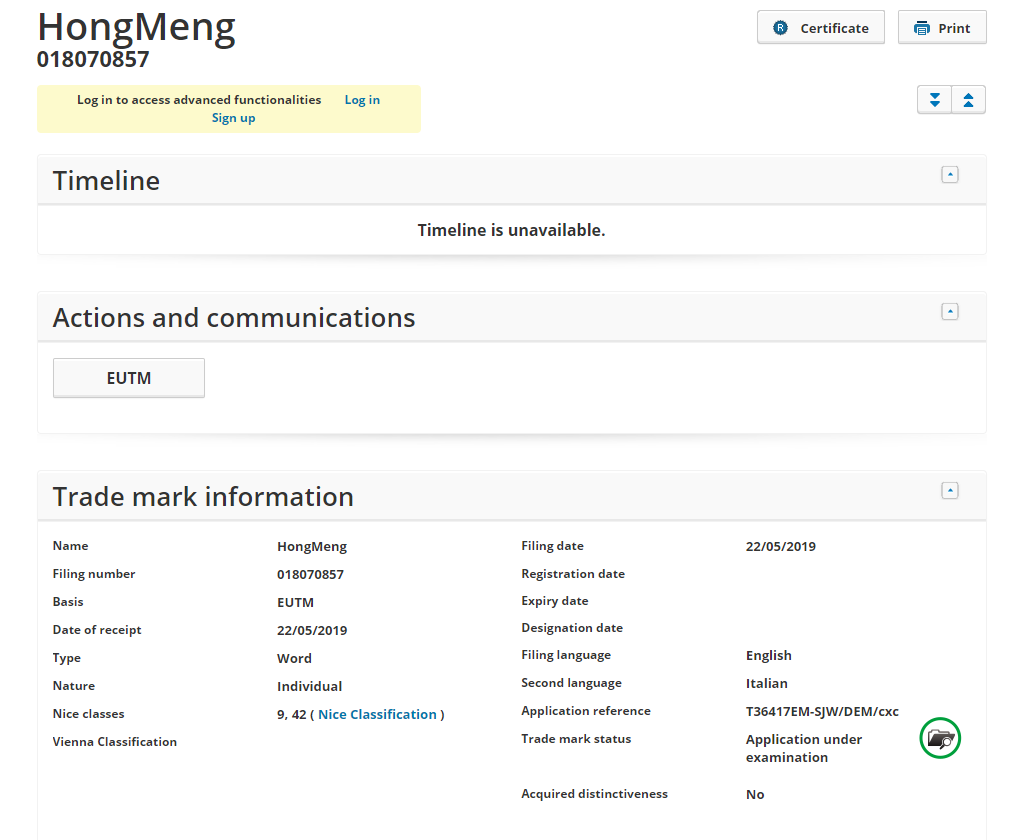 Both words are submitted under the same "Nice classes" (a classification system of the European Union for goods and services) 9 and 42, which cover most software and hardware, but most importantly, specifically cover "Operating systems" and "development of operating system software", as can be seen here:

But this is not all. The company did not stop there, submitting applications for three other trademarks, being "Huawei ARK Compiler", "Huawei ARK" and "Huawei ARK OS", all three submitted the 24th of May. All three were also submitted under the Nice classes 9 and 42, with the categories being "compiler software" and "design and development of compiler software and operating systems for electronic devices […]":
Lastly, Huawei also submitted an application on the 20th for the word "Huawei MateWindow", and Nice classes 9, 36, 38, 41 and 42:
Nice class 9 mainly relates to hardware and technology
Nice class 36 mainly relates to financial services, such as insurance, payment services, etc
Nice class 38 mainly relates to telecommunication services, in which Huawei's Enterprise and Carrier divisions specialize in
Nice class 41 mainly relates to education, entertainment and sports services, as well as translation, although Huawei seems to have specifically chosen the entertainment category with streaming as a focus, as well as the education category for training and others
Nice class 42 mainly relates to IT services and science/technology, with Huawei selecting mainly consultancy options related to the Enterprise and Carrier divisions.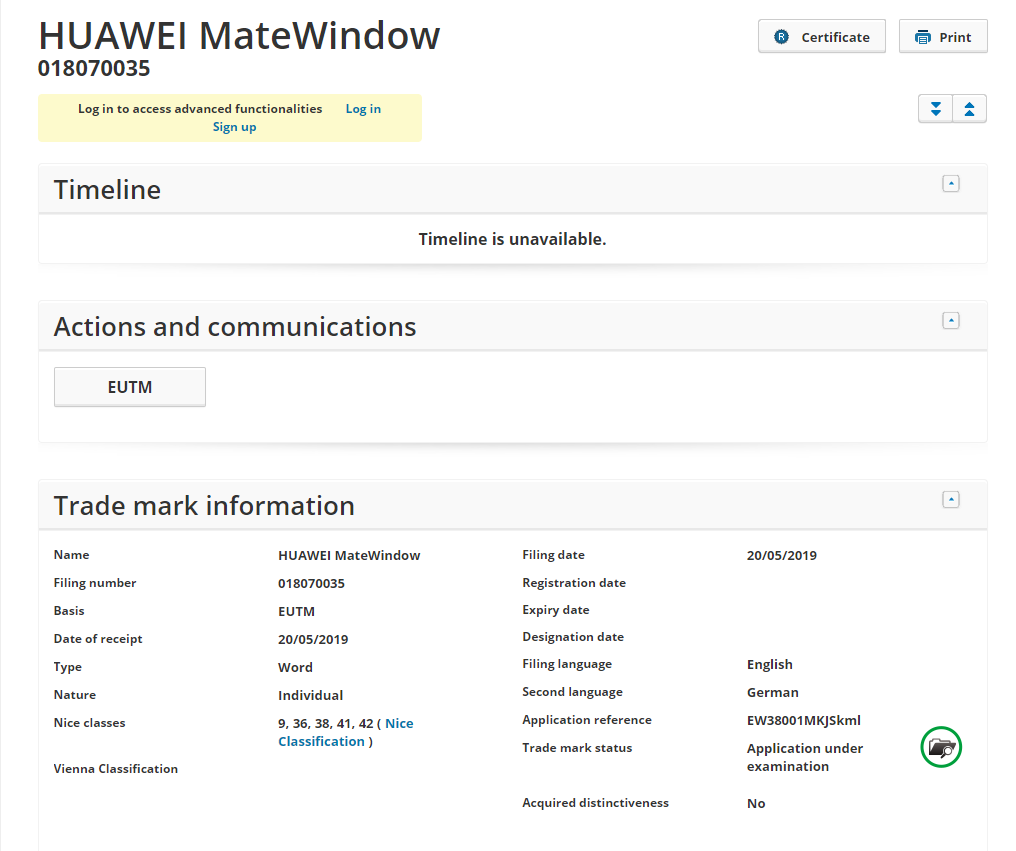 It is unclear what this "MateWindow" could be, although it looks like some kind of software or knowledge base/portal focused on servicing Enterprise/Carrier customers.
In general, applications at the EUIPO are examined rather quickly, and will be published if the application contains no mistakes. Once published, individuals and companies have up to 3 months to file an opposition, in case they believe the trademark would affect their own trademark(s) or create confusion. This is something that has happened with Huawei's AI Cube, with now both Huawei and the company who opposed the name trying to justify their reasoning:

If no oppositions are made, Huawei should be granted the trademark on the words submitted in roughly 3 to 4 months, which would correspond to the end of this year, when they supposedly intend to launch and start deploying HongMeng OS on their devices.
It is unclear whether the current "ban" on Huawei will last until the end of the year, with Trump mentioning sanctions could be lifted in a trade deal with China. It is also unclear whether Huawei would be successful with their own OS, with other companies having tried in the past, such as Amazon, and failed miserably, due to the importance of Google's services in our daily lives.
It is also unclear whether Huawei will launch their HongMeng OS at the end of the year if the ban is lifted, taking in account it is most likely not ready for launch and commercial use. If the ban is lifted, this would give the company extra time to continue polishing their operating system. From what was previously said, HongMeng OS would have eventually replaced Android on Huawei/Honor devices sold on the Chinese market, as these do not rely on Google's services, with each manufacturer having their own version of the Google Play Store. For devices sold outside of China, the story is different, seeing Google wants to keep ARK Compiler to a market it has no access to. There has already been a similar precedent to this one, being Alibaba's AliOS, although that is an entirely different subject, which we might look into in the future.
More on this subject:​