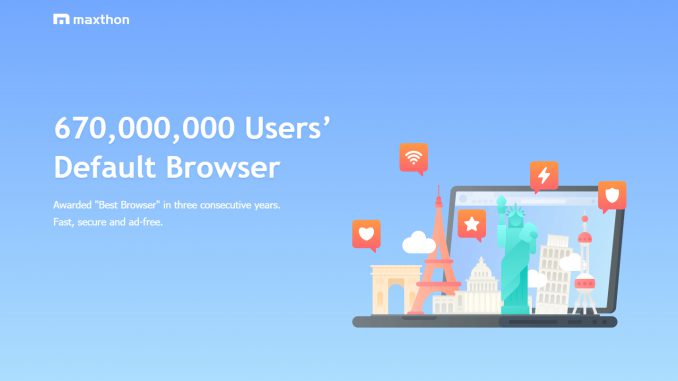 Maxthon Browser has just received an update, further improving the UI and page load speed, as well as improving the download manager.
Artículo disponible en Español | Article disponible en Français
Maxthon Browser, also known as Maxthon Cloud Browser, is one of the many alternatives to Chrome, Firefox or Microsoft Edge. Most users are most likely hearing of this browser for the first time, so a small introduction is probably needed: Maxthon Cloud Browser is a Chinese-developed browser that has been around since 2005. It is in 2012 that the "Cloud" version was launched, allowing users to save favourites and others on an account, and easily load them on a different machine or smartphone, an advantage no other browser had back then. The browser also allowed easy sharing of websites, images or even links. The functionalities have since been expanded, allowing users to write and backup notes to their Maxthon account. Over time, many other functions have been added, such as a free password manager, called Passkeeper, and a free virtual mailbox, UUmail, allowing users to create "shadow mailboxes" to keep their personal e-mail safe from spam.
Maxthon also includes many other tools out of the box that other browsers do not have, unless the user installs plugins, such as an integrated adblocker, a screenshot tool to screenshot either specific parts of a website, or entire pages, an integrated video downloader working on pretty much all websites, a rather comfortable and advanced download manager, a resource sniffer to download pretty much everything of a specific website, and many other options.
All of these options make for a robust browser adapted to advanced users requiring specific tools for their work, such as us at DRSC Publishers/DRSC Media, as this allows us to sync our favourites on multiple devices and carry out our work without needing to do extra steps, screenshot images or download videos without needing to use other tools such as Paint or downloader websites, etc.
Finally moving on to the main subject of this article, Maxthon has just received an update, although for some reason it would seem this one was actually released in December 2018, which is rather curious, as we only got the notification a few days ago. This update changed the version from v5.2.3.4000 to v5.2.6.1000, with the patch notes stating the following:
-Improved the UI experience, fully changed the version
-Improved function experience and browser stability
+Added Maxthon translation v2.0
+Added the button that the favorites can be added to quick access
+Added the function that the opened tabs can be saved after switch accounts
+Added the pre-rendering function, improved the web page loading speed
For the UI experience, the only difference we've found so far is the downloader, which has been improved quite a lot. The download state is now displayed next to the rest of the tools, and the download manager has a lot more options, instead of just pausing/deleting the download or viewing the file. Contrary to Chrome, the download manager opens on a separate window, making it easy to keep an eye on the download status, instead of cluttering the browser space for nothing and forcing the user to keep track of multiple downloads via a fixed tab on the browser itself.
Curiously, the patch notes seem incomplete, most likely due to us skipping a large number of updates. The patch notes for v5.2.6.1000 state the following:
+Improved the UI of download manager
+Improved the fill function of Gmail (Save the form manually)
-Failed to load the print page in ultra-mode
-Failed to display the value of datalist of developer tools
-Failed to log in to 163 email after disabling the cookies
-The proxy settings couldn't save the total characters
In any case, for those interested in downloading this alternative to Chrome or other existing browsers, Maxthon is free and can be found here.
More on this subject:​