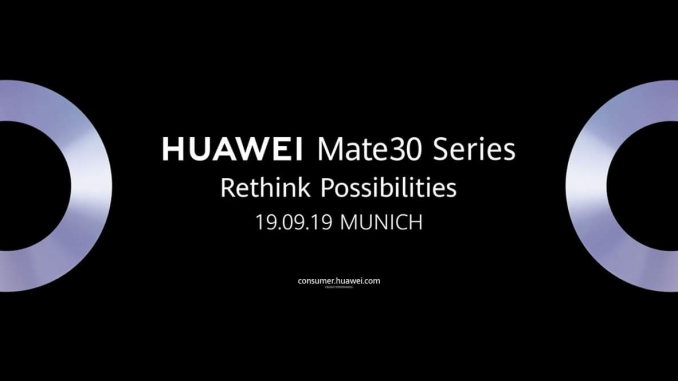 This past 19th of September, Huawei unveiled their Mate 30 series in Munich, after having teased on social media the new devices over the previous few days.
Artículo disponible en Español | Article disponible en Français
About a week ago, right after unveiling their new high-end SoC, the Kirin 990, Huawei started teasing the launch event of their new series, the Mate 30 series, just as they did last year. The company posted a series of short videos with a short title, such as "Rethink connectivity" or "Rethink charging". These titles followed the IFA2019 Kirin 990 unveiling, letting consumers and fans guess what they meant. Of course, this article is published after the announcement of the new devices, thus we know what they each were hinting at.
The first video, published on the 10th of September and titled "Rethink connectivity", also mentions "Go fast go large", and was a reference to the addition of 5G on the Chinese manufacturer's series:
On the 11th, the company teased their new camera and night mode, under the title of "Rethink darkness" and specifying "Look beyond the light":
On the 12th, the teaser released was titled "Rethink speed", with "See time differently" mentioned. While initially this could have been a reference to the faster SoC (Kirin 990 instead of Kirin 980), it would turn out this clip was promoting the new slow-motion feature on the Mate 30 series:
On the 13th, it was the turn of "Rethink charging" and "Power through speed". This is linked to the faster 27W wireless charging introduced on the Mate 30 series:
On the 14th and the 15th, the company teased different products, with the Watch GT 2 confirmed on the 14th, and a new Porsche Design device, the Mate 30 RS, confirmed the following day through a teaser.
The following days were a bit less exciting, as the style of the teasers changed. This one, from the 16th, confirmed 5G once again, 3 days before the event:
The teaser posted on the 17th is, once again, the slow-motion camera:
Finally, the teaser posted the day before the launch event, on the 18th, hinted, once again, at a better experience in the dark:
The company also released a short video showing clips filmed with the Mate 30 Pro, a day before launch:
Finally, yesterday, the 19th, right after the unveiling of the new models of the Mate 30 series, Huawei published two videos, one for the Mate 30 (Pro), and another one dedicated to the Mate 30 RS Porsche Design:
We've covered in detail each device launched, as well as the new accessories, such as the Watch GT 2 or the FreeBuds 3, in individual articles, which should be available right after this one.
Here are some promotional pictures of the new Mate 30 RS Porsche Design and the Mate 30 series:
More on this subject:​