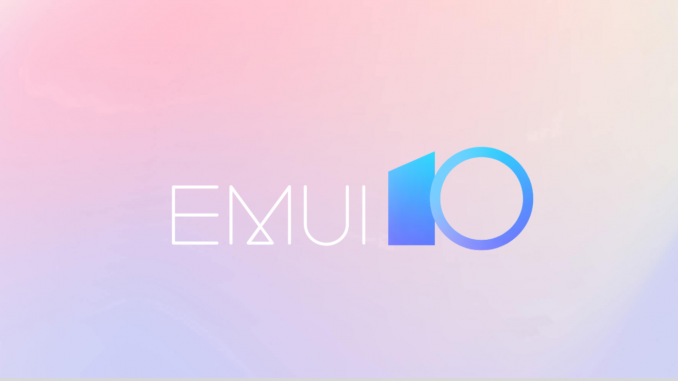 After an extended beta, Huawei's P30 Pro has finally received the new Android 10 update, together with EMUI10.0.
Artículo disponible en Español | Article disponible en Français
This year, Huawei deployed the new Android OS update faster than in past years, announcing it in August in China and launching a beta in September in Europe. Now, the final version of EMUI10 is currently rolling out for the P30 Pro, as well as various other models such as the Mate 20 X and the Mate 20 Pro. The speed at which Huawei has been deploying this new variant is quite surprising, with devices such as the P20 Pro or the Mate RS Porsche Design having had to wait until the end of December 2018/beginning of January 2019 to receive Android 9.0 "Pie"/EMUI9.0.
Of course, the speed at which Huawei has been deploying this new update could also be interpreted as the commitment of the brand towards its customers, proving that they do care about us up to a certain extent, contrarily to Google that abandoned us as soon as they were told to do so.
Regardless, putting aside our differences with Google, this new version introduces a new design for the notification panel, small changes on the camera UI, a new design in the settings and slight changes on some of Huawei's applications. Most of these application changes were introduced over the past few weeks, affecting mostly Huawei Health, Music and Themes. In the coming days, we'll be publishing a more detailed article about the changes introduced in EMUI10.
Now, as per usual before a major update, it is recommended to backup all the user data and make sure the device has enough battery left.
This final version of EMUI10 pushed to consumers comes in two packages, one seeming to be the beta and the second package being likely a fix for most, if not all, the issues listed.
The first package changes the version from VOG-L29 9.1.0.224(C431E4R2P2) to VOG-L29 10.0.0.168(C431E19R2P5) and is 4.47GB in size.
The patch notes for the first package read as following:
This version is designed for you to experience new software features in advance, thus giving us feedback for further software improvement. Below are known issues with this version that may affect your daily use. Do not install this update if you frequently use the apps or features concerned.

Some banking apps are not compatible with Android 10. This issue can be resolved only after compatible app versions are released.

Some instant messaging apps are not compatible with Android 10, and may encounter issues when sending images. Restart the app to fix this issue.

Silent mode will be enabled by default for notifications from instant messaging apps if you disabled sound and vibration alerts for them before installing this update. The alert mode can be modified in the app settings according to your preferences.

For apps with the App twin feature enabled, this update might allow the twin app to read Messaging content. Disable and re-enable the App twin feature to fix this issue.

The screen might flicker in certain situations when playing PlayerUnknown's Battlegrounds (PUBG). Set a non-HDR resolution or restart the game to fix the issue.

Samsung watches might automatically disconnect from your phone after a certain period. This issue will be resolved in a later version.

30x zooming by pinching out with two fingers might occasionally fail. Drag the zoom slider or restart Camera to fix this issue.
User interface: intricate and breathtaking
Magazine Design

Incorporates a magazine-style layout, for a more comfortable and authentic reading experience.

Morandi Colour

Understated grey tones make for a gentler and more comfortable display.

Animations

Dynamic, naturally-based animations for page transitions, app launches, and other scenarios.
Performance: stable and smooth
GPU Turbo

Improves the smoothness and stability of the system when playing games.

Phone Clone

Improves the connection and cloning speed.
Security: more secure data and privacy
Formally verified microkernel

Uses Huawei's own self-developed microkernel design, certified as the most secure OS kernel for commercial use.

Distributed technology

Improves security when connecting to other Huawei devices, as well as when transferring files between and storing data on other Huawei devices.

Privacy protection

Supports app sandboxing capabilities for standardised app permission management and more secure data and privacy protection.
Media and entertainment: more fun
AppAssistant dropzone

Adds a dropzone for AppAssistant, allowing you to quickly access services such as game acceleration and do-not-disturb.
The second package changes the version from VOG-L29 10.0.0.168(C431E19R2P5) to VOG-L29 10.0.0.168(C431E19R2P5patch01) and seems to be included in the overall size of the first package.
The patch notes for the second package read as following:
This update fixes an issue where certain user interface elements would be incorrectly displayed in some situations.
So far, we haven't encountered any issue with this new update.
Curiously, while it is not listed in the patch notes, the device claims to have Google's security patch for the month of November 2019: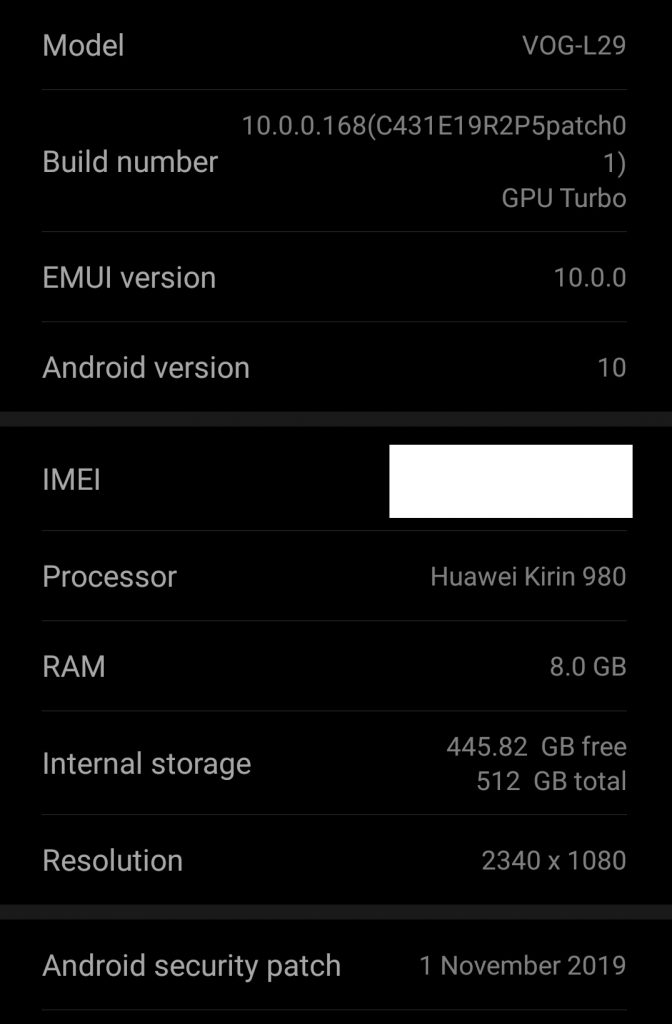 It is also possible to downgrade to EMUI9.1 via HiSuite. We've published a guide on how to downgrade to the previous variant, which includes a series of recommendations. Please keep in mind that downgrading to a previous EMUI version will erase all the personal data on the device, so a backup is required beforehand (unless the user wishes to lose all their data).
More on this subject:​