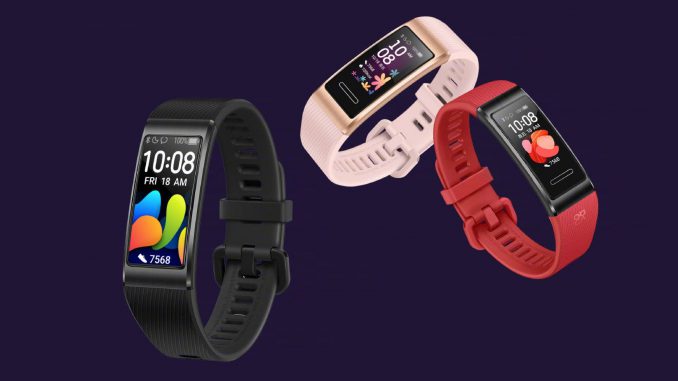 Together with the launch of the Nova 6 series, Huawei unveiled a new connected band, the Band 4 Pro.
Artículo disponible en Español | Article disponible en Français
Yesterday, at the launch of Huawei's new Nova 6 series, the company unveiled various accessories and new variants of existing products, such as the FreeBuds 3 in red or a special edition of the Watch GT2. The manufacturer also unveiled a new connected band, the Band 4 Pro, which packs quite a lot of interesting features, although many of these are only useful in China.
First, if we start by the specifications of this new product, the Band 4 Pro comes with a tactile 0.95" AMOLED display with a resolution of 240*120 pixels. The body of the watch is made of metal, with a silicone strap. Users can also pick between over 100 different downloadable watch faces, with more coming in the future:

Furthermore, the Band 4 Pro is available in 3 different colours, being Obsidian Black, Cherry Red and Sakura Pink:

Functions-wise, we find the usual Huawei sport features, with the Band 4 Pro supporting 11 different sports-mode, both indoor and outdoor. The band also supports Huawei's TruSleep 2.0, used to track the users' sleep and can recommend on how to improve it with over 200 different recommendations. At the same time, the band can measure oxygen saturation levels in the blood (SpO2) anytime, anywhere, as well as the heart rate.

The band also comes with an independent GPS, allowing users to track their location without the need of having the smartphone nearby. This means it'll be easier to perform some specific exercises such as running or swimming, without having to worry about the smartphone. On top of this, the Band 4 Pro also has NFC, supporting contactless payments, and is compatible with Alipay. This NFC functionality also allows users to store access cards, such as access cards to their homes, garages, etc, as well as public transport, such as buses and subways, with the public transport services of over 250 different cities supported in China.

The Band 4 Pro is available on pre-order since yesterday and is launching the 12th of this month in China for 399 yuan [~50€]. As per usual, it is unclear whether this product will come to Europe although, seeing most previous bands made it here, there's no reason this model isn't eventually released on our continent.
As a last mention, it appears Huawei is not scared about the number "4" anymore, following the release of the Nova 4 series and now the Band 4/Pro, contrary to what we had claimed over a year ago.
More on this subject:​