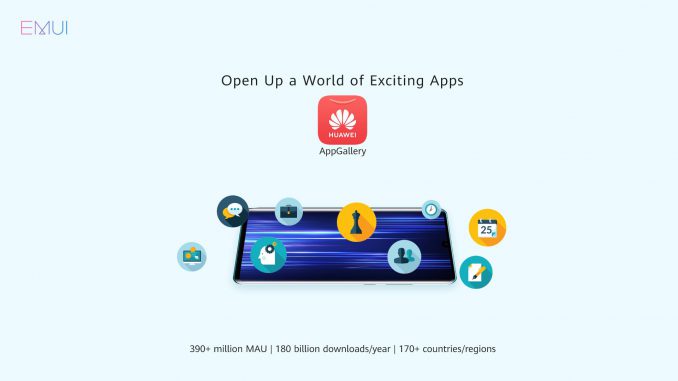 AppGallery has been rapidly changing, with improvements made to its presentation.
Artículo disponible en Español | Article disponible en Français
Huawei has been hard at work, improving their app store as fast as possible in order to welcome the few new users that do not have access to the Google Play Store, in other words, those that have bought a Mate 30 Pro in Europe.
While until now Huawei limited themselves to promotions to push users to try AppGallery, with regular gifts in mostly games, the company is now going a bit further, with a small redesign in the presentation of the store. While most of these changes are minor and have been gradually introduced over the past few months, once combined, the user experience is now very different than it was three months ago.
For instance, the search function now displays an application name, with this one changing every few seconds. We also have a dedicated section for Quick apps, which can be found at the bottom of the welcome page of the store.
In terms of "new" sections, we now have a "More cool apps" area, which mostly lists big, popular games that have been released on AppGallery, as well as a few apps here and there with other uses, such as video editing:
Not exactly new, but improved, is the "Top collections" area, which used to display a few sections with Huawei's mobile services, apps using Huawei's AI Engine "HiAI", or "Try & Buy" apps:
Now, various new categories have been added, with a collection of apps for new users or a collection of social media applications:
Interestingly enough, the "New user kits" changes depending on the country and language of the user, with, in our case, the kit being for Belgian users. When checking with a device in Spain, the kit displays some common apps, but others are indeed aimed at the Spanish market, such as the football app "La Liga", the newspaper "El País" or the dictionary "RAE":
Finally, it is worth mentioning some big applications have made their way to Huawei's app store, such as Microsoft's Office apps, or even Snapchat. Sadly, for Snapchat, this one doesn't (currently) work on the Mate 30 Pro, with both Snapchat and Huawei having recently signed a cooperation agreement to bring the app to new Huawei devices that do not use Google's mobile services in the near future:
Some of Huawei's moves are clear, with the manufacturer rushing to offer customers a decent store and ecosystem that can compete against Apple and Google, in time before the launch of their next flagship series in March of this year, the P40 series.
More on this subject:​