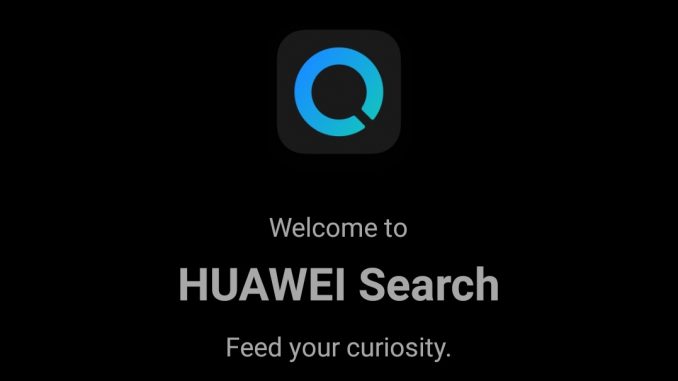 Huawei is currently working on their own version of a search engine for their devices, probably replacing Google's default search function in the near future.
Artículo disponible en Español | Article disponible en Français
It has recently come to light that Huawei is currently testing their own search engine, with a beta carried in the Middle East. While this beta was restricted to a specific geographic zone, users could still download the application through an official Huawei link and try for themselves the application. Sadly, it would appear the attention it has received over these past two days has pushed Huawei to delete the APK and take down the servers used for this service, unless the beta is already finished. Regardless, we were lucky enough to take a few screenshots while this one worked, thus allowing us to have a detailed look at the service and application.

Overall, the intent behind this application is clear: with Huawei unable to work with Google on new models, the company is now trying to build their own ecosystem and fully replace everything Google related, with, for example, the Huawei Assistant/HiBoard replacing the usual Google Feed, and the Huawei Browser replacing Chrome. Now, Huawei Search should be replacing Google Search in the future.
First, the version we managed to download is 1.0.2.112, with the file initially located here. While it isn't possible to download the APK anymore, and the service doesn't work anymore, the application can still be installed and all the settings work properly, except for the search. Next, this application comes with both a light and a dark mode. Initially, one would think the dark mode is linked to the device, but it appears this is not the case. On an EMUI9.1 device with dark mode, the application uses the light mode. One needs an EMUI10 device with dark mode for the application to also have dark mode. While this is a weird design choice, it might just be due to this app being in beta, and eventually fixed later down the line.
Coming back to the installation process, Huawei Search collects the usual information seen on most of the other Huawei apps, such as account and device information, with the application actually using the Huawei ID from the user. Next, the application asks for a series of permissions. While initially one would wonder why the browser would need access to the messages, contacts or calendar, it turns out that Huawei Search not only searches the internet but also the device… a bit like Huawei HiVision. As per usual, for us Europeans, the company in charge of our data is Aspiegel Limited, one of Huawei's subsidiaries, with this one being in charge of Huawei Mobile Services in the European region.
Since we are talking about this, Huawei's strategy is rather confusing, as there are more and more applications that have similar yet radically different functions. For instance, the Huawei Assistant and Browser both serve news, while Huawei Search and HiVision both allow users to search the device and the internet, although with a different presentation, with HiVision opening the browser when performing internet searches. One could wonder if the company will end up combining different services, such as Search and Browser fusing into a single application, but we don't know for now. Anyway, once all the permissions accepted, we are presented with, well, a search engine with… news recommendations… overlapping with the Huawei Assistant and Browser. The Search comes with a few quick accesses, being Weather, Sports, Unit converter and Calculator. When tapping on the "Search" tab, we are shown a "Top searches" section, a "View full history" option as well as the possibility of disabling this "Top searches" feature and the search history:
We will leave the third tab, "Me", for later, and actually check out the search function. This one is… not that great. Building a search engine in this day and age is rather difficult, due to the amount of content to index and classify, meaning that, in all likelihood, Huawei is using the services of a third-party company, or, in other words, this search engine is actually a different search engine repackaged with Huawei's branding. This is not uncommon, with companies such as Ecosia or Qwant actually using Microsoft's Bing to provide their services. However, we've been unable to figure out which company they are using for this service, with the open source licenses section not mentioning anything. We only ran a few basic searches, since we didn't think the application would stop working, so we don't have much to show. Overall, a search for "elpais" returned a series of videos first, which is a curious choice. Scrolling a bit, we can see we actually found the right page, although the summary is rather curious. Once again, this might be down to "work in progress":
We also find a "Videos", "News" and "Images" tab, which, at this point, is standard in most search engines. Each pulls a series of results, although there's a lot to say about these results…. Starting by the videos, these come from YouTube, but they are not from the newspaper. Instead, it is some channel that has been using some reading software to post read versions of "El País" articles on YouTube. The "News" tab brings some articles from the newspaper but mixes in some other results. Lastly, the "Images" are a mess. While these probably come from the newspaper, they are all hosted/linking to unrelated websites:
In our next example, things don't really improve. When searching for our website and typing "drscmedia", the search fails to find anything related to us and instead brings up something completely unrelated, asking whether we wanted to say something else. When changing the spelling to "drsc media", it manages to find our website, although it redirects users to two different tag sections, "Huawei" and "android", instead of our homepage. The third result is completely unrelated to us but still about us. Here, curiously, all the images come from our website, which makes the previous blunder rather interesting:
For our third and last example, we searched, of course, "Huawei". The Search managed to find all the information, giving a short summary from Wikipedia, in a similar way to what Google would do, and even showed the phone number of the Spanish offices of Huawei. Lastly, a series of articles were also displayed:
As it can be seen, the Search function is far from perfect, but it does work more or less. However, for this one to be really usable, a lot of work is still needed. Ultimately, Huawei Search only needs to be able to return most of the general results, as the average consumer doesn't look for much information or very specific information. For those of us that require extremely precise information, the best bet is still Google, regardless of how much we might hate the American corporation. Now, if we come back to the tabs and check out the "Me" section, we find, once again, quite a lot of similarities with other Huawei apps, such as the Huawei Assistant. Here, we see with which Huawei ID we are logged in, the search history, settings, the possibility of providing feedback and an about section with the version app and the legal information:
In the settings, we are presented with various options, being language and region, safe search, search scope and the ability to enable or disable storing our search history on our device. If we start looking at the most curious settings, the "safe search", this one is essentially a filter to exclude specific content, being, in this case, mostly adult content. In other words, pornography. If disabled, we will be getting the "raw" results, which is probably what anybody above 18 might want. "Moderate" will filter out adult images and videos, but not text. If anything, and depending on how this works, this could be interesting for those having questions about their sexual health and wanting to read more about it, but not wanting to find porn-related results. The last setting is "Strict", filtering out all types of adult content, being text, images and videos. Not having been able to test these settings, we do not know how well they work and which parameters these filters use to block content, so they might just be a hit or miss. For the "Search scope (on device)", this is essentially what we were talking about earlier, about HiVision. With this function, the Search will also bring up results from the device. If one is looking for a specific SMS or an appointment on their calendar, they can go through Huawei Search, but, once again, this is slightly redundant, as one could just go through HiVision directly:
The last setting to look at is "Language and region". For some reason, Huawei loves to divide their content by regions and languages, which, ultimately, leads to indirect problems, such as the Huawei Assistant not showing any news if the language and region of the device do not match. In this case, this setting appears to limit the search to a specific language or country, bringing that content in priority, in a similar way to what Google already does with their search engine. For now, the language and region selection is quite limited, with only a few of Huawei's main markets displayed, although this is a beta and, once again, it was originally being tested in the Middle East:
While Huawei Search is in beta in a specific region, there's no word or clear timeframe on when it will be coming to Europe. The company appears to have been speeding up development of their ecosystem in recent times, with the Huawei Browser, Huawei Assistant or even Huawei Video all receiving regular updates and starting being preinstalled on new devices such as the Mate 30 Pro. At the same time, it is known Huawei intends to launch most of their services (Huawei Music/Video) before or around the launch of the P40 series, likely in a bid to convince a few more customers that their Google-free devices are actually worth the investment and adaptation effort.
More on this subject:​