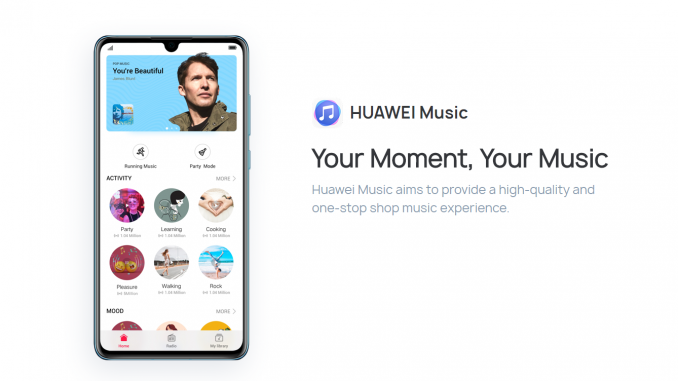 Huawei has just launched a beta for their music streaming service in Europe, Huawei Music.
Artículo disponible en Español | Article disponible en Français
Two weeks ago, we reported that Huawei had launched a beta for Huawei Video in Europe, expanding the availability of this service to the rest of the continent, as this one was already available in Italy and Spain for over a year. Now, the company has launched another beta through their "SmartTest" application, for the streaming version of the Huawei Music app. The brand is likely running these tests in preparation for a global rollout of these services, matching with the launch of the P40 series at the end of this month.
Already in 2018, Huawei launched their Huawei Music streaming service in the Middle East, thanks to a partnership with a key regional music company. In China too, users have access to a wide selection of artists, music titles and genres. We've tested this one on a Huawei Mobile Services device with a Chinese Huawei ID, and many well-known Western artists are present on the service, covering the most popular music currently available. Sadly, smaller or more genre-specific artists return no results, showing that the Chinese version of the service is targeted towards a Chinese audience and not an international one. Of course, for the European version, these limitations will likely be resolved, as it can be seen with the partnership between Huawei Video and Filmin in Spain. As a reference, here's a quick overview of the Huawei Music application in China:
Coming back to the beta, Huawei describes this one as "Huawei Music is a music service for Huawei mobile device users. It aims to provide a High-quality and One-stop shop music experience. Users can check out more than 50 million latest and coolest songs in New Releases and Music Buzz, discover curated playlists and premium Music radios. With Huawei Music, music lovers can enjoy music anytime anywhere. Please help us test Huawei Music service":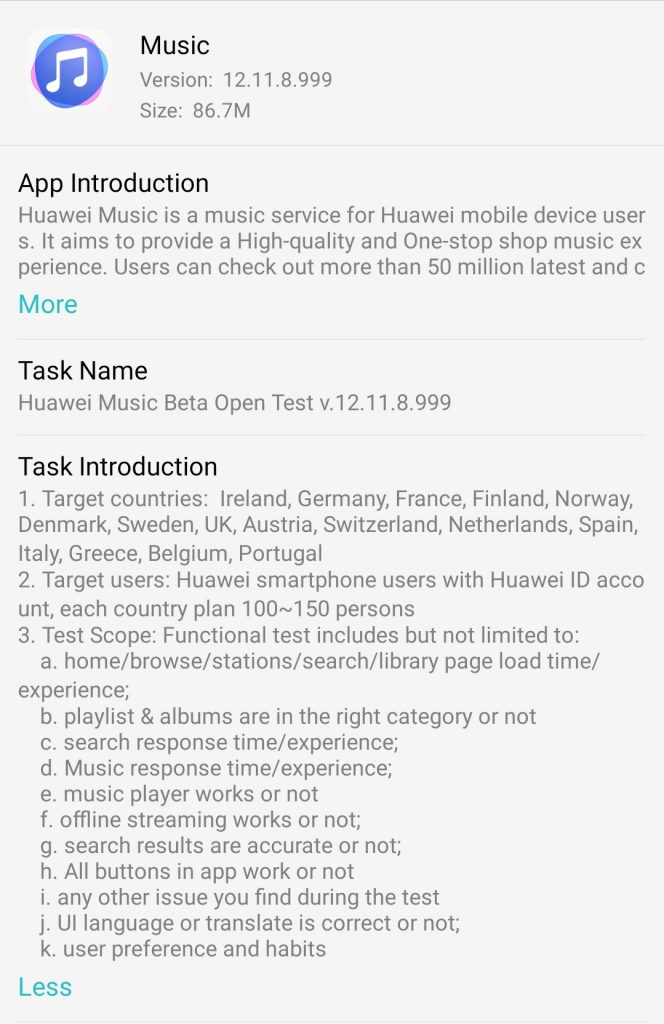 The version number of this beta is 12.11.8.999, with the file size being 86.7 MB. Contrary to the Music Video beta, the Huawei Music one is open to more countries, including Ireland, Germany, France, Finland, Norway, Denmark, Sweden, UK, Austria, Switzerland, Netherlands, Spain, Italy, Greece, Belgium and Portugal. The beta has a quota of 100 to 150 users per country, which is not much, although these users are required to test the various functionalities of the application. For instance, these tests include whether the home, browsing, stations, search and library all work and load properly, if the playlist and albums are in the right category, whether the music player works properly, including the loading time and streaming quality and if users are able to save and listen to music offline. Furthermore, the company is also expecting users to report whether the search results are accurate or not, whether all the buttons in the application are functional and leading to the correct sections, as well as if the UI is properly translated. Of course, if users find any other issue, they can also report them.
This time, it's not clear what the company will be giving in exchange for testing this service, with the previous beta rewarding users with Huawei Points. The beta will also be running from the 28th February to the 10th of March 2020.
Curiously, this time around, Huawei did not advertise the beta on their social media channels or the Huawei Community forums, contrary to the Huawei Video beta. While we do not have an exact answer as to why, this might be due to the beta itself not working properly, as the installation continuously fails. We've also tried installing this beta on other devices, and the result is the same each time, with the beta refusing to install, claiming there's already a package with the same developer signature on the device. With this information, we've concluded the company probably made a mistake somewhere and will publish a new version at a later stage.
To end this article, it is unclear whether European users will actually use this service at all, as their behaviour is slightly different compared to China. For instance, while Chinese users rely mostly on their smartphone, European users still use other devices such as computers, laptops, tablets or televisions, which pushes most people to rely on a service such as Spotify which can be used across multiple different devices. Meanwhile, Huawei Music, just as Huawei Video, is locked to Huawei's ecosystem and thus devices, meaning it can only be used on Huawei smartphones, tablets or, more recently, Huawei's smart TV, the Huawei Vision. Laptops, for now, seem excluded from this ecosystem, although newer models do come with some integration options such as screen sharing.
On the other hand, and from experience, many consumers also seem to stick to what is present on their phone, without installing or looking for alternatives, leading to the current Google services dominance in the Android environment. This could give Huawei a small share in the music streaming market, currently dominated by big names such as Spotify, Apple Music, Amazon Music or Google [YouTube] Music.
Edit: article updated on the 8th of March 2020 with pictures of Huawei Music [China].
More on this subject: