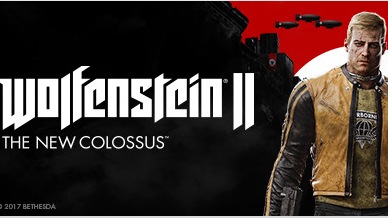 In two days, the new Wolfenstein comes out. And I kinda pre-ordered it for "free". Without really being interested in it.
Artículo disponible en Español | Article disponible en Français
A new Wolfenstein game is coming out the 27th October, "Wolfenstein II: The New Colossus". We've seen many ad campaigns around it, some are even questionable, while others are the usual stuff for video games. A trailer with mostly action and shooting.

I recently bought the new RX Vega 64 card, and got with it two free games, the new Prey and Wolfenstein II. For those interested in those two games, it's not a bad deal, as it's around a 100 euro in "free" games. Which is why I say I "kinda" pre-ordered it, as I didn't technically pay anything for it.

Let's go back to the new Wolfenstein game for a few minutes. So, we get to kill more Nazis, as the ads themselves say. It's fun, it seems. I actually didn't even finish the last Wolfenstein game, as it had multiple issues running on AMD cards (the usual, at this point). This time it's an AMD sponsored title, so I guess it'll work, but I'm not excited for it. Lately, all is about Nazis. Nazis here, Nazis there. Nazis in movies, Nazis in games, Nazis in the news, etc. Yes, they did do some pretty horrible stuff in the past, but it's all in the past. What's so fun of playing a shooter with Nazis in them for the umpteenth time? Will see, I guess.

Nazis apart, it just looks like another shooter. Can't say much else about it, as I haven't even watched properly the full trailer. That's how little I care about this game. But I'll give it a try, probably. At some point.