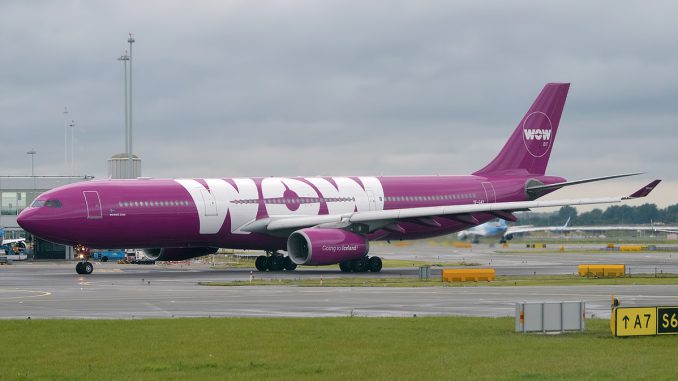 Icelandic low-cost airline Wow Air suddenly declared bankruptcy, stranding thousands of passengers.
Artículo disponible en Español | Article disponible en Français
One of Iceland's low-cost airlines, the well-known Wow Air, suddenly declared bankruptcy on Thursday 28th, stranding thousands of passengers in various airports. It is estimated that some 4 000 passengers were stranded in Iceland alone, with the relevant authorities taking appropriate measures to try and help them. Globally, up to 10 000 passengers may have been stranded. It is unknown how many passengers bought tickets for future flights, with the company selling tickets until a few hours before announcing the cancellation of all their flights.
Wow Air was launched in 2011 with the concept of cheap/budget flights linking Europe to the US, using Iceland's Reykjavík airport as base of operations, with all flights starting or stopping there. At the end of 2018, Wow Air declared loses of close to 40 million euros before tax and was since then in talks with other companies and investments funds, such as rival Icelandair, until the last minute. Not managing to reach an agreement, Wow Air ended up declaring bankruptcy.
Bankruptcies in the low-cost airline sector are not uncommon, with multiple low-cost companies ceasing their operations in 2018. This is due to both a very fierce competition between companies, with very low fares, coupled to an increase in fuel costs.
Not all around the collapse of Wow Air was bad, with the well-known porn website Brazzers offering stranded travellers a free membership to "pass the time".
Jokes aside, various airlines offered stranded passengers discounted tickets to allow them to come back home. Some of these airlines included Icelandair, also based in Iceland, Easyjet, Norwegian, or even larger airlines such as British Airways.
More on this subject:​