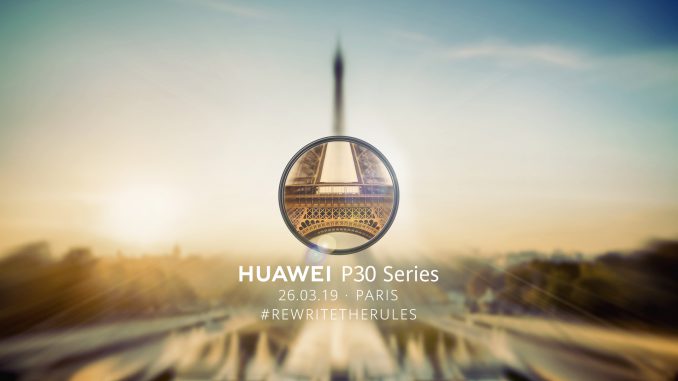 The 26th of March, Huawei announced their new P30 series in Paris. This article focuses on the P30 Pro.
Artículo disponible en Español | Article disponible en Français
The 26th of March in Paris, Huawei unveiled their new P30 series, the successor of the P20 series. Just as last year, there are three different models, a Lite one, a non-pro high-end one, and a Pro one.
The P30 Pro retains the same design as the P20 Pro, with a glass back and a similar camera layout on one corner, although this time three sensors are in the same row, with the fourth camera and flash right below it. The display, a 6.47" screen, instead of being flat, is curved, just as on the Mate 20 Pro. Selfie camera-wise, Huawei has this time opted for a single camera, and has decided to put the speaker below the display. Huawei calls this new technology "Acoustic Display". Coming back to the display, it has some extremely narrow bezels of 2.2 millimetres on the sides, and 3.36 millimetres at the top. Just as with the Mate 20 Pro, both the P30 and P30 Pro come with an in-screen fingerprint reader, being up to 30% faster than last generation's.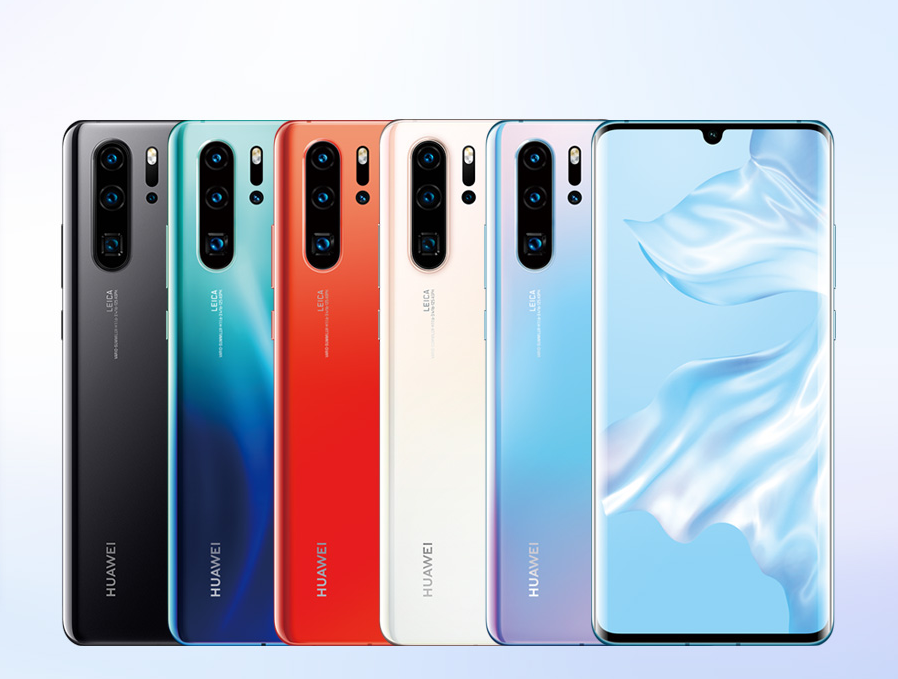 The device weights some 192 grams, 12 grams more than the P20 Pro, which weighted 180 grams. This trade-off comes with a larger display and bigger battery, being 4 200 mAh, just as the Mate 20 Pro.
Richard Yu mentioned, during the presentation of both devices, the beautiful cut at the top and bottom of the devices.
New colours were also announced, such as "Breathing Crystal", being a soft blue, "Amber Sunrise", being a variant of red, and Aurora, which, as the name says, is similar to the Northern auroras. Other, more classic colours are also available, such as Black and Peal White.
The P30 Pro introduces a new camera for Huawei, being a SuperSensing 40 MP Leica Quad Camera, composed of a 20 MP ultra-wide angle lens, a 40 MP wide angle lens, an 8 MP telephoto lens allowing a zoom of up to 5 times, and a ToF (Time of Flight) sensing camera. This is completed with a flash and a colour temperature & flicker sensor.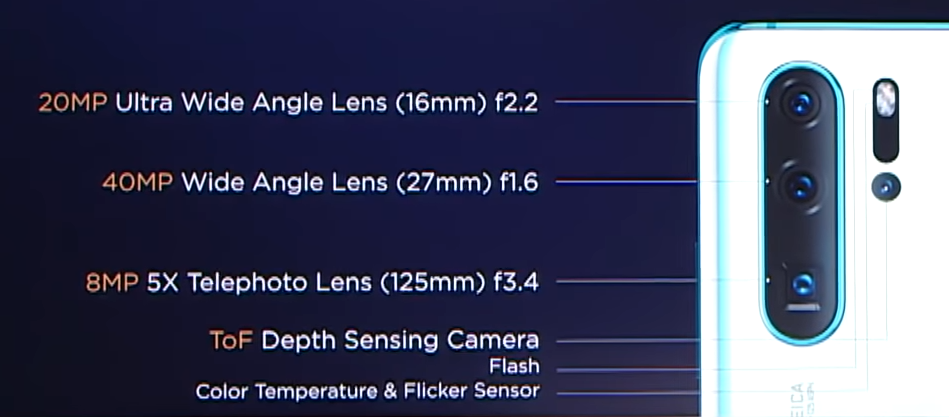 With the new "telephoto" lens, also called periscope, the P30 Pro can zoom up to an amazing 50 times, with pictures that still have a "good" quality to them.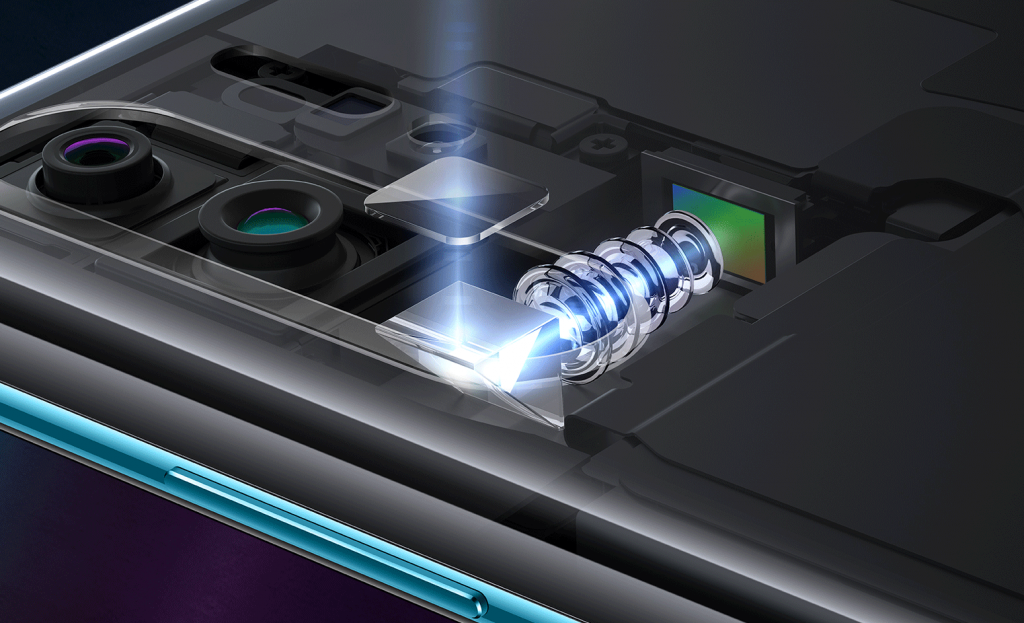 The presentation went on, with Richard Yu explaining they are the first ones in the industry using a RYYB sensor, instead of a traditional RGGB one, with RYYB standing for Red-Yellow-Yellow-Blue, and RGGB standing for Red-Green-Green-Blue. This choice means a 40% increase in light intake. Combined with various algorithms and a bigger sensor, this allows the device to take better pictures.
Last year's P20 Pro managed to achieve an ISO of 102 400, similar to a professional Canon 5D Mark IV camera. This year's P30 Pro overtook this, achieving 409 600, 4 times more.
Huawei also introduced a new mode for their camera, being silky water, achievable through short exposure. Another mode introduced was AI HDR+.
With the introduction of a ToF camera, the P30 Pro can take better bokeh photos, with proper details on the model and a blurred background, instead of blurring the background and part of the model along the edges. The ToF sensor also allows for more accurate 3D modelling, as well as better compatibility with Google's ARCore app.
Huawei has also teased a "dual view" recording mode for the camera, allowing users to record videos with two different zooms at the same time.
Huawei also announced recently their updated MateBook line-up, showcasing Huawei Share OneHop, to share files between Huawei's phones and notebooks more easily. The P30 series supports this new function.
The device is also capable of being used as a digital key for various car models, starting with 7 different models from Audi in over 20 different countries, as well as for other places, such as homes, offices, etc.
The specifications of the P30 Pro are as following:
Kirin 980
8GB of RAM
128/256/512GB of internal storage, expandable with nano-memory card, up to 256GB
6.47" FHD+ Curved OLED display, with 2340×1080 pixels resolution, notch

19.5:9 DCI-P3 HDR display

158×73.4×8.4 mm, 192 grams
Rated IP68 (Water and dust resistant)
In-screen fingerprint sensor, facial recognition
Front (32MP) AI HDR+
Leica quad camera:

40 MP wide angle lens (27 mm), f1.6, OIS

20 MP ultra-wide angle lens (16 mm), f.2.2

8 MP telephoto lens (125 mm), f3.4, up to 5 times zoom, OIS

4 200mAh battery, USB Type-C Charger, 40W SuperCharge, 0-70% in 30 minutes
15W Wireless Quick Charge, Wireless reverse charge
EMUI 9.1/Android 9.0
Usual connectivity options, Bluetooth 5.0, Double nano-SIM (on some models)
Available in 5 colours: Black, Pearl White, Aurora, Amber Sunrise, Breathing Crystal
The price is as follows:
The device was up for sale the same day it launched, the 26th, with launch gifts in some countries.
More on this subject:​