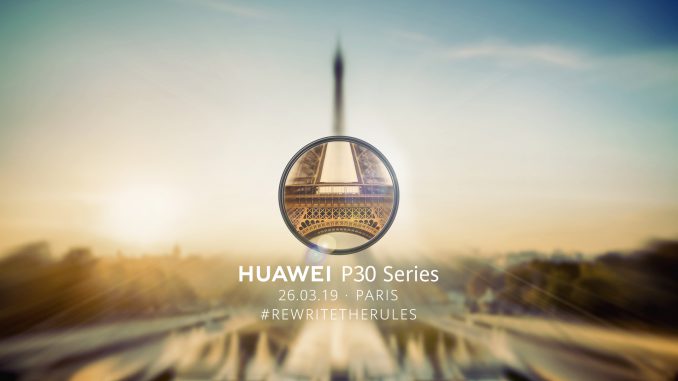 The 26th of March, Huawei announced their new P30 series in Paris. This article focuses on the P30.
Artículo disponible en Español | Article disponible en Français
The 26th of March, Huawei revealed in Paris the successors of the P20 series, being this time the P30 series. The P30 series is composed, as last year, of a Lite model, a high-end non-Pro model, and a Pro model.
Starting with the design, the P30 retains a very similar design to the P20, with a similar glass back, same location for the camera lay-out, a flat display, and a smaller notch, this time only containing the selfie camera, with the speaker integrated to the border. The device has a 6.1" display in a compact format, with very small bezels of just 3.17 millimetres on the sides, and 3.68 millimetres at the top. This time, both the P30 and P30 Pro come with an in-screen fingerprint reader, similar to the Mate 20 Pro, although it now unlocks the device up to 30% faster.
Moving on to the weight and the battery, the P30 weights 165 grams, the same as last year's P20, but comes with a 3 650 mAh battery, instead of a 3 400 mAh one.
During the presentation, Richard Yu took some time to mention the cut at the top and bottom of the devices, which we can't deny is beautiful.
He also introduced new colours, such as "Breathing crystal", which is a soft blue, as well as "Amber Sunrise", which is a variant of red. Finally, "Pearl White" was also introduced, which, as the name implies, is basically white. The device is also available in a more classical black, as well as Aurora.
The P30 comes with a SuperSensing 40 MP Leica Triple Camera, similar to what was on the P20 Pro and Mate 20 Pro. It is composed of an 8 MP telephoto lens, with a real zoom of up to 3 times, a 16 MP ultra-wide angle lens, and a 40 MP wide angle lens. This package is completed with a flash, a colour temperature & flicker sensor, laser transmitter and laser receiver.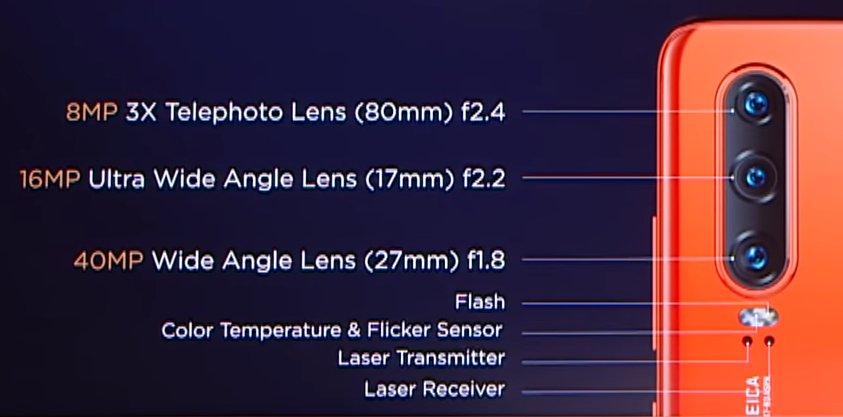 Last year's P20 Pro had an ISO of 102 400, similar to a Canon 5D Mark IV. This year's P30 has an ISO of 204 800, with the P30 Pro having 409 600.

Huawei also announced recently their updated MateBook line-up, showcasing Huawei Share OneHop, to share files between Huawei's phones and notebooks more easily. The P30 series supports this new function.
The specifications of the P30 are as following:
Kirin 980
8GB of RAM
64/128/256GB of internal storage, expandable with nano-memory card, up to 256GB
6.1" FHD+ OLED display, with 2340×1080 pixels resolution, notch

19.5:9 DCI-P3 HDR display

149.1×71.4×7.6 mm, 165 grams
Rated IP53
In-screen fingerprint sensor, facial recognition
Front (32MP) AI HDR+
Leica triple camera:

40 MP wide angle lens (27 mm), f1.8

16 MP ultra-wide angle lens (17 mm), f.2.2

8 MP telephoto lens (80 mm), f2.4, up to 3 times zoom, OIS

3 650mAh battery, USB Type-C Charger, 22.5W SuperCharge, 0-70% in 30 minutes
Headphone jack
EMUI 9.1/Android 9.0
Usual connectivity options, Bluetooth 5.0, Double nano-SIM (on some models)
Available in 5 colours: Black, Pearl White, Aurora, Amber Sunrise, Breathing Crystal
The price is of 799€ for base version (8GB+128GB), VAT included
The device was up for sale the same day it launched, the 26th, with launch gifts in some countries.