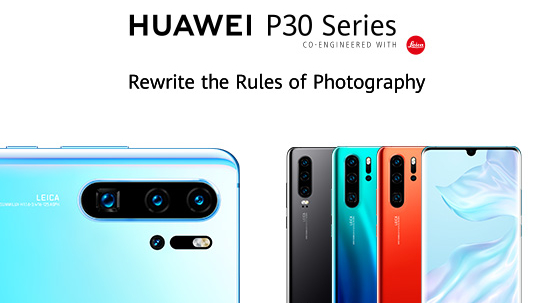 Huawei recently launched their P30 series, together with a series of accessories. This is a summary of the event.
Artículo disponible en Español | Article disponible en Français
The 26th of March, in Paris, Huawei launched their P30 series, together with other products, such as new variants of the Watch GT, earphones, cases, etc.
Starting with the new smartphones, Huawei revealed the P30 and the P30 Pro, their new flagship devices. These two devices incorporate some novelties over the P20 and P20 Pro, but their main selling point is the improved cameras. Both the P30 and P30 Pro are excellent in low-light environments, thanks to various improvements on the cameras and camera sensors. The P30 Pro goes even further, coming with a periscope camera, allowing the device to zoom up to 50 times.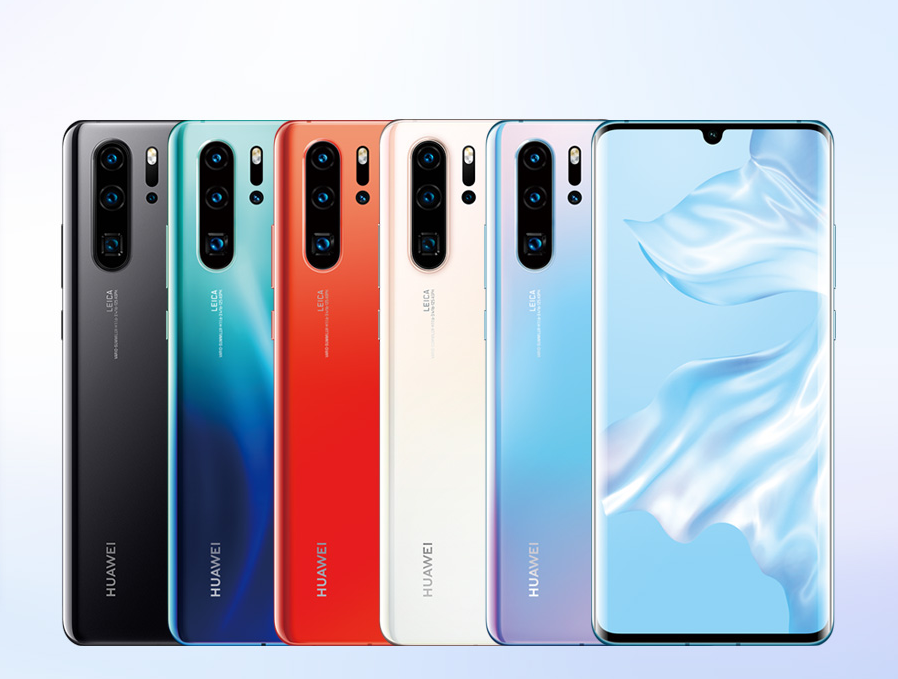 Both devices were up for pre-order the same day they were revealed and released on April 5th. In Europe, the P30 costs 799€ for 8GB RAM+128GB of internal storage, while the P30 Pro exists in 3 variants: 8GB of RAM and 128GB/256GB/512GB, selling for 999€/1099€/1249€ respectively.
More information on the launch of the P30 and the P30 Pro here.
With the P20 series, Huawei introduced the Huawei ANC-3 earphones. This year, the company introduced the Huawei FreeLace. These wireless earphones have one side that can be disconnected and plugged to the device to charge them or pair them.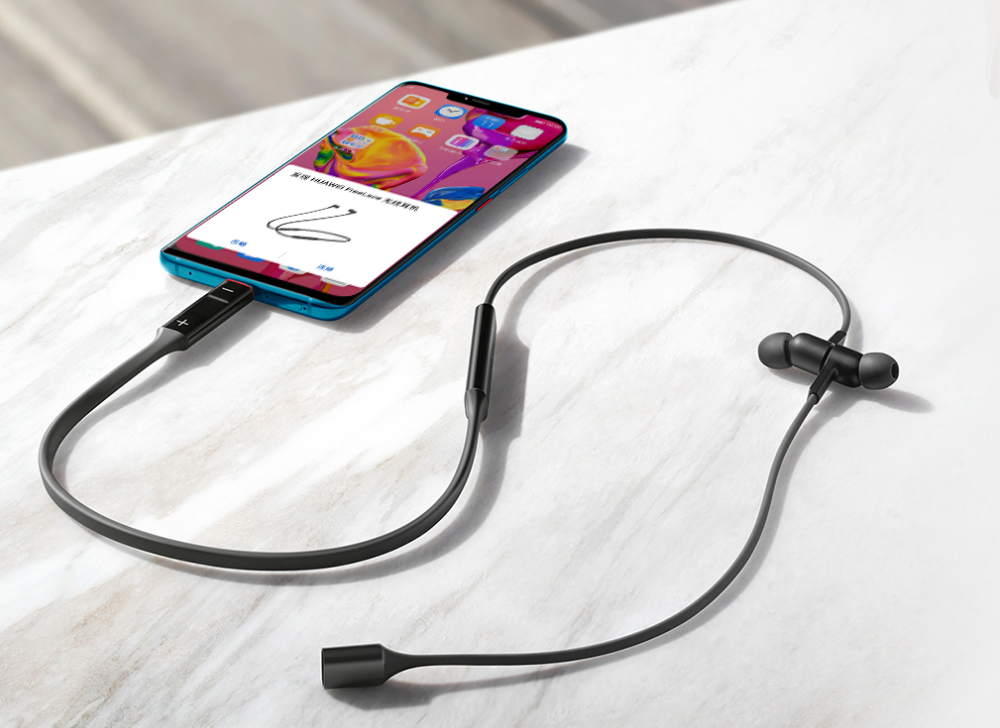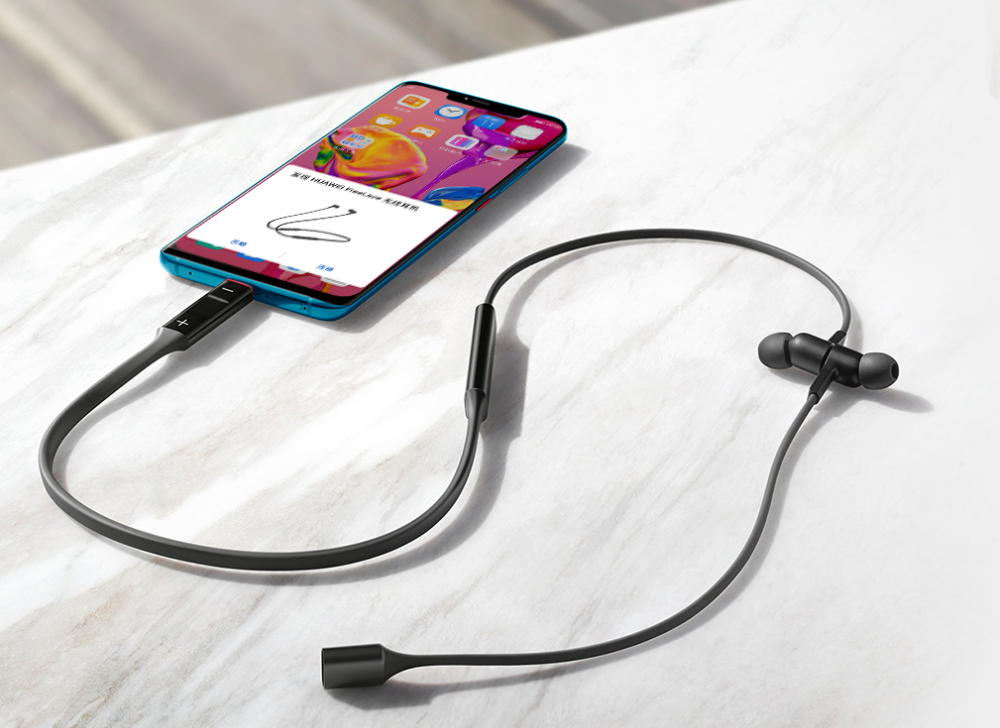 Release date in Europe is still unknown, but they should be retailing for 99€.
More information on the Huawei FreeLace here.
Moving on to yet another accessory, Huawei showcased an updated version of the 2018 FreeBuds, another pair of wireless earphones/buds, called the FreeBuds Lite. This new version costs 119€ instead of 159€, but currently there is no other information available on release date or differences between the new and old versions.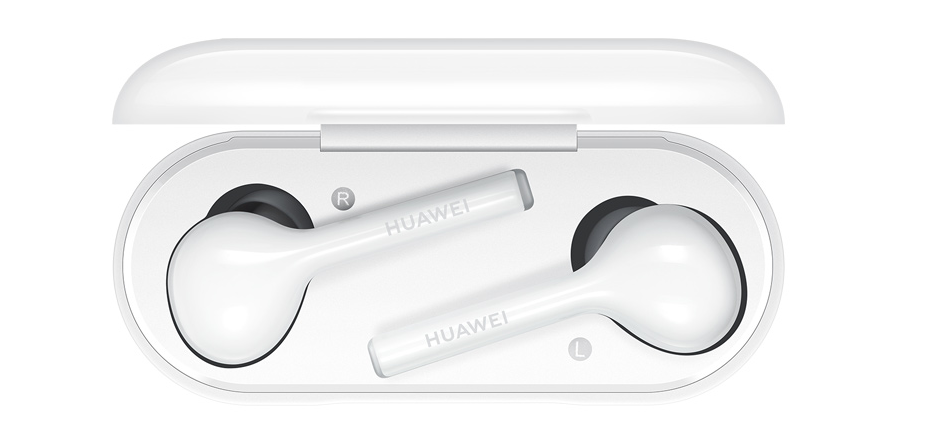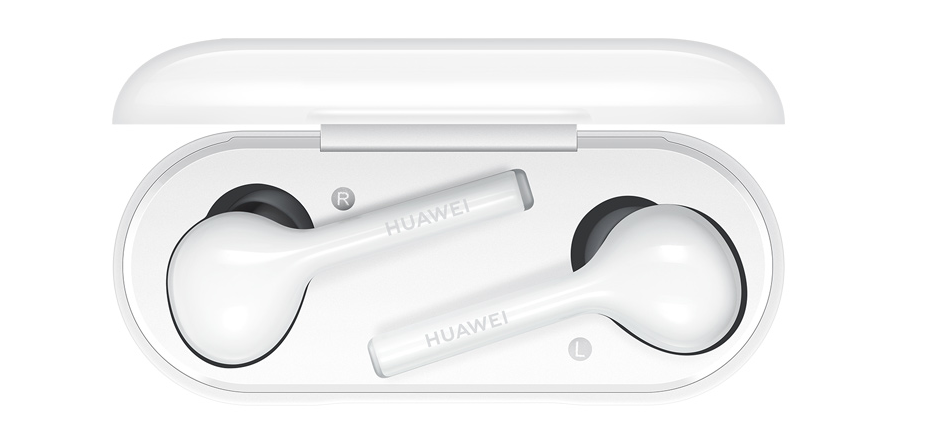 More information about the Huawei FreeBuds Lite here.
As mentioned at the beginning of this article, new variants of the Watch GT were presented. Two new editions are available: the Huawei Watch GT Active Edition and the Huawei Watch GT Elegant Edition.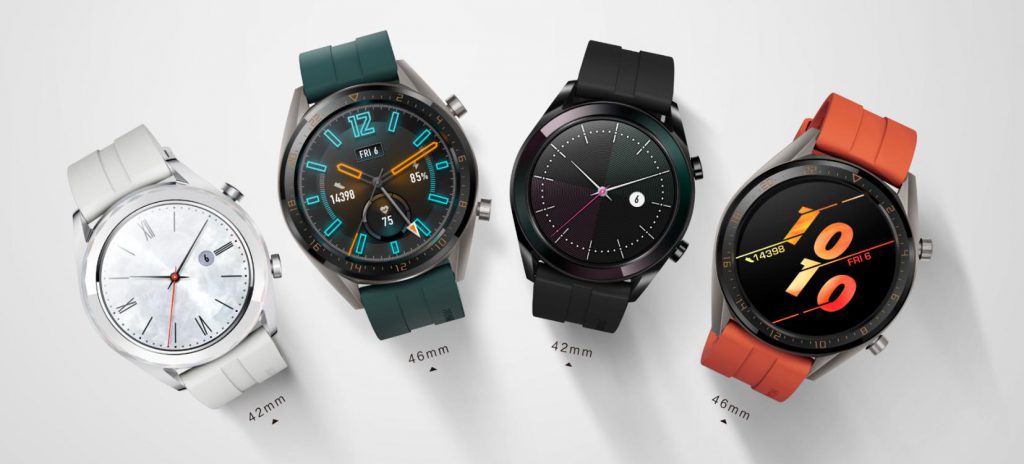 The "Active Edition" is the same as the regular Watch GT, although with new faces and new straps, being orange and green. It will cost 249€ and is already available in some European countries. The "Elegant Edition" is slightly smaller than the regular Watch GT, and only has around a week of battery autonomy, contrary to the bigger Watch GT, which can last up to two weeks. This model costs 229€ and comes with either a black or a white strap. Availability is unknown, although one version is already listed on Amazon.
More information on the new Huawei Watch GT here.
The company also announced a series of accessories for their smartphones, starting with a special Swarovski case, available in either Ice White or Pearl Pink, as well as a special Swarovski P30 Pro edition.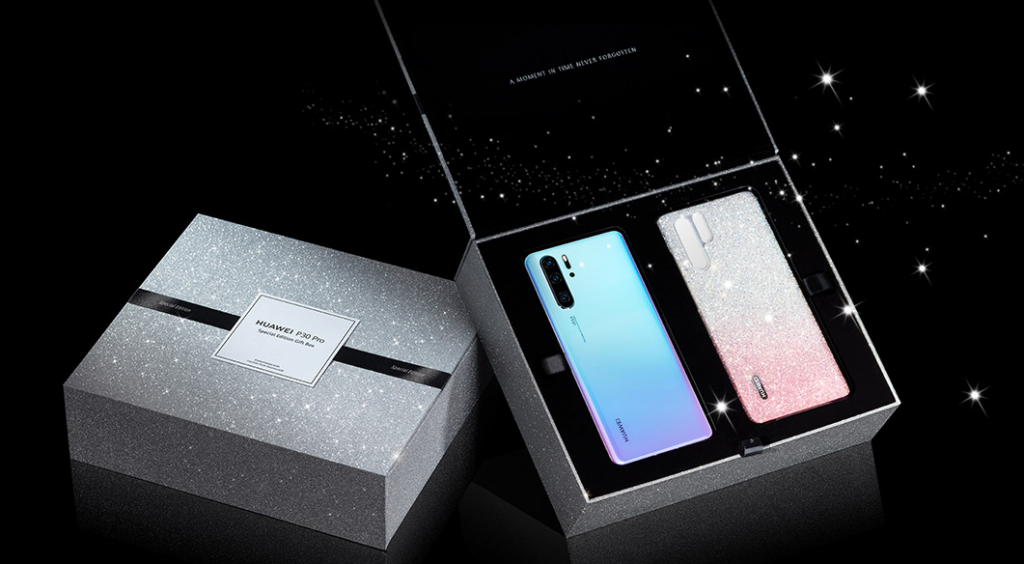 This announcement was followed by the presentation of a case allowing to wirelessly recharge the P30, a snorkelling case for the P30 Pro, allowing to take the device down to 5 metres in the water for up to 60 minutes, as well as various cases in different styles, such as Wallet, Flipcover, regular one-side cases made of silicone or rubber, etc.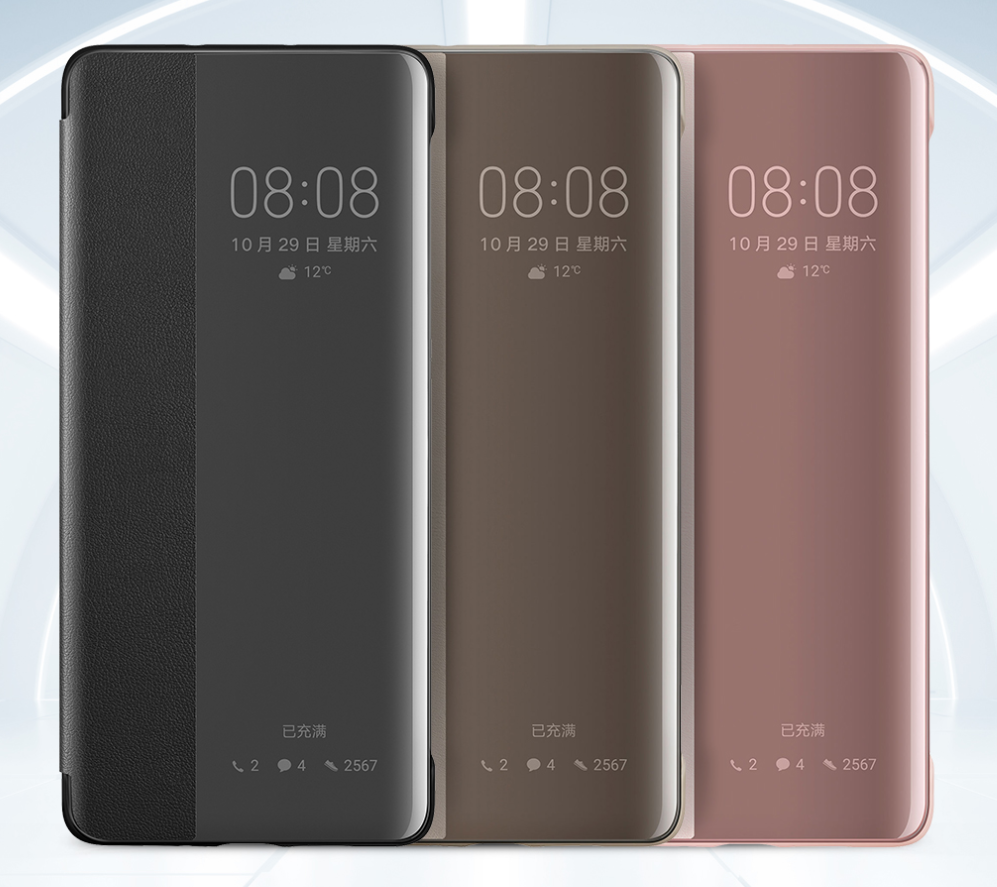 Finally, Huawei also announced an external power bank with a capacity of 12 000mAh, capable of supplying the correct voltage to a series of compatible devices. This power bank costs 99€, and there is currently no release date for Europe.
More details and information about the accessories announced by Huawei together with the P30 Series can be found here.
The conference ended with Richard Yu, CEO of Huawei's Consumer Business Group, introducing Huawei's collaboration with South-Korean eyewear company "Gentle Monster", with whom they've worked on smart eyewear.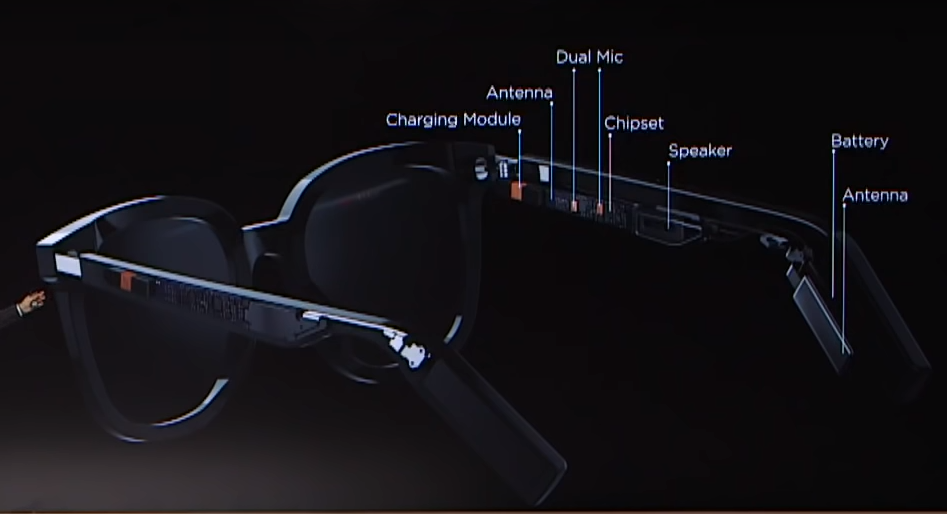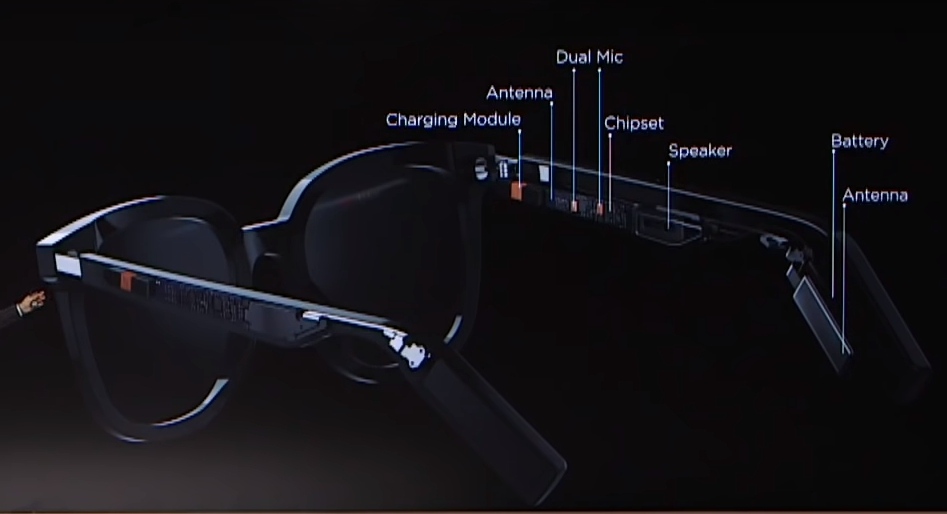 These glasses have no cameras built-in, contrary to models of other companies, but do have Bluetooth connectivity, microphones, speakers and batteries. Huawei only specified Summer 2019 as release date, and no price was given.
More details about Huawei's eyewear here.
Curiously, this year Huawei decided not to present the P30 Lite together with the two other phones, instead opting to reveal it quietly via their website or retailers. The P30 Lite comes with a triple-camera setup, a Kirin 710, 4GB of RAM and 128GB of internal storage space, and will cost 370€. Release date is still unknown for Europe.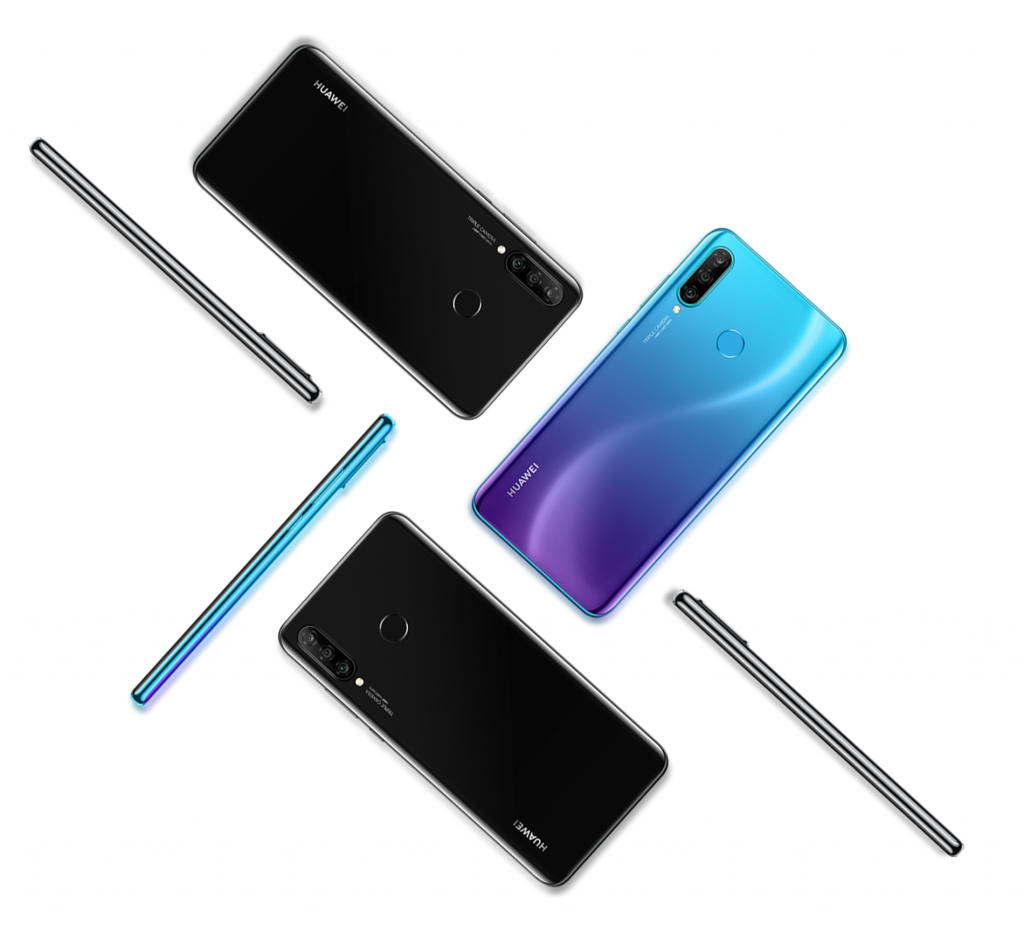 More information about Huawei's P30 Lite is available here.
This roughly summarises Huawei's P30 series launch event, although we did ignore quite a lot of details to keep it as short as possible. Full detailed articles are available for each device and most products, as well as teardown articles for the P30 Pro.
More on this subject:​