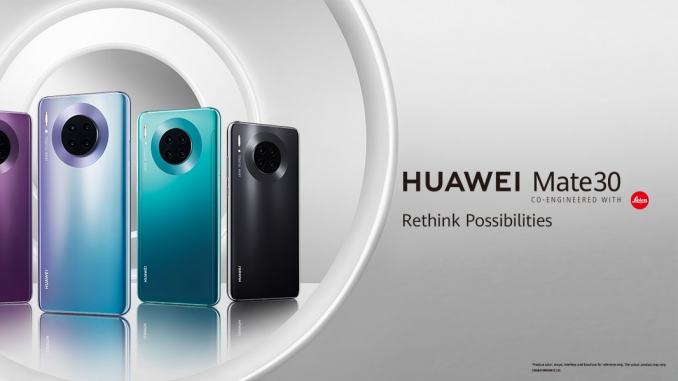 Over the past few days, multiple articles have been published by tech outlets, claiming Huawei's Mate 30 series has been released in Romania, paving the way to an European release.
Artículo disponible en Español | Article disponible en Français
Over the past few days, multiple established tech news outlets have published articles claiming that the Huawei Mate 30 series is slowly arriving to Europe. As per usual, most of these articles are a copy paste from each other without bothering going any further, or without even checking whether the news is true or not. After all, doing some research is too much effort for these "copy-paste" journalists.
Let's have a look at these claims: after releasing the Mate 30 series in Malaysia, and then in limited quantities in Singapore (with a heavy promotion in this second country/market), Huawei has supposedly decided to launch the Mate 30 series in Romania. Why Romania? Well, one could argue that Huawei is an established, popular brand in the country, which is the case, with even multiple Huawei stores in the capital.
Now, the retailer selling these Mate 30s is Quickmobile. They do indeed list the various available models, in different colours, of both the Mate 30 and Mate 30 Pro, although they are all 4G models. The 5G model is expected to come later down the line, in November. The price, while being in Romanian Lei, once converted to euros, matches more or less the price announced by the company at launch.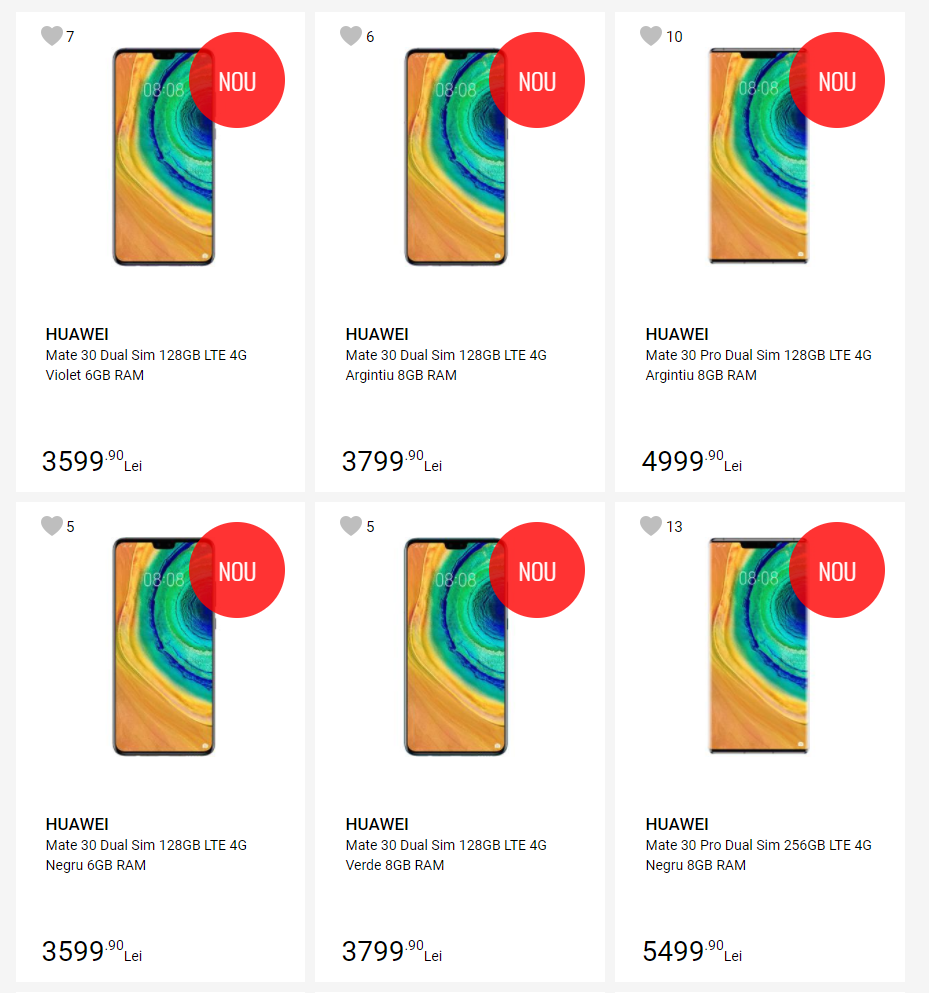 A quick check of Huawei Romania's social media accounts, such as Facebook and Instagram, and of their website, shows no presence of the Mate 30 series. Instead, they have been heavily promoting the new Huawei Matebook 13, the new two variants of the P30 Pro launched at IFA2019, as well as their new Huawei Watch GT2 and Freebuds 3. There is also some promotion for the Mate 20X 5G and the P Smart Z, although a lot less than for the other few products.
With just this much, one can conclude that Huawei's Mate 30 series is actually not officially available in Romania, otherwise the company would post daily about it in order to push its fans to pre-order or buy the device. But there's a lot more to say on the matter. For instance, one could have easily checked the Facebook and Twitter accounts of the company selling the devices, and would have come across this post promoting the Mate 30 series:
In the comment section, we can also see this comment from a user, with Quickmobile having replied: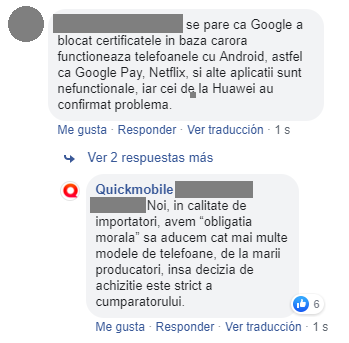 In short, the user points out that Google has blocked the certificates needed for the phone to work properly, meaning services such as Google Pay, Netflix and others are unavailable. To this, Quickmobile replies that they are "importers" and they have a "moral obligation" to bring as many phone models as possible from major brands, but that buyers are the ones making the final decision on whether to purchase or not the device in question.
Already here, one can start asking questions. Furthermore, the product page mentions that the device is shipped with an adapter for Romanian outlets and a standard 24-months warranty (as per European law):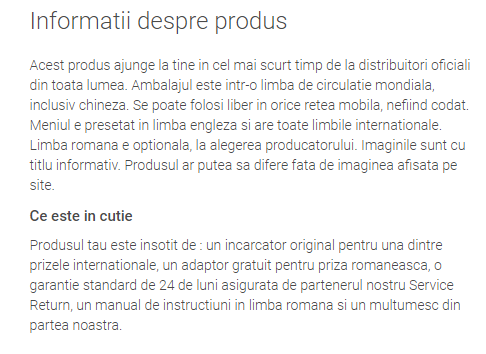 On the plus side, the company offers an extended warranty program, increasing this one to 3 or 4 years in exchange of a fee, although, as we'll see later, this extended program might be useless in some cases: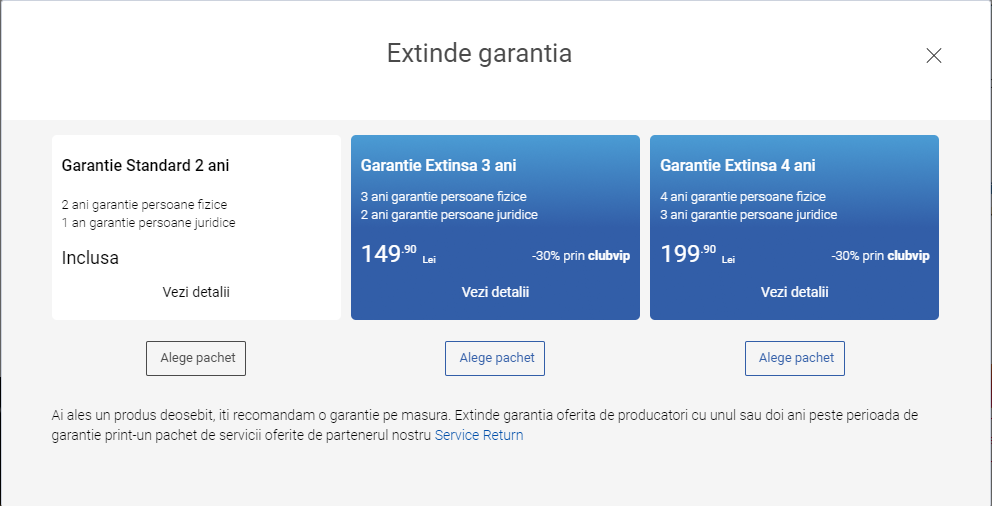 At this point, it is pretty obvious that these are not official Mate 30 units aimed at the European market. For a proper confirmation, this leaves two options: either contact Quickmobile directly, or spend some more time looking around for a confirmation. In all, it took us about 4 minutes to confirm these are import models, which is quite a lot of time if one sticks to "Ctrl+C/Ctrl+V" articles. While we understand not everybody speaks multiple languages, various tools are available to translate entire pages, such as Google Translate. This article, published on a Romanian tech news site on the 4th of October essentially confirms what we've written so far: Quickmobile imported the Mate 30 series from outside of Europe, with the article author pointing out that this device cannot be repaired through authorized channels (which is indeed true, as the device is not meant for our market), meaning one will have to rely on the warranty provided by the seller and hope this one will be able to properly repair the device. The comments under the article point out the fact that Quickmobile's warranty is not the best, with even devices meant for the European market sometimes being refused at authorized service centres.
In other words: no, the Mate 30 series is currently not officially available in Europe. Huawei themselves continue claiming they intend to release it "later this year", although when this will be remains unclear.
Concerning Quickmobile, it is difficult to fault them for importing the device from abroad, although they should clearly indicate this in their product page, as well as mention the lack of Google services. While most people have been made aware of Huawei's current situation, there are still some people out there that might not realize they are buying an imported, Google-less device. The company seems to operate in a similar way to many new technology stores that offer prices in our local currency (euros, lei, etc) and appear to be a local store, but actually sell imported variants of the products, mostly from China, although Quickmobile's business seems a bit more… hybrid, selling a combination of both imported and official devices.
Now, to end this article, we would like to address the ridiculousness of this situation once again. While we are not the ones who coined the term "Copy-paste journalism", we are most likely amongst its more regular users, bringing it up often. We understand why companies essentially copy entire articles from other sites and rewrite them slightly: it takes less time to write, thus allowing them to make more content and earn more money. But these companies and their "journalists", or, as we will call them from now onwards, clowns, could at least run some checks on their end, the same way we did in this case, just to make sure the information is correct. But, apparently, this is also too much work for all of them, so, yes, it's time they find a different job and stop this copy-paste madness. Oh, right, the only skill of all these people is copy-pasting. Makes sense.
More on this subject:​