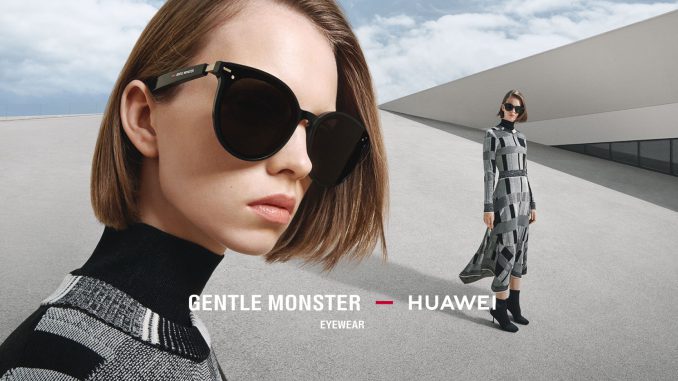 Presented during the launch of the P30 series and released in China in September, Huawei's smart eyewear, made in collaboration with Gentle Monster, is now available in Europe.
Artículo disponible en Español | Article disponible en Français
It is during the presentation of the P30 series that Huawei unveiled their line-up of smart eyewear, made in collaboration with South-Korean eyewear company Gentle Monster. Contrary to other "smart glasses", Huawei's doesn't have any cameras or other "futuristic" technologies, instead settling for being smart eyewear with a more traditional "design" look, offering functionalities similar to other smart accessories, such as smart watches. The company itself explained the reasoning behind this choice, explaining that they wanted to create a product that people would wear instead of making a very specific product difficult to wear in public. At least, on that level, the company has achieved its objective, as we'll we able to see a bit further in this article.

Moving on to the main subject of this article, until now, we didn't know whether this product would be released in Europe, mostly due to the design of some of the models. Since then, Huawei France has announced the opening of their own online store, and, between the 100 products currently listed, it is possible to pre-order the smart eyewear Huawei x Gentle Monster. As we had predicted in our previous article on this subject, mentioning that the glasses would be sold for around 400 and 500 euros, based on the pricing of other Gentle Monster products, Huawei has decided to release the most "European" looking model for 399.99€, with a 50€ discount to celebrate the opening of their new online store, thus reducing the price to 349.99€. The product can be purchased here.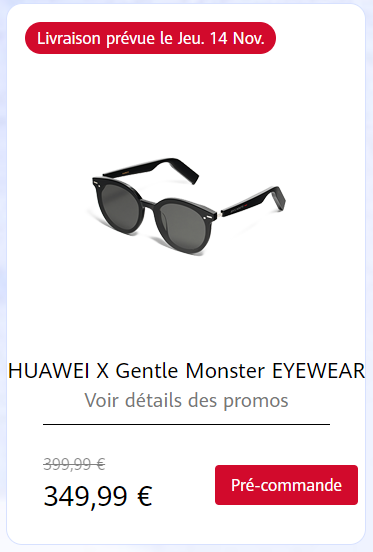 The product page in itself is quite basic, only mentioning that the product will be delivered on the 14th November. Only one model is currently listed, "Smart Jackbye-01" ("Smart Jack Bye 01" in our previous article), contrary to the 5 models that can be found in China, most likely due to some of the designs being quite "Asian". At the same time, Huawei showcases and mentions all 5 models on their website, which might mean the company will be releasing the rest later on: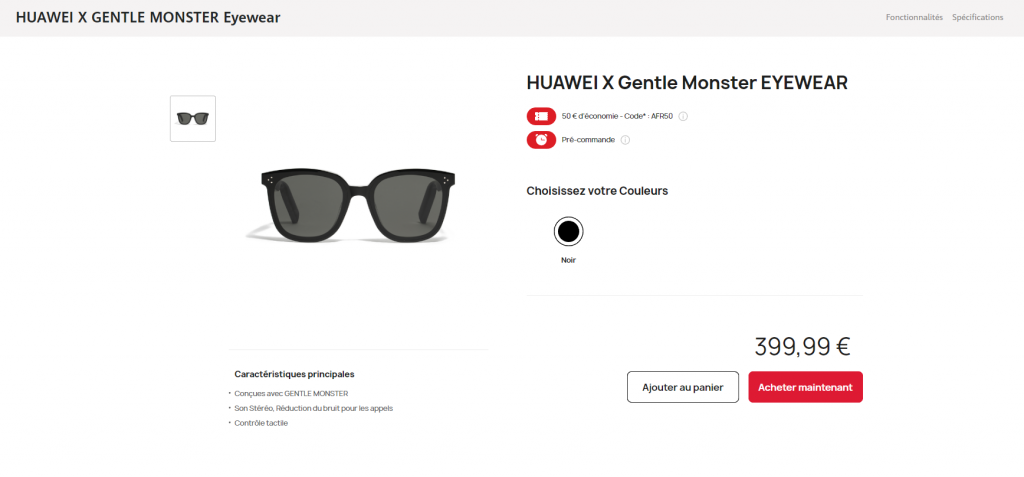 Here are the 5 models that currently exist, with 3 designs of reading glasses and 2 designs of sunglasses:
The reading glasses come without adapted lenses, although they can be switched with proper lenses at an optician. Huawei mentions that the glasses use a technique of universal mounting, and give a series of recommendations on how to handle the product to avoid damaging it, such as avoiding heating it or bending the frame, which seems quite logical, seeing the amount of technology packed in the glasses: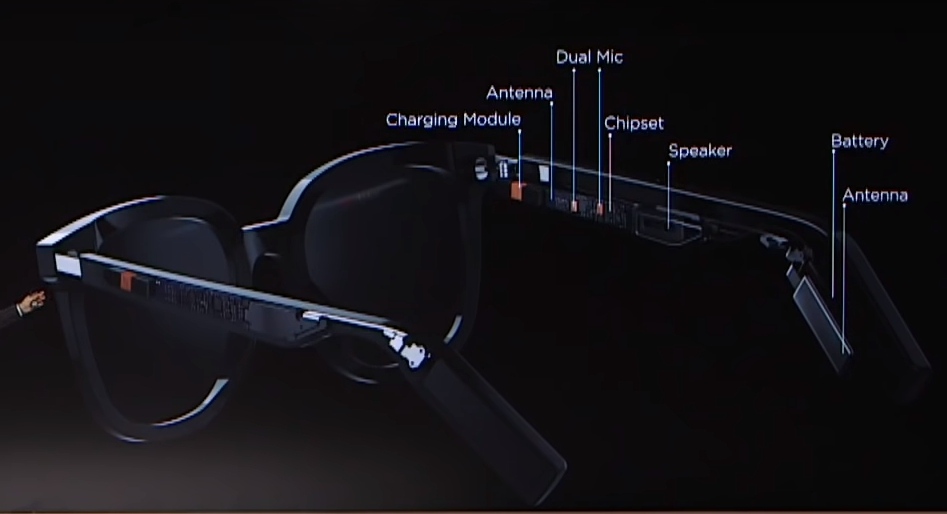 If we now focus on the product itself, this smart eyewear is resistant to water and dust, being certified IP67, comes with microphones for calls and the use of a voice assistant, are compatible with Bluetooth 5.0 and have a speaker on each temple. In terms of autonomy, Huawei claims they last 2 hours and a half for calls, listening to music and others, with 8 hours of use in total if we include the charging case, which also has a battery.
For the controls, the glasses work the same way as the FreeBuds, reacting to a series of gestures on each temple.
Here are all the technical specifications:
Available in 5 different versions, with only one available for now (Jackbye-01)

Smart Jackbye-01: 45.6 grams, 155.13×58.25x29mm

Smart Eastmoon-01: 43.2 grams, 152.59×56.86x29mm

Smart Southside-01: 40.2 grams, 152.21×48.16x29mm

Smart Alio-01: 39.2 grams, 172.95×45.72x29mm

Smart Alio-C1: 39.2 grams, 172.95×45.72x29mm

Battery life:

Music: up to 2 hours and a half

Calls: up to 2 hours and a half

The protective case comes with a 2 200mAh battery

Bluetooth 5.0, one speaker on each temple, two microphones on each temple, IP67, 399.99€, available from November 14th, 2019
Controls-wise and for the voice assistant, this one requires a separate application, which can be downloaded through the app store. Sadly, this function is not available on iOS/Apple. Huawei mentions that it is possible to "configurate" the temples, which might mean it is possible to choose which temple we want to use for each function, which is an excellent news for left-handed people:
Voice assistant: tap twice [on the configurated temple]
Music: tap twice to start/stop the music [on the configurated temple]
Calls: tap twice to pick up/hang up [on by default if the two other options are configurated]
Here are some extra images of the model "Smart Jackbye-01":
It is also possible to buy this product through Amazon France, which, contrary to Huawei France, has two different models, "Jackbye-01" and "Eastmoon-01". Both models are in stock and cost a bit less than 400€. Here are some more pictures of this second model, "Smart Eastmoon-01":
Obviously, we would love to test this product, but, sadly, knowing well Huawei, we know the only option for us would be buying it, which we will not do.
Update: it turns out both models are available on most Amazon stores. Here are links to each store:
More on this subject:​