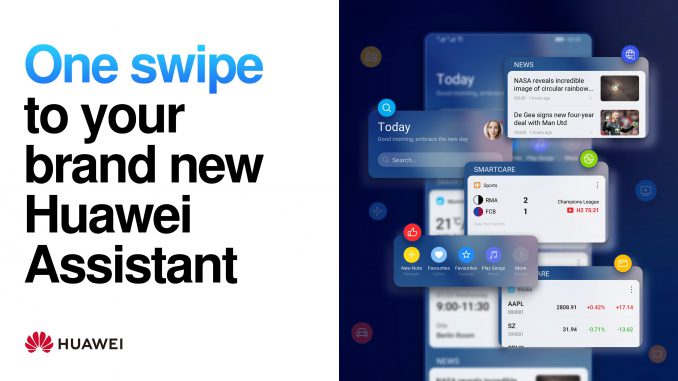 Huawei continues improving their Huawei Assistant, bringing the possibility of potentially customizing the news feed in the near future.
Artículo disponible en Español | Article disponible en Français
Huawei's alternative to Google's Feed (also known as "Google Discover"), the Huawei Assistant, has slowly been receiving new features over the past few months, such as the addition of a flight service, allowing users to book flights and keep track of these in one swipe, or a sports card, which lists information about upcoming matches for selected sports teams. This new update adds the ability of picking which news provider we want to use to populate our news feed, with, currently, only SQUID as source available. However, seeing the way this new option has been added, it wouldn't be surprising if Huawei brings new partners, such as News Republic, which has already a partnership with the Chinese smartphone manufacturer, or even going further, such as by adding an RSS reader, allowing users to fully customize their news feed by manually entering which news sources they are interested in.
While this update was first available by default on the new P40 Pro (and likely the P40 series as a whole), it has now been rolled out to "older" devices, such as the Mate Xs, as well as models which still have access to Google Mobile Services (GMS), such as the P30 Pro. This new feature can be noticed when scrolling down slightly, with a new icon appearing on the top right, as it can be seen on the following screenshots:
This new icon leads directly to a new setting, "Feed", which lists sources for the news, with only SQUID available right now. Previously, it was only possible to enable or disabled the news feed.
While the Huawei Assistant is, so far, "good enough", it currently suffers from a severe lack of customizability, as it is not possible to hide or block news sources we might not be interested in, not even by tapping on the cross next to each news, with the application easily serving dozens of articles we might not want to see or be interested in, such as media we might dislike, or low-quality, garbage entertainment websites such as BuzzFeed.
When the Huawei Assistant initially launched, one of our major complaints was the lack of possibility of getting news in a different language than the device, with the application relying on both the region and language of the phone to serve news. For users who might live and work in a different country than theirs, or speak multiple languages and might want to read news from other countries, this lack of customization is a serious issue, making the Assistant less attractive. This could be easily solved, by, for example, dissociating the phone region and language from the Assistant and instead let users set this one themselves in the Assistant settings, the addition of other news providers, or even the addition of an RSS reader, making of Huawei's Assistant a versatile replacement of Google's Feed, which also suffers from similar limitations.
More on this subject:​