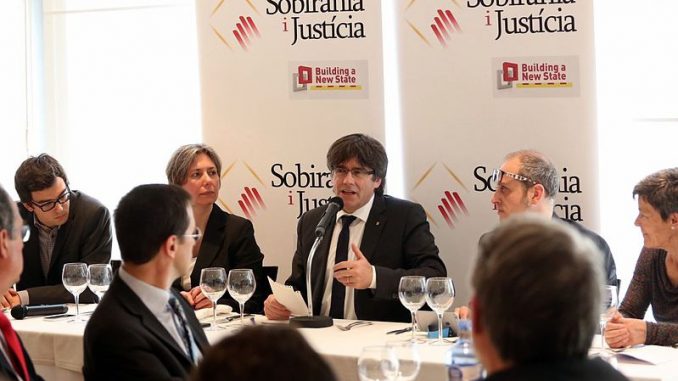 With Puigdemont still in Brussels, the Spanish Justice has started working. Both the National Court and the Supreme Court have accepted the complaint against the Generalitat, and have summoned 20 members of the Govern and Parlament.
Artículo disponible en Español | Article disponible en Français
Puigdemont arrived to Brussels yesterday, and is still here. Meanwhile, at least two ex-advisers of the Govern came back to Barcelona, and were welcomed with Spanish Flags, insults and boos.

Since he arrived, Puigdemont has met with a Belgian lawyer, to see what can be done to avoid facing Spanish justice. A few hours later, this lawyer declared that they wouldn't ask for political asylum. Instead, they are going to oppose any hypothetical extradition demand coming from the Government. At the same time, Puigdemont went to a press conference, in which he said he won't go back to Spain until he is given "guarantees". Also during that press conference, Puigdemont lied various times, accusing the Spanish Government of persecution, giving a negative image of the country. But, obviously, he forgot to mention that the Spanish regions have a regional government, as well as the fact that by declaring the independence of Catalonia, he had broken a few laws. He also didn't specify who was paying for his stay in Brussels….

We can ask ourselves, ¿will Puigdemont come to Spain to declare this Thursday and Friday? Meanwhile, the magistrate of the National Court has confirmed that Puigdemont and the other ex-advisers will have to deposit 6.2 million euros in less than three days, amount that, in theory, corresponds to the funds used to organize the illegal referendum from the 1st October.
​More on this subject: