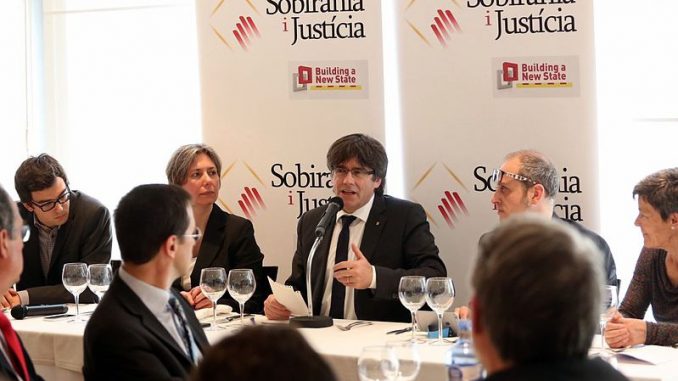 Yesterday, Puigdemont, ex-president of the Catalonian ex-government (please note that this has to be repeated multiple times since some people don't seem to understand this much), lied so many times that it is very difficult to differentiate the truth from the false.
Artículo disponible en Español | Article disponible en Français
Puigdemont, now wanted by the Spanish authorities, is still in Brussels. The Belgian justice decided not locking him up, as they consider there are little chances of him leaving the country.

Meanwhile, some of his ex-advisers are still in prison in Spain, such as Junqueras.

In the afternoon, Puigdemont asked the European Union to mediate between Catalonia and the Spanish government, accusing Rajoy of a "coup d'état" and talking again about "fascism". He was backed by 200 Catalonian mayors that came to Brussels. And, just as last time, nobody asked themselves from where the money paying for the trip came from.

A few hours after talking, Puigdemont started tweeting attacks against the Spanish government, saying that the imprisoned ex-advisers are being abused.
From what is known, the prison where the ex-advisers are locked up has served several menus composed of typical Spanish food, such as gazpacho or a Spanish omelette. We are guessing that this is what Puigdemont is referring to, since they are probably so pro-independence and hate Spain with so much strength that they don't even want to touch food that isn't typical from Catalonia.

Anyway, basically, this guy is gone crazy. And yes, he stills believes he is the president of the Catalonian government.
More on this subject: