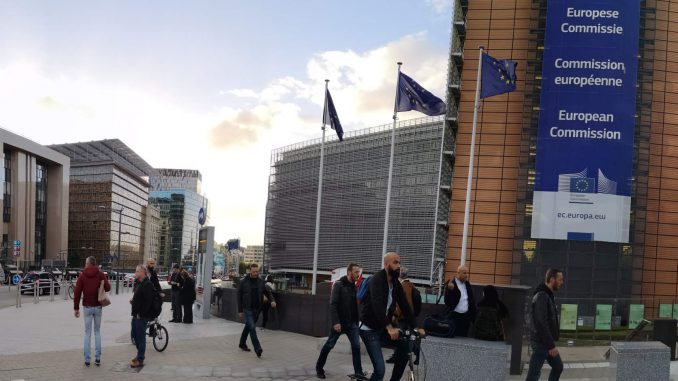 This 4th of May, the European institutions in Brussels will open their doors to visitors.
Artículo disponible en Español | Article disponible en Français
Every year, the European institutions open their doors to visitors, holding a series of activities and tours of the building. This year, 2019, institutions will open their doors on May 4th, from 10 until 18.00. With the European elections being held next month, between May 23rd and May 26th, the theme of this open day is about "choosing your future".
Each institution will hold different events, with some having activities for the family and children, others offering the possibility of visiting some of the most iconic locations where decisions on our Union are taken, guided tours and expositions.
For instance, the European Parliament will allow visitors to step inside the Hemicycle, giving a small explanation of what goes inside. The institution will also organize public debates, and outside, various activities will be hosted.
The European Council will allow visitors to go into the House of the Member States and follow their country's leaders' steps, while also organizing various activities. In this case, the last guided tour will start at 17.00.
The European Commission proposes 30 different stands with interactive events and will present a set of main EU policies to the visitors. There will also be more than 150 employees of European institutions present, allowing visitors to talk with them and ask questions about the Union. The Commission will be open from 10 until 19, with the last entrance being at 18.00.
Other, more unknown institution will also be open, such as:
European Court of Auditors: in charge of safeguarding financial interests of European citizens. The institution will have a quiz prepared for those interested in knowing more about the work done by the Auditors.
European External Action Service: this is the service where the well-known Federica Mogherini works, in charge of EU's Foreign Policy.
Finally, the European Economic and Social Committee, the European Committee of the Regions and the European Data Protection Supervisor will also hold events to explain to visitors their role in the Union.
The European Parliament is located near the Place du Luxembourg. Both the European Commission and European Council are located right next to the metro stop "Schuman", making it easy to get there with public transport.
European institutions in other countries will open their doors on different days, with Luxembourg-based institutions opening their doors on the 9th of May and Strasbourg (France)-based institutions will open their doors on the 19th of May.
For more information and details, please visit the official website here.