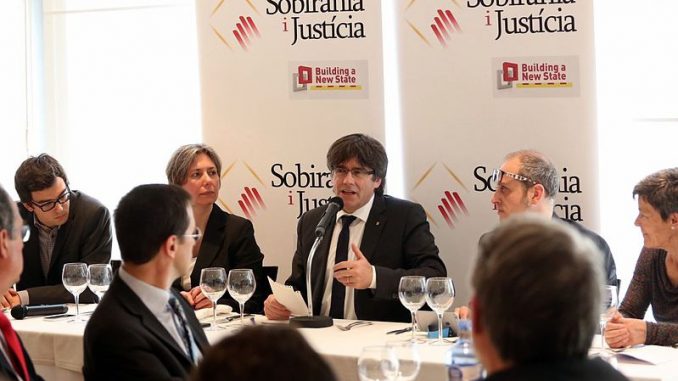 The Spanish State hired a Belgian law firm to defend the Spanish judge.
Artículo disponible en Español | Article disponible en Français
In June of this year, Puigdemont and the rest of the ex-advisers on the run decided to denounce the judge in charge of their case in Spain, the Spanish Supreme Court judge Pablo Llarena, due to lack of objectivity on the case. This supposed lack of objectivity comes from the fact that the magistrate had declared that Puigdemont and his friends weren't "political prisoners" (and therefore were just politicians behind bars).

In theory, the judge had to come, or be represented, the 4th of September in Brussels, in the civil court. Obviously, the Spanish State had to hire some lawyers to defend the Supreme Court magistrate. After considering a few options, the Spanish ministry of Justice has decided to hire the Belgian law firm Liedekerke Wolters Waelbroeck Kirkpatrick and signed the contract in the Embassy of Spain in Brussels. It will be the lawyer Hakim Boularbah, expert in international disputes, that will be in charge of the case. In total, the State had to put aside around 450 000 euros, plus 90 000 for taxes, for a total of close to 545 000 euros in defence fees. If the demand is not accepted by the Belgian court, the fees could be cheaper.

This amount has angered more than one person in Spain. Many have criticized the choice of the government, asking whether the role of the government is to defend its judges, and how far. It is true that 550 000 euros is not a small sum, but we do not have to forget that, if things are as they are now, it's not only due to the inability of the Spanish government to solve the problems with Catalonia once and for all, but also thanks to the lies that Puigdemont and his friends can say freely outside of Spain, without any legal repercussions. And on top of this, the Belgian justice shouldn't be taking part in this case, with the fact that such a ridiculous demand has been accepted sullies the name of the justice in general. Various jurists, here in Belgium, are wondering if it is even possible to legally attack a judge of another country. It's on that point that the Spanish authorities and Llarena's lawyer are counting to try and close the case as soon as possible.
More on this subject:​