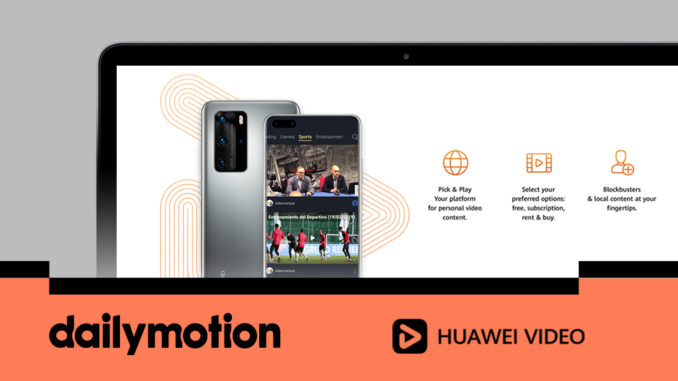 Huawei Video will soon start offering content from the video-sharing platform Dailymotion, further reinforcing their catalogue.
Artículo disponible en Español | Article disponible en Français
Recently, Huawei launched their subscription service Huawei Video in various European countries, after close to two years of testing in Spain and Italy. Now, the service is active in other countries such as the UK, France or Germany, with more countries coming in the future. While initially Huawei sourced most of the content from partners and distributed it under their own name, in recent times, the brand has branched out, forming partnerships with key companies to further increase their catalogue, such as with Filmin in Spain, bringing over 10K movies and over 200 series to Huawei Video, all for 7.99€/month, while Huawei Video costs 4.99€/month. This first partnership was followed with the addition of other services, such as "The Explorers" or "Qello Concerts".
While these previous partnerships mostly concern Spain, Huawei has now partnered with the French video-sharing platform Dailymotion, which, in the past, was seen as a rival of YouTube, but eventually faded away and has now moved to offering different types of content, such as videos from major media companies. The press statement mentions that through this partnership, Huawei Video will integrate Dailymotion's video player technology, and share both its local and international content through the Dailymotion API, on top of offering monetization solutions for these videos. These monetization solutions are likely along the lines of what we've seen in Spain, being a monthly subscription to access the content, with this subscription allowing users to stream or download videos to watch them offline later on.
The French platform claims to have over 250 million unique monthly visitors, and over 3 billion views a month, with this partnership giving them an opportunity to further reach more new users and increase their overall market share in the industry. Meanwhile, on Huawei's side, this in an opportunity to further strengthen their offerings, and thus convincing more users to use and subscribe to their video-streaming service.
It is also important to keep in mind that Huawei Video is not a replacement of YouTube or similar video-sharing services, and is instead a competitor of streaming services such as Netflix or Disney+, or even Facebook, mostly focusing on movies, TV series and other similar content, while also providing videos from third-parties such as media companies. On the Spanish version of the service, we can also find "channels", similar to how it works on YouTube, from major companies covering subjects such as entertainment, sports, music, cars, etc.
More on this subject:​