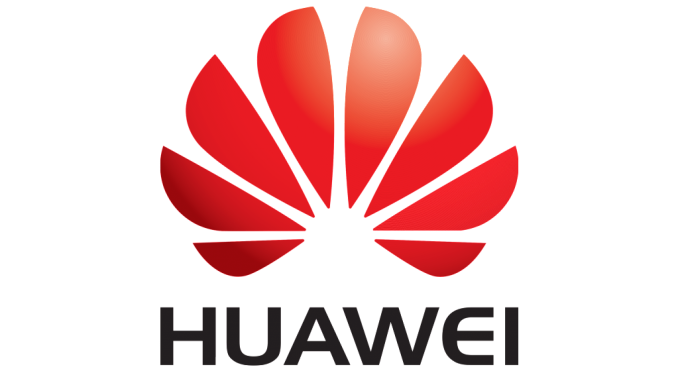 In an increasingly stagnating market, the Chinese smartphone manufacturer managed to ship 50% more smartphones compared to Q1 2018.
Artículo disponible en Español | Article disponible en Français
It is not a secret that the smartphone market is slowly declining, with less and less devices sold each quarter, due to various factors:
In most markets, most consumers already own a smartphone
Devices are becoming more and more powerful, reducing the need of replacing them early and easily lasting over two years
There is very little innovation in the smartphone market, with most brands focusing on gradual improvements
An increasing price of the devices in the high-end segment
So, it didn't come as a surprise when the reports of both Counterpoint and IDC pointed a decline of shipments of between 5% to 6% for the first quarter of this year, 2019, compared to the first quarter of 2018.
This decline in shipments affected various brands, such as Samsung and Apple, which saw their shipments decrease by 8% and 20% respectively, according to Counterpoint. Meanwhile, Huawei, Oppo and Vivo managed to grow by 50%, 10% and 27% respectively. The most impressive growth was seen by Huawei, moving from shipping 40 million devices in Q1 2018 to close to 60 million devices in Q1 2019. This was mainly thanks to an increase of sales of their latest Mate 20 series in China, as well as continuous growth in other markets, such as Europe. To this we can also add what seems to be Huawei's new strategy in Europe, releasing devices more regularly than in the past, keeping customers interested. For example, since the beginning of this year, the Chinese manufacturer has already released the P Smart 2019, the P Smart+ (2019), the P Smart Z, the new P30 Lite in two different variants, and, of course, the P30 and P30 Pro.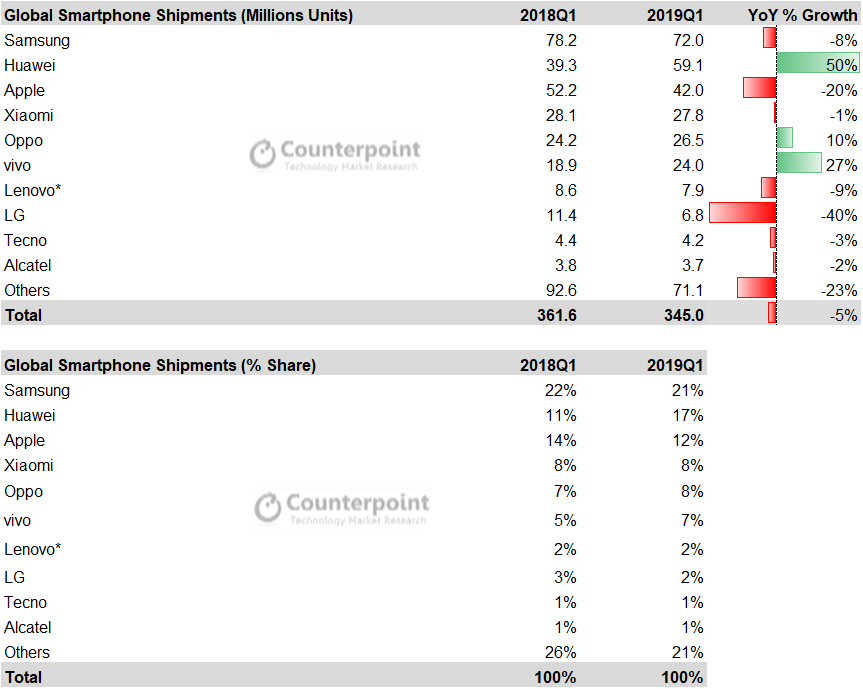 Surprisingly, some brands struggled to keep their position, with LG's shipments decreasing by a staggering 40%.
The intense competition seen in the smartphone market, with new offerings regularly coming from each vendor, affected the market share of each brand, with Samsung going from 22% to 21%, Apple from 14% to 12% and Huawei moving from 11% to 17%, passing Apple and becoming number two for the first quarter. It is expected that Huawei will keep this second place until the release of the 2019 iPhones, around Q3/Q4, and will probably end the year being second in terms of shipments, leaving Apple in the third place.
The irony in these statistics is how Oppo, Vivo and OnePlus (which doesn't sell enough yet to be listed in the top 10), are reported as separate brands, while being owned by the same company, BBK Group. Adding up the shipments of these three brands (and their respective subsidiaries) puts them behind Huawei and in front of Apple.
It is expected that the smartphone market will continue to stagnate during the next quarters, and even if companies are hoping to revive interest and increase sales with new types of devices such as foldable smartphones, the interest for this novelty and the highly prohibitive price will most likely lead to a continuous decrease in smartphone shipments in the near future.
The full reports can be seen here:
More on this subject:​