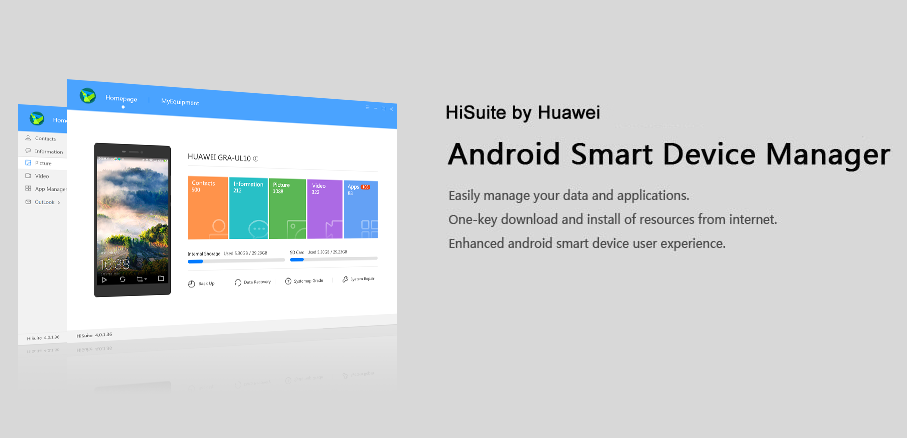 Sometimes, users might want to downgrade/roll back to a previous EMUI version due to issues or bugs in the more recent update.
Artículo disponible en Español | Article disponible en Français
Sometimes, users might want to uninstall or rollback (downgrade) the latest EMUI version, switching to a more stable version. The most frequent case would be when a new Android version comes out, together with an update to Huawei's EmotionUI skin, which can, in some cases, come with its fair share of bugs. Some users also decide to rollback due to incompatibility with needed applications (such as for work) or just due to cosmetic differences. Whatever the reason is, Huawei's HiSuite PC tool allows to easily rollback the operating system to a previous version on a wide range of devices.
First, the user must install Huawei HiSuite on their PC. This application can be found on Huawei's website, and is available for both Windows and Mac users.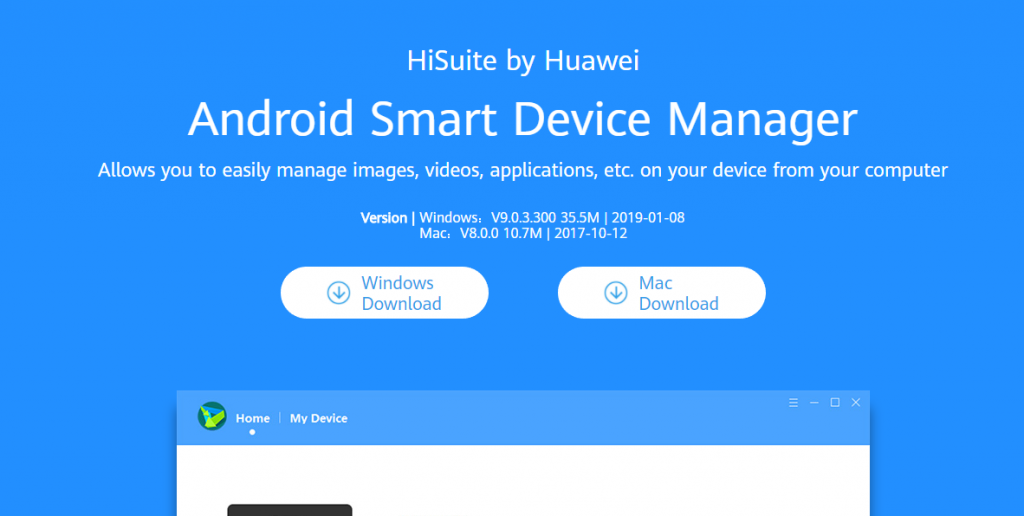 Once the application installed, please carefully follow the steps showed by HiSuite:
First, connect the phone to the PC, using preferably the official cable supplied with the device
Once connected to the PC, the phone will show a prompt, asking whether to transfer photos or files, or charge only. Tap on "Transfer files"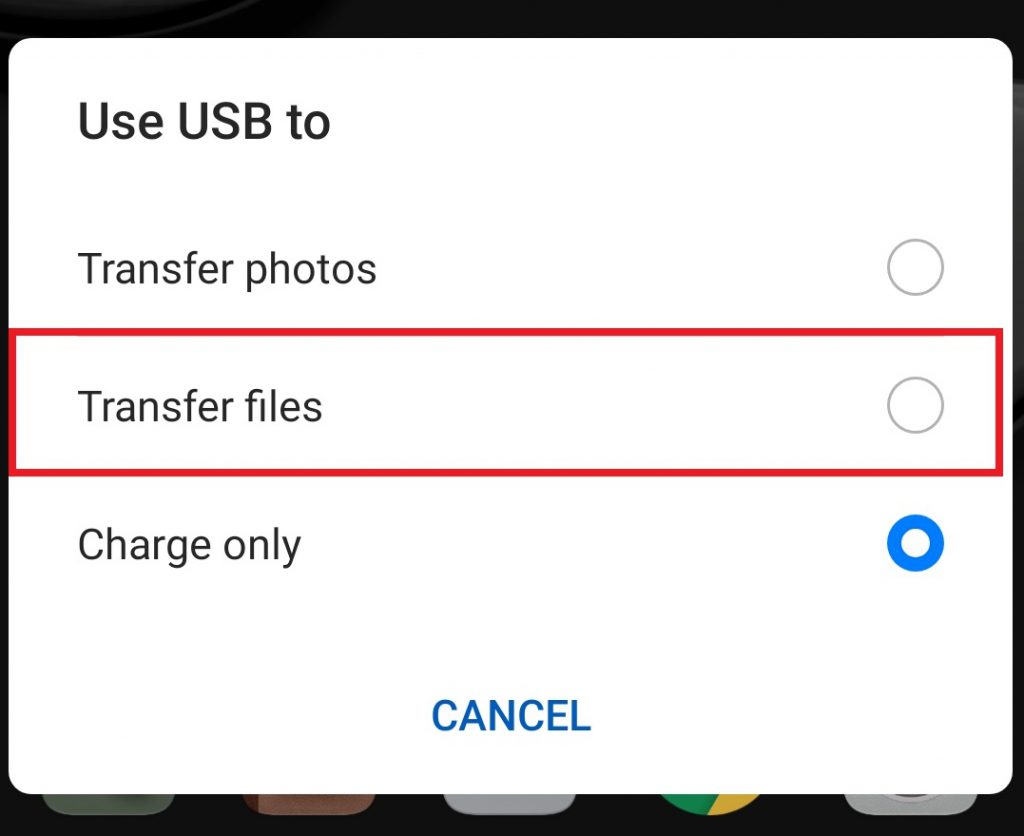 Alternatively, if this option does not appear, it is possible to swipe down, tap on the settings and select "Transfer files"
Once this done, the user must enable the "HDB" function in the phone settings, as asked by HiSuite. To enable this function, go the phone settings, then type "HDB" in the search bar and tap on the first result.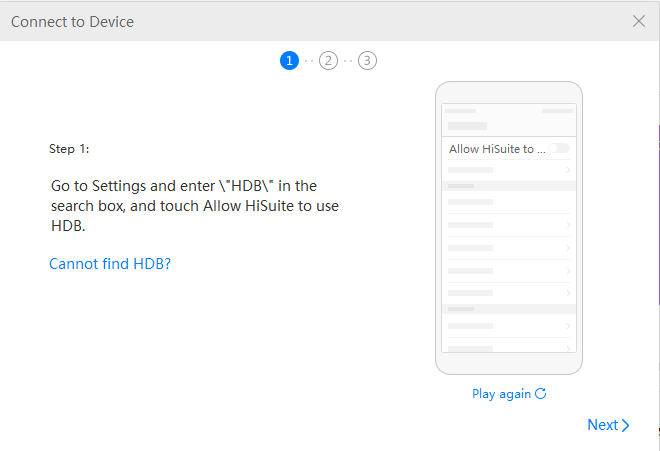 In this section, tap on "Allow HiSuite to use HDB". A prompt should appear, asking whether to allow connection with the PC or not. On the PC, a similar prompt should appear. If this is your personal PC, just select "Always allow HiSuite connection from this computer", then tap on "OK".
HiSuite and the device should now be connected. In some cases, HiSuite will have to be installed on the device too, although this is done automatically when connecting. Now, the application lets users do a series of actions, such as checking contacts, images, messages, etc. The main functions offered are "Back up", "Restore", "System Update" and "System Recovery". Each one of these functions serves a different purpose:
"Back up" allows users to fully back up their devices before sending their devices for a repair or doing a factory reset
"Restore" allows users to restore the data back ups
"System Update" can be used for two different things: update the device, if any update is available, or switch to a previous EMUI version, which is what interests us here
"System Recovery" is used in case an update failed and affected the device, forcing to reinstall the whole operating system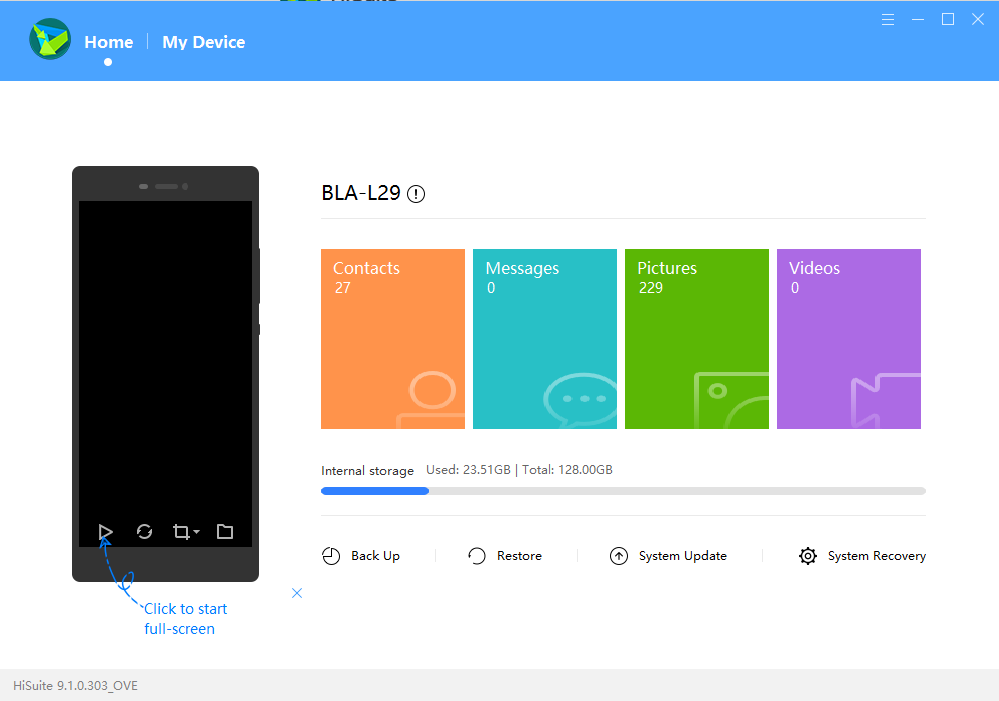 Since what we want is switching to a previous EMUI version, we have to click on "System update", and wait until the software finishes checking whether any updates are available. If you are downgrading due to bugs and an update is available, it is strongly recommended to test this new update before downgrading. Otherwise, the software will mention "You're now using the latest official version". It is important to keep in mind this tool will only let users downgrade to the previous EMUI variant. Thus, devices such as the P30 Pro cannot use this method yet, as they launched with the latest version available.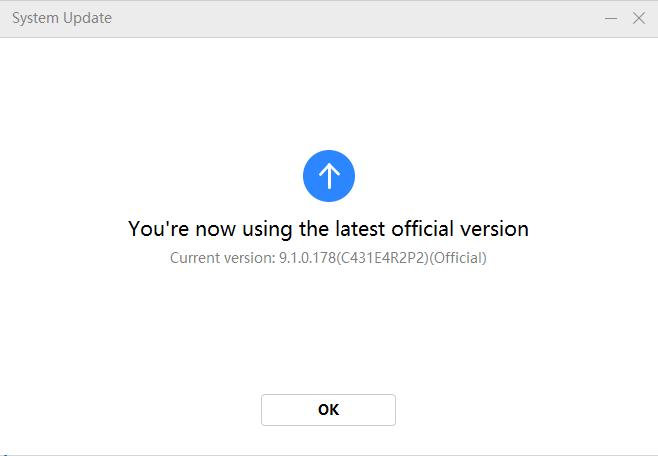 If a downgrade is available for your device, you'll see "Switch to Other Version>".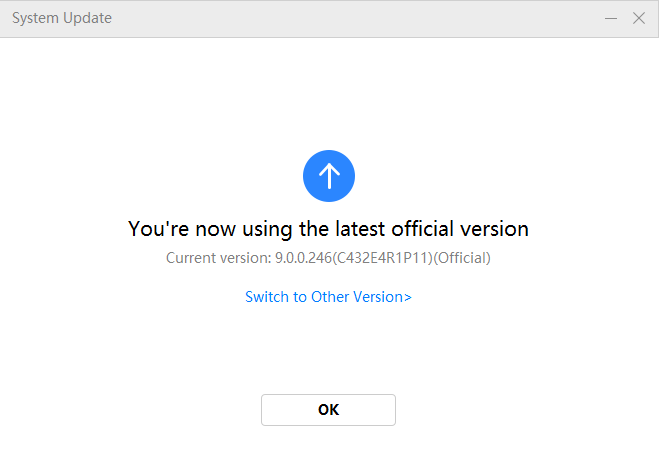 Before proceeding, it is important to point out that a roll back will delete all the user's personal data, so this is a good moment to backup all the important data. Huawei's HiSuite has an option for this, being "Back up", allowing to save all the phone data to a PC. There are other solutions, such as using an external memory card (if supported), Huawei Mobile Cloud, Google Drive, or other third-party solutions. We also recommend deleting your Google account to avoid being Google locked during the set-up, once the phone is downgraded. To avoid being Google locked, either delete your Google account from the device, or make sure to know which Google account you used on the first set-up of the device.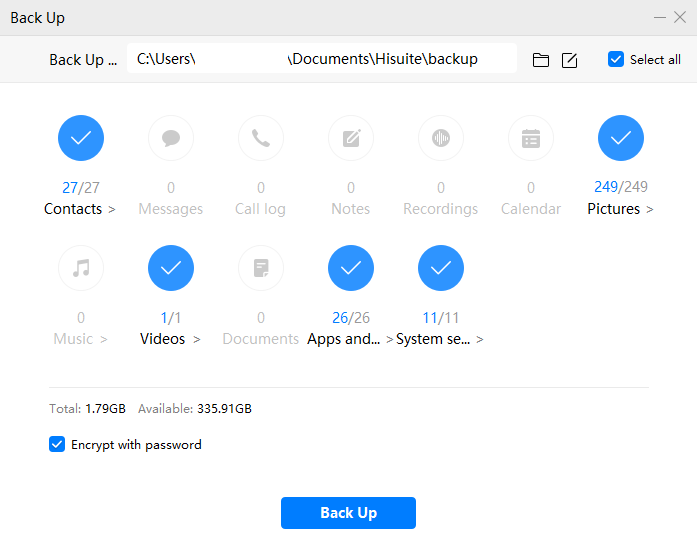 Once all the personal data backed up, you can come back to the rollback function. Make sure to have over 50% of battery and to have properly saved all personal data, as this one will be erased.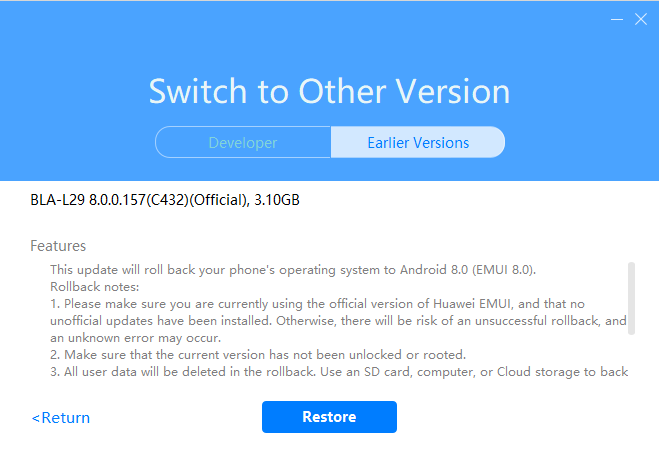 Click on "Restore", then confirm. HiSuite will start downloading the previous EMUI version, in this case EMUI8.0, which can take a while. Regardless, leave the device connected, avoid using it, and wait patiently. Once the previous version downloaded, the device will start installing it, which can take around 10 minutes.
If any problems appear during the rollback, the easiest is contacting Huawei's hotline, or bring the device to the nearest Huawei Service Centre. Keep in mind that, while Huawei Service Centres can help the user, they are not allowed to downgrade the EMUI variant to the previous variant, so there's no point in asking them help for this.
In most cases, this option is available and should only be used if the new update has series issues. It is strongly recommended to keep the device updated, with security patches resolving important security issues and exploits.
Sadly, after the rollback, Huawei's updater will regularly ask the user to update to the newest variant available. To our knowledge, this cannot be disabled. One setting that can be changed, and that must be changed if the user does not want to suddenly revert to the newest EMUI version overnight, is automatic updates. To do this, go to the Settings>System>Software update>Three little dots, Settings>Disable "Auto-download over Wi-Fi" and "Update overnight".
Finally, it is important to point out that not all devices are eligible to this downgrade option. From the various devices we've tested, all of them except the P20 Pro could be downgraded to the previous EMUI variant. These devices include the Mate 9, Mate 10 Pro, Mate RS, P10 and P Smart+. The P20 Pro did not give the option to downgrade, which is curious.
We've noticed a lot of users decide to roll-back due to the new design of EMU9.0 and EMUI9.1. For those unhappy with the new design, an option to consider would be Huawei Themes, which allows the user to more or less customize their system, changing the theme, background images and even icons. Some Themes are free, while others are paying. It would seem Huawei is lately pushing towards paying themes, which are developed both by the EMUI team and by third-party designers. Regardless, it is possible to sort out by free themes. Here are some examples of how themes can greatly change the impression given by the system UI:
In this first example, the theme changes pretty much everything, such as icons, contacts, and even comes with an animated background:
The following themes change both the background and the application icons, as well as contacts and other details:
Finally, it is also possible to customize a theme using different parts of various packages, by applying one the user likes, such as changing the font, the icon packs, the lock screen style, etc:
We recommend considering and testing this option first to those who dislike the new design, as downgrading is not a permanent solution. Once again, we want to make it clear that one should only downgrade to the previous variant if the update presented serious issues, and, while there's minimum risk, updates will regularly fix possible exploits and other security issues.
More on this subject:​