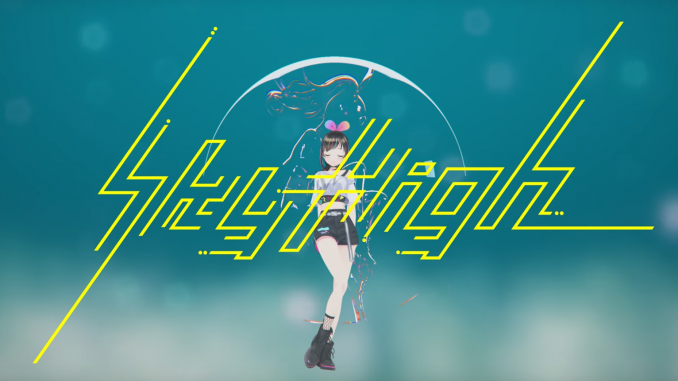 After various teasers, Kizuna AI has finally released a full music video for her new single, "Sky High".
Artículo disponible en Español | Article disponible en Français
A week ago, we posted a short article talking about the three teasers Kizuna AI had posted since the end of June until now, containing parts of her new single, "Sky High". This song was available on iTunes and Spotify since the 27th of June (for us in Europe), with the full version being posted on the automatic "Kizuna AI – Topic" YouTube channel some days ago.
On the third teaser, posted the 15th of July, a date was mentioned at the end, pointing to the 22nd of this month (yesterday), leaving users to guess what would happen. As some might have expected, the 22 corresponded to the date of the release of the music video for this new track:
The new track is also available to stream, buy or download on a wide range of websites.
Between the few days before the release of this new music video and the last teaser, the VTuber has been relatively busy, releasing two more videos related to music, one being a "Dance practice video" for her hit "AIAIAI". In this video we can observe the "Random word generator" in the background, as well the two other Kizuna AI versions (regular and gaming) sitting in front of the music/dance one, with the three of them eventually starting to play around:
The other video is a cover of a rather recent Japanese song from "Mewhan", "Koibito shikkaku" (in Japanese, the video title is "みゆはん 「恋人失格」", which we will not attempt to even translate, as our Japanese level is "Google Translate"):
For those really interested, the original one is here, which we do recommend checking out, not only to compare the differences, but to appreciate the original version, even if we don't understand a single word:
To end this article, we would like to point fans to this track made by Yunomi, the sound producer of "Sky High", "future base" and "new world", featuring Kizuna AI, which we crossed at random and were totally unaware of, titled "ロボットハート (feat. Kizuna AI)", which, according to Google Translate, means "Robot heart":
A quick note on the name "Yunomi": it appears this is some kind of teacup in Japan.
More on this subject:​