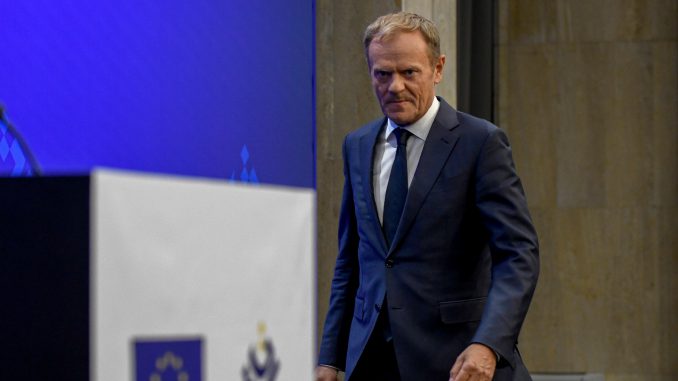 European Council president Donald Tusk continues taunting in jokingly manner the poor Brits.
Artículo disponible en Español | Article disponible en Français
In September of last year, 2018, during the Salzburg meeting, the current European Council president started taunting the Brits by posting a picture on Instagram with the caption "A piece of cake, perhaps? Sorry, no cherries.", next to the previous UK Prime Minister, Theresa May. This was an obvious reference to the Brexit negotiations, and how the UK was trying to obtain concessions that only EU members can get, such as participation in Galileo, a concept also known as "cherry picking".
This time, Tusk posted two pictures on his Twitter account. Tusk, together with other EU officials and European leaders, is currently in New York for the United Nations General Assembly. The first picture was captioned as "Standing together with PM @LeoVaradkar in New York. We continue looking for how to avoid a disorderly Brexit.". Leo Varadkar, for those unaware, is the current "Taoiseach", the prime minister of Ireland:
The picture pretty much summarizes the current Brexit situation, with no deal in sight. Some people were quick to photoshop the image, by adding the current British PM, Boris Johnson, in front of the two leaders, using a picture that was taken back in 2012, when the then London mayor got stuck on a zipline:
You never know what you might see in ….Queens. pic.twitter.com/JeMThnPzG5

— Helen Kennedy (@HelenKennedy) September 23, 2019
On the second picture, posted the same day but 3 hours later, we can see Tusk and Johnson discussing, or at least that's what we are supposed to see, if we ignore Boris' open legs, the weird sitting position of Tusk and the death stare this one is giving to his interlocutor. It might have been a productive talk, although, seeing the past few years of the Brexit process, this can be doubted:
Tusk's ways of doing things are rather curious. While the British tabloids lost their mind on the cherry picking joke, with all the Brexiters coming out of the woods to lynch the poor Polish guy, reminding us, once again, of their lack of historical knowledge, bringing back up World War II and their non-"glorious past", this time, things seem to have gone a bit more smoothly, with just a few negative comments under the picture, coming from the usual lot. So far, not a single British tabloid, such as [censored] and [censored], have picked the joke and written on their front page a manifesto on how the country must leave the Union because the honour of the Commonwealth, the Queen and the entire British nation has been ruffled. This might be due to them being too busy celebrating their hero Boris Johnson and attacking the current Labour leader, Jeremy Corbyn, or gossiping about random unknown celebrities, as per usual.
​More on this subject:​