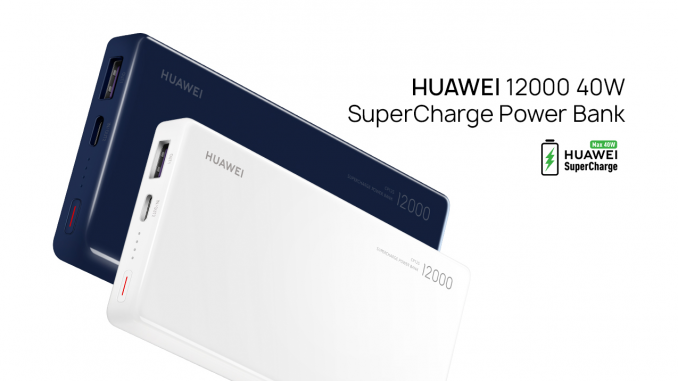 Huawei's 12 000mAh 40W SuperCharge power bank, announced together with the P30 series, is finally available in Europe.
Artículo disponible en Español | Article disponible en Français
Together with the launch of the P30 series, back in March 2019, Huawei announced a series of exclusive accessories, such as phone cases, the FreeLace, the FreeBuds Lite, new variants of the Watch GT and various other products. Amongst them, we could find a Huawei power bank with a capacity of 12 000mAh and capable of charging Huawei devices with Huawei's 40W SuperCharge, which allows users to charge their phone from 0 to 70% in barely 30 minutes.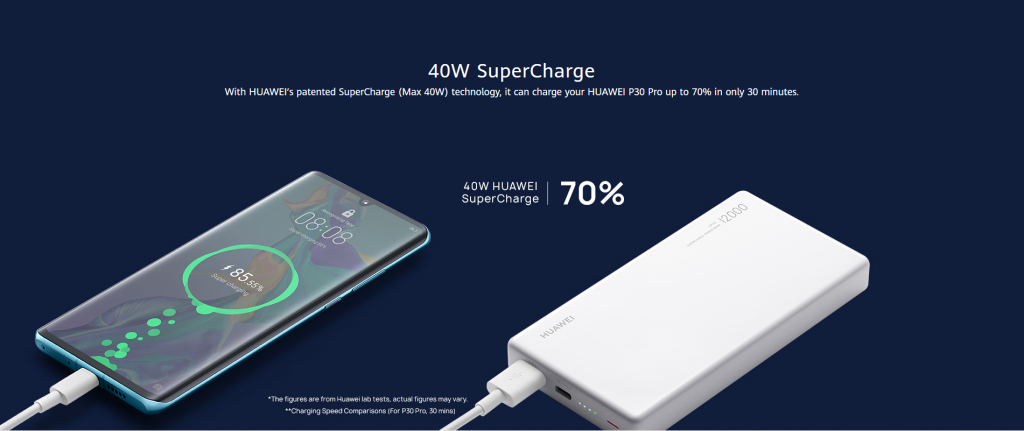 The power bank can also be recharged in roughly 2 hours using Huawei's 40W SuperCharge, or in 5 hours and a half with a 10W charger. The power bank is also compatible with laptops and other products of the company, such as smart watches, as well as with a number of devices from other brands, such as Samsung and Apple.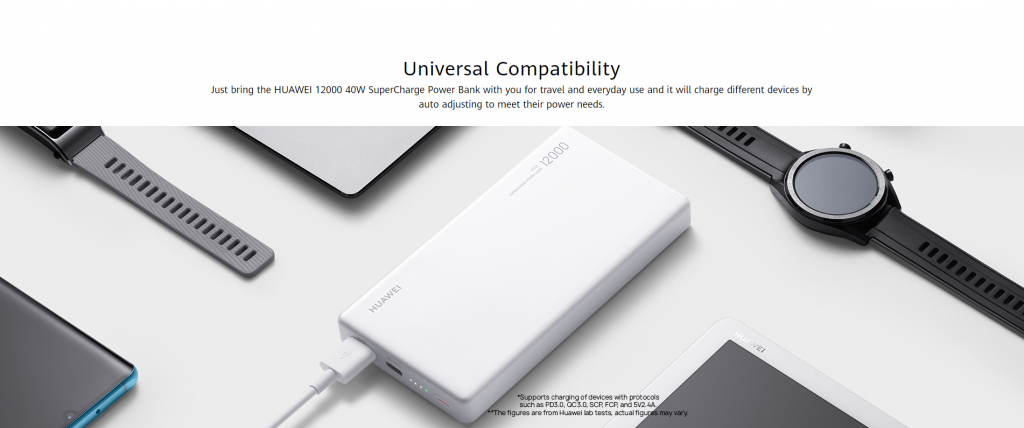 According to Huawei, the power bank comes with a 66% increase in cycle life, 22% increase in energy density and a 19% decrease in battery cell volume thanks to higher quality lithium cobalt oxide batteries.
As per usual with premium Huawei products, a number of safety features have been included to protect both the battery and the device it is charging. This trend of high-quality products can be noticed with other accessories from the company, such as their backup solution, the ST310-S1, or Huawei's Porsche Design wireless charger, with both using higher quality components usually not found in these specific products.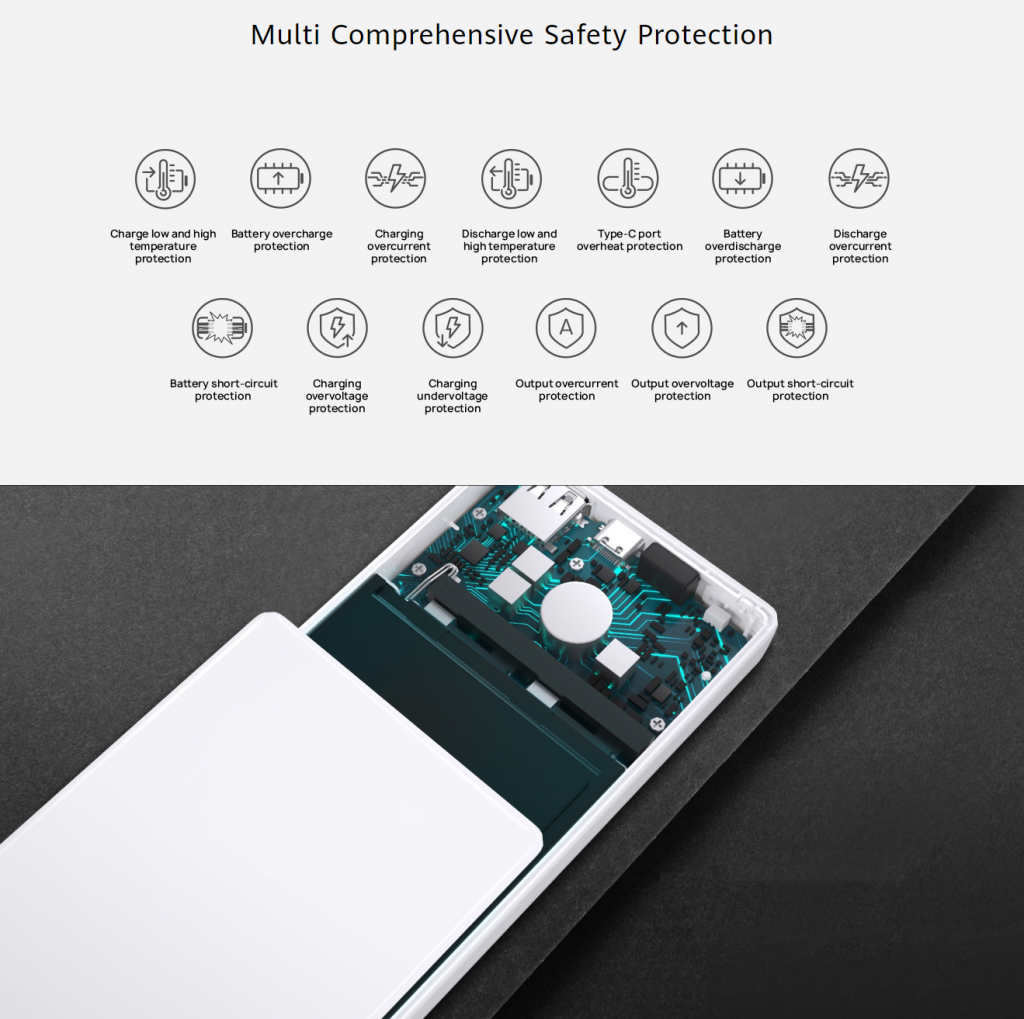 Little information was provided on launch, with just the price advertised: 99€, a rather steep price for this kind of product. Since then, the product was nowhere to be found, especially due to the lack of a proper name. It turns out the company decided to coldly name it CPS12S, a rather weird and difficult to remember name, just like their backup solution, "ST310-S1". The product seems to have started retailing around July/August in some countries, such as Italy, but can now be found in France, Belgium, Spain, UK and Germany. Sadly, it will often not pop-up under its name, but under a more generic name such as "Power Bank Type C White". The power bank is also available in White, Blue and Black, although the Black variant doesn't seem to have reached our continent.

While announced at 99€, the CPS12S can be found for 80€ on Media Markt, and around 50€ on Amazon, a much better value than the 99€ originally asked. It is also important to note that this is one of the very few power banks capable of 40W SuperCharge, which includes the Mate 20 series (Mate 20 Pro ǀ Mate 20 RS), P30 Pro and the recently launched Mate 30 series (Mate 30 ǀ Mate 30 Pro ǀ Mate 30 RS). So, Huawei users wanting to get the best out of their devices do not have much choice but to go with the official, compatible product.
The only real downside of this power bank is its weight, being, according to the specifications page, 225.5 grams, making it slightly heavier than a P30 Pro (at 192 grams) or a Mate 30 Pro (at 198 grams).
For those interested, here are a few Amazon links, as well as a Media Markt link for Belgium. The product is also available at the Huawei Experience Store in Brussels for those living here. The following links are not affiliated:
Curiously, on the international page, Huawei does not mention the CPS12S is compatible with a series of devices such as the P30, Mate 20, P20 series, MateBooks, iPhones, Samsung, ThinkPads and various other devices, contrary to the listing found on its Chinese shop Vmall.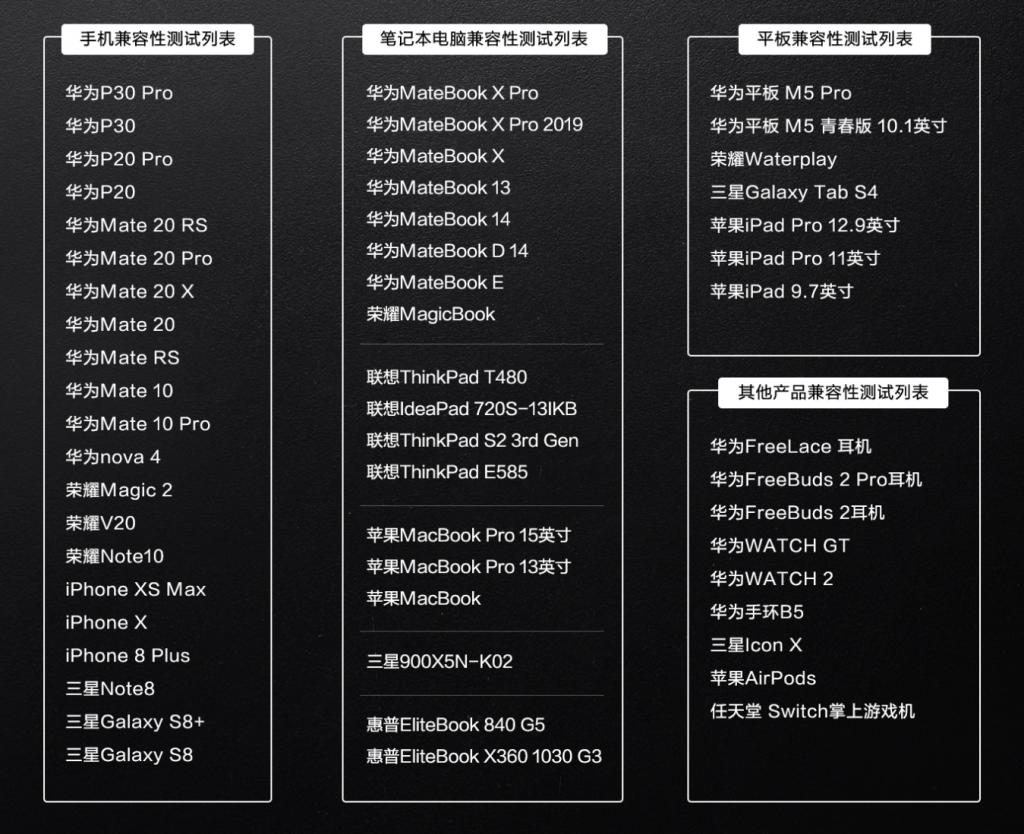 More on this subject:​