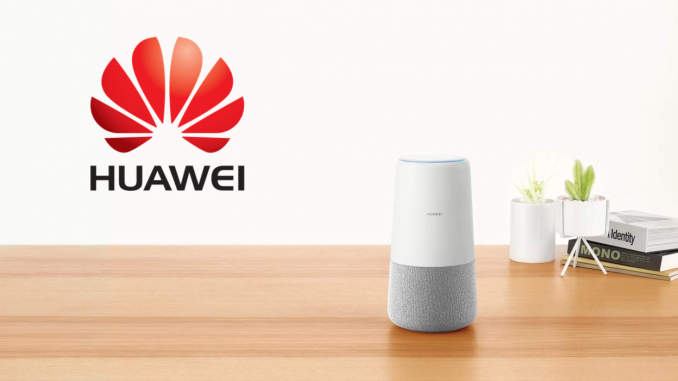 Huawei's 4G router, the AI Cube, appears to have been delisted from Amazon France, while at the same time decreasing in price in Italy.
Artículo disponible en Español | Article disponible en Français
Over a year after its announcement, the Huawei AI Cube seems to be in a weird position, with the product release on some markets having been delayed for months. While it initially appeared online in June of this year, and was supposed to launch in summer, it turned out it was only possible to acquire it in the UK on contract. Later on, the product started retailing via Amazon UK, but the launch on Amazon France kept getting delayed until September, although the product ended up being marked as "out of stock" right after said launch. Now, the 4G router isn't even sold by Amazon anymore, with the listing only showing third-party sellers. This could also be due to supply issues between Huawei and Amazon, as the Chinese manufacturer is still selling it directly through their recently launched online store.
Meanwhile, on Amazon Italy, the product has changed of price, dropping from 250€ down to 179€, and is currently discounted, being sold for 149€. This sudden decrease of the price is quite curious, taking in account the product launched very recently, even if it was announced during IFA2018, although this could indicate it was overpriced to begin with. After all, we guessed the AI Cube would retail for around 150€, putting it in line with other similar products such as Google's Home assistant/speaker and Amazon's Alexa line-up.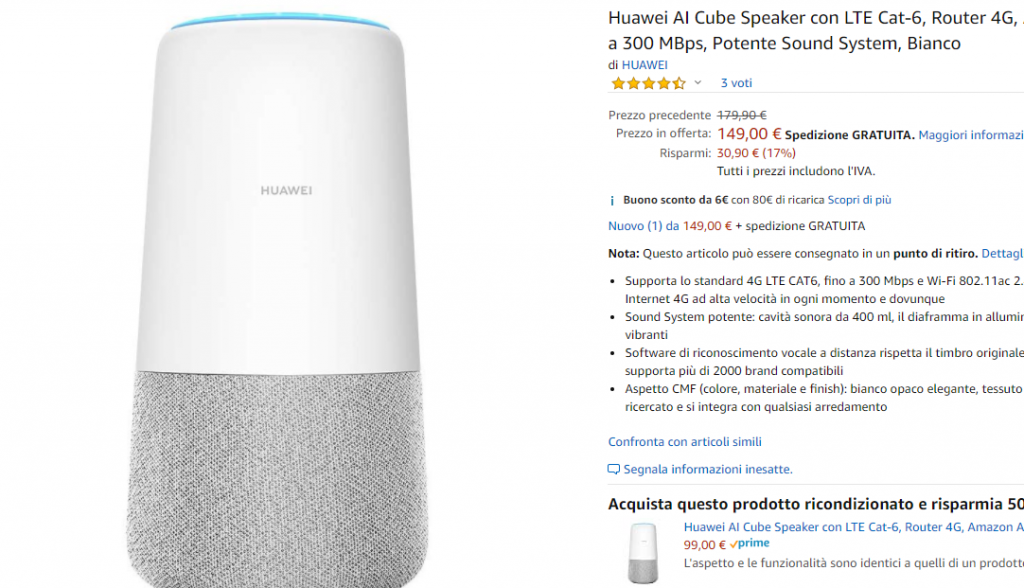 The new price of 179€ makes this router a lot more interesting, although we believe the sweet spot would be around 150€. After all, it is possible to buy an Amazon Echo for around 100€, which comes with Amazon's Alexa assistant and a speaker, so for 50€ more on Huawei's side, one can get 4G and Wi-Fi connectivity too. We've also heard of some limitations on the AI Cube, such as the lack of compatibility with Spotify, meaning users only have access to Amazon's Music library, Deezer and a few other music streaming services.
For those interested, we are hoping to be able to buy one soon to upgrade the Wi-Fi connection in our offices, so we'll eventually review this product.
Edit 2/12/2019: Ironically, by the time this article was released to the general public, after a few days of exclusivity through our DRSC Pro subscription service, the AI Cube is, once again, listed on Amazon France for 250€.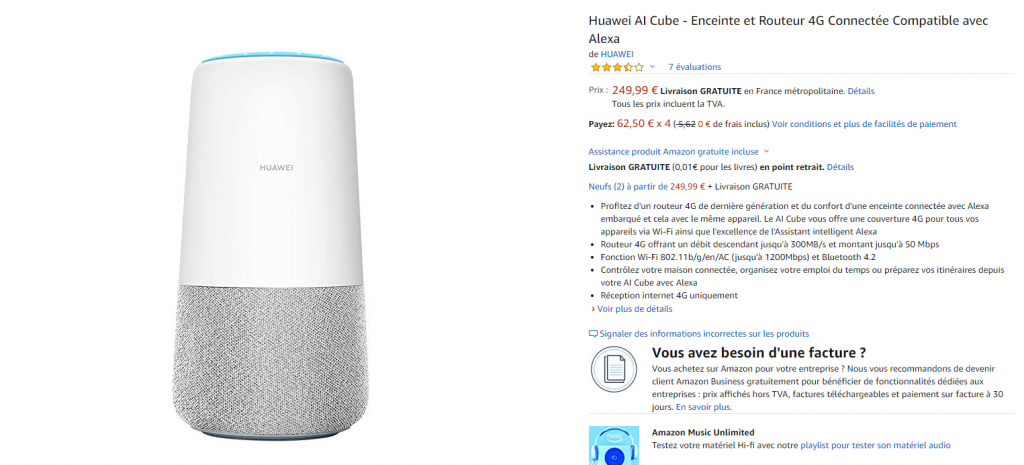 More on this subject:​