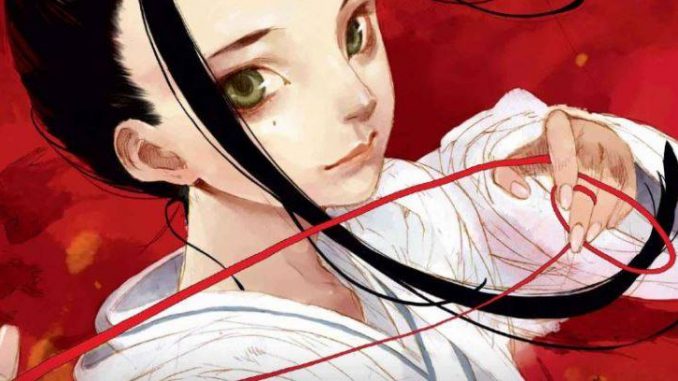 One of the few French publishers centred on Chinese culture, Urban China, has announced the end of its operations.
Artículo disponible en Español | Article disponible en Français
It is with great regret and sadness that we learn of the end of operations of one of the few French publishers centred on China and its culture, Urban China. Created in 2015 by the publisher Dargaud, Urban China mostly published Chinese manga, known as "manhua", as well as books talking and sharing the Chinese culture, such as food receipts of typical Chinese food.
Sadly, it appears that, between copyright issues with the Chinese publishers and a lack of interest amongst the French speaking public, the publisher is unable to continue its activities. The announcement was made through a simple post on their Facebook page: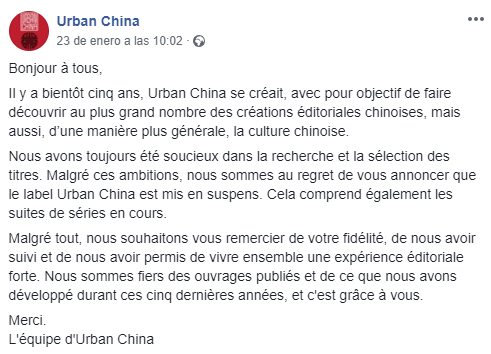 Here's the translation:
Dear all,


Nearly five years ago, we created Urban China with the goal of sharing to as many people as possible Chinese works, but also, more generally, Chinese culture.

We've always been careful in the search and selection of titles. But, despite these ambitions, we regret to announce that the Urban China label is put on hold. This also includes the series that are still ongoing.

Despite everything, we would like to thank you for your loyalty, for having followed us and having allowed us to live such a strong editorial experience together. We are proud of the books we've published, as well as what we've achieved over these past five years, and this is all thanks to you.

Thank you,

The Urban China team
This end of operations also interrupts the series that are currently ongoing, which some readers might find hard to accept, due to them having waited impatiently for the continuation of their favourite series, on top of having invested quite a lot of money to support the authors.
Sadly, this end of operations isn't surprising, and readers that have been following the situation closely might have noticed that, in 2019, the publisher barely published anything, with the last manhua published, the seventh volume of "Vers l'Ouest" (Journey to the West), having been released in March 2019. Furthermore, it is important to point out that some of the key series of the publisher, such as "La princesse vagabonde" (Chang Ge Xing), are on hold since a long time ago (2016 in China, 2017 in France), due to health issues on the author's side, Xia Da, as well as issues with the publisher in China.
Despite this, even if the Facebook post mentions that the label is put on hold, it doesn't specify whether this decision is permanent of not, which leaves the door open for the publisher to try their luck once again in the future, or, at least, try to finish publishing the few ongoing series. In any case, it is saddening to see such a good publisher leave the market.
For those interested in the Chinese culture, we can recommend the first 7 volumes of "La princesse vagabonde" (Chang Ge Xing), even if the continuation is unavailable, as well as another series by the same author, "Little Yu" (Zi Bu Yu), also edited by Urban China, and finished in three volumes. In both cases, the drawings and colours are gorgeous, of a rare beauty, and the printing quality from Urban China is of a rare quality in the manga universe in general, even if this results in a higher retail price.