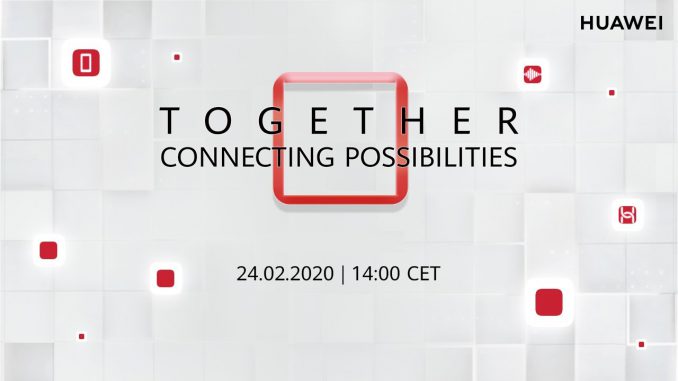 Following the announcement of the Huawei Mate Xs, the company announced the MatePad Pro, a tablet already available in China.
Artículo disponible en Español | Article disponible en Français
In 2019, Huawei launched two different main models of tablets: the MediaPad M6, which eventually made it to Europe at the end of the year, and the MatePad Pro, a new high-end tablet featuring the Kirin 990 and even supporting wireless charging. The company had also mentioned a 5G variant would be launched later this year (2020), with the 4G variant thus being available since a few months in China. Of course, the Mobile World Congress is the opportunity for the manufacturer to launch this product globally.
As the name implies, the MatePad Pro is aimed at the business market, borrowing various elements from Huawei's smartphone devices, such as thin bezels or various colour choices instead of just metallic grey and black. The tablet has a large, 10.8" display with a resolution of 2560×1600 pixels and a PPI of 280. Colour-wise, the display is DCI-P3, having excellent colours for viewing images or watching movies.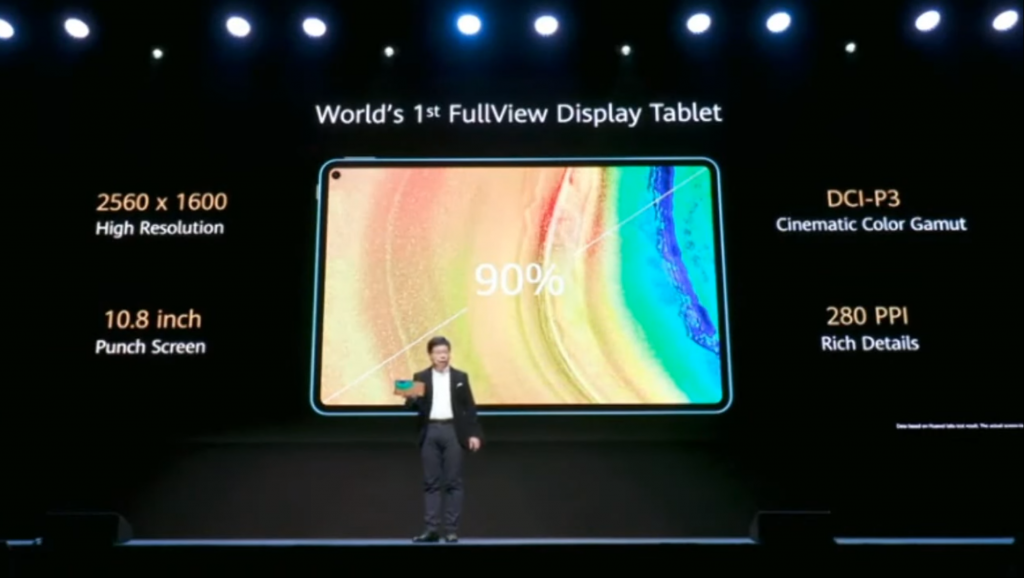 As previously mentioned, the MatePad Pro benefits from very thin bezels, at just 4.9 millimetres, making the product more compact and thus easier to transport, but still being 10.8". The same can be said about its thickness, at just 7.2 millimetres for the regular version and 7.99 millimetres for the vegan leather version, with each weighting 460 and 492 grams respectively.
The tablet also comes with a quad-speaker set-up, covering one of the key aspects of a tablet, as most users watch movies or videos on them, and thus sound quality is an important feature. With the product aimed at professionals and thus likely to be used for videoconferences, we also find four microphones on the top, and a fifth one located on the back camera for noise cancellation.
While the MatePad Pro was already available with the Kirin 990 4G, this new version comes with the Kirin 990 5G, being slightly stronger and more performant overall but, more importantly, being compatible with 5G networks. Of course, this means the tablet can be used for CPU-intensive workloads or gaming, and with the 5G connectivity, users can enjoy 5G Cloud gaming, a service that is slowly being developed by various companies, such as Nvidia with GeForce Now, Shadow or Google's Stadia.
For the RAM and memory, we find various configurations, at least in China, ranging from 6GB+128GB to 8GB+128/256/512GB. Charging-wise, the tablet supports Huawei's 40W wired SuperCharge, the same found on the P30 Pro or the Mate 30 Pro, and even 27W wireless SuperCharge (only on the 5G model, the 4G is limited to 15W wireless charging), also seen on the Mate 30 Pro, making of this the first wireless charging tablet on the market . Furthermore, the MatePad Pro also supports reverse wireless charging, which can be used to recharge other wireless-charging compatible devices. In terms of battery, the tablet packs a 7250mAh battery, which should be enough for most tasks.
Software-wise, we find EMUI10 with various optimizations to make full-use of the display of the tablet and not have to rotate this one while in use to use landscape mode. Huawei has also added what they call "APP Multiplier", a mode that allows to see an app in two different adjustable windows, one displaying the overall application and the other the details of this one. Sadly, it appears this mode is not available for all applications, with the company mentioning that the top 3000 apps in China will support this mode by "next month", being March. Of course, we can expect international applications to support this mode somewhere in the future but, as we've seen numerous times in the past, it appears there's a wide gap between China and the Western world, with each eventually developing their own solutions to handle the different needs of their users. This is despite Huawei claiming this mode is very easy to implement thanks to their "Open UIKit" for developers, part of the package of services the company is launching and pushing with their Huawei Mobile Services and their Huawei HMS Core.
Another software feature, this time borrowed from their MateBooks, is multi-screen collaboration. With this feature, users can connect their smartphones to the tablet and access this one, copying text or importing/exporting files from one to the other. From our limited experience from the MateBooks, this is a rather nice feature to have, especially as the smartphone can be used as some sort of USB-key or external hard-drive.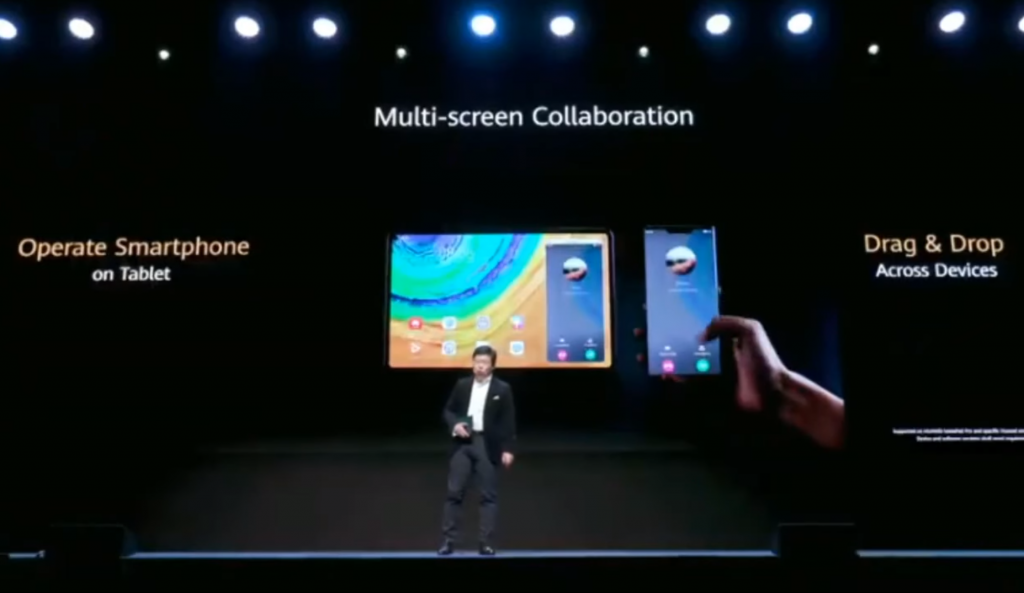 We then have accessories for the MatePad Pro, such as the Bluetooth keyboard, which pairs automatically and supports wireless charging. The keyboard can also be used to tilt the device at various angles, making it more comfortable to use overall. However, and as expected, this keyboard has to be purchased separately.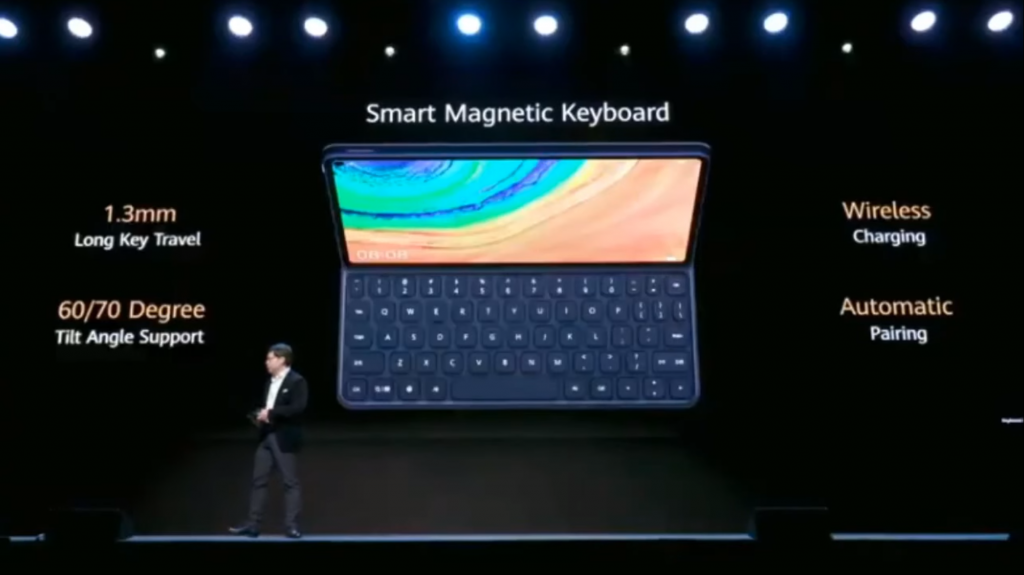 Another accessory is a new pen for the tablet, this time named the M-Pencil, with previous iterations named the "M-Pen". There doesn't appear to be many new features on this pen, supporting the usual 4096 levels of pressure sensitivity, with tilt for shading, palm rejection and wireless charging. This pen can be placed on top of the tablet, thanks to a magnet keeping it in place. However, if anything, this pen has to be purchased separately, a downgrade from previous models such as the MediaPad M5 Pro back in 2018, which included the pen in box.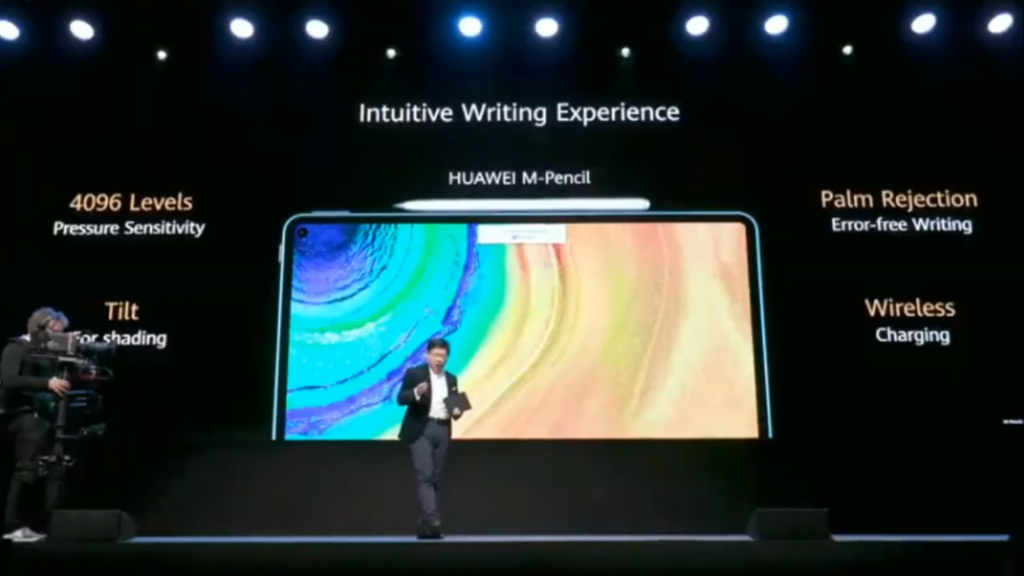 Colours-wise, Huawei brings some of the variety seen on their smartphones to the MatePad Pro, with two models with fiberglass backs, in white and grey. We also find two "Vegan leather" versions, in orange and green.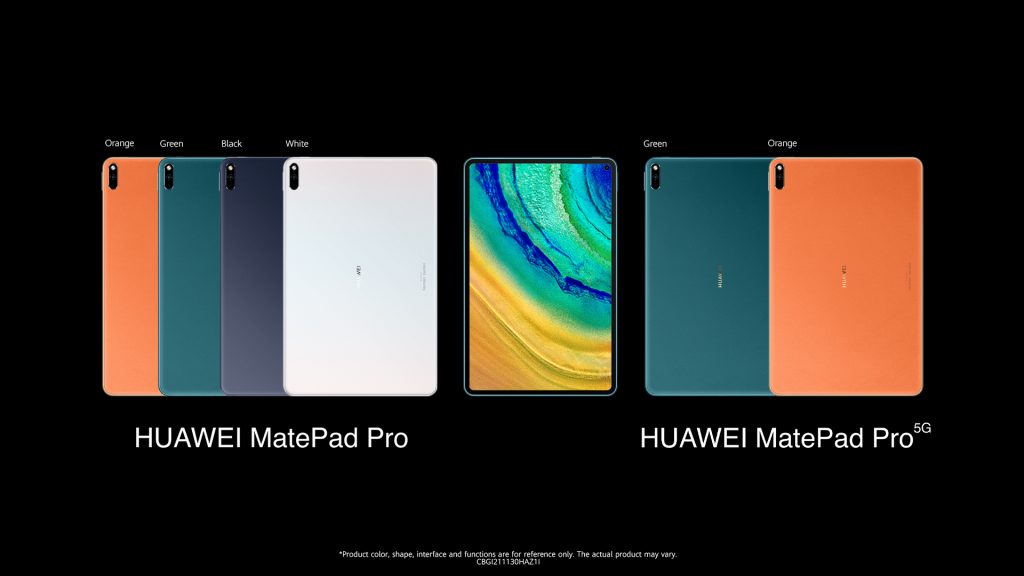 While the camera was not mentioned at all during the presentation, the MatePad Pro comes with a punch-hole front camera of 8MP, and a back camera of 13MP. If anything, it is rather disappointing not seeing some of the smartphone camera features on this tablet, such as a better front camera or a dual or triple camera on the back, with even mid-range devices from the manufacturer now packing a 48MP back camera.
Pricing-wise and availability, we have multiple versions to choose from, all coming out in April of this year, 2020:
6GB+128GB, WiFi, 549€
8GB+256GB, WiFi, 649€
8GB+256GB, WiFi, M-Pencil included, Vegan leather, 749€
6GB+128GB, LTE, 599€
8GB+256GB, LTE, 699€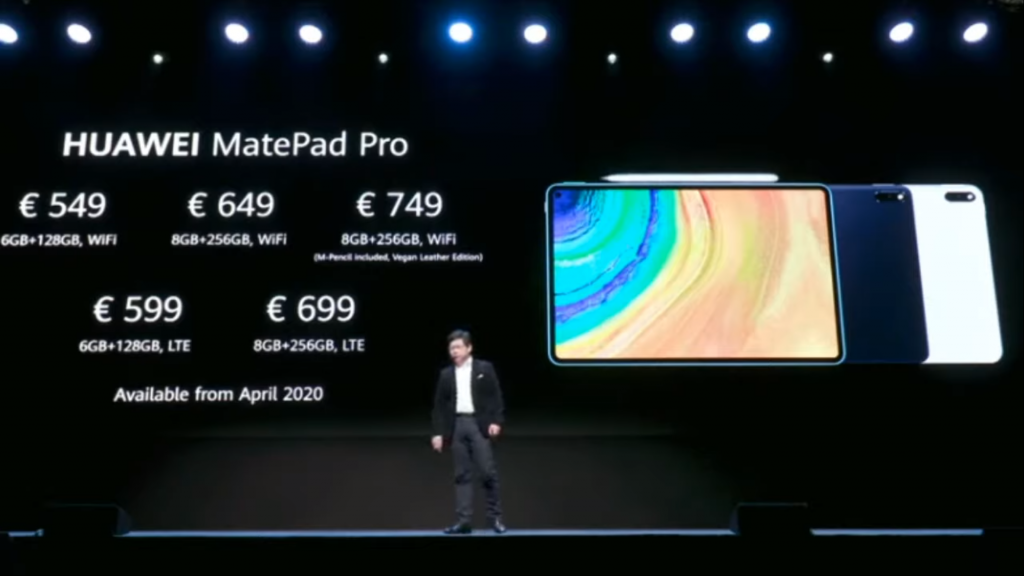 For the 5G version, this one is only available in Vegan leather, either orange or green, with two versions, although no availability was mentioned:
8GB+256GB, 799€
8GB+512GB, 949€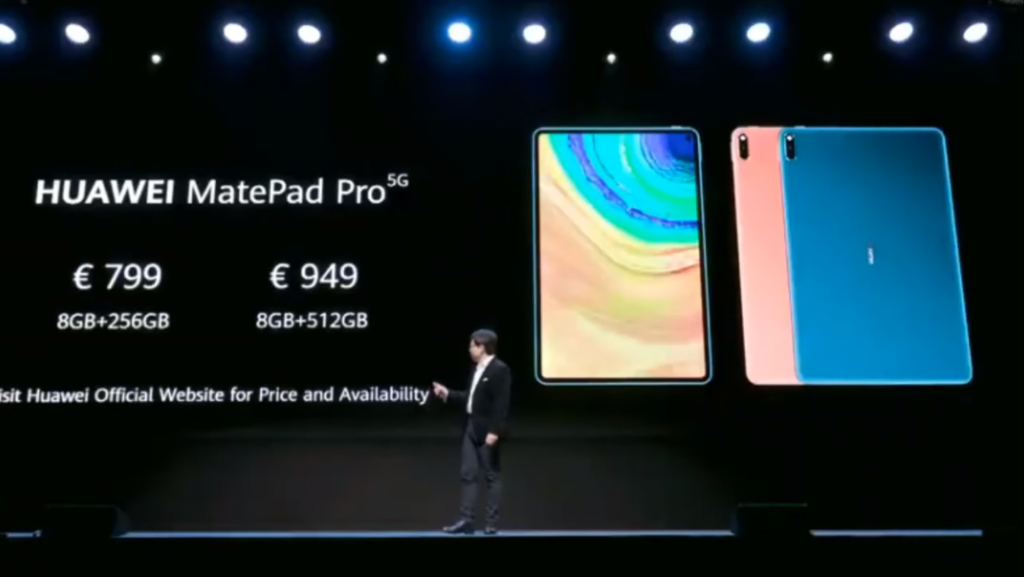 Lastly, for the various accessories, we do have the pricing for once, with the MatePad sleeve costing 39€, the M-Pencil costing a rather pricey 99€, an increase compared to previous generations, the smart keyboard for 129€, similar to previous models, and the folio cover for 39€: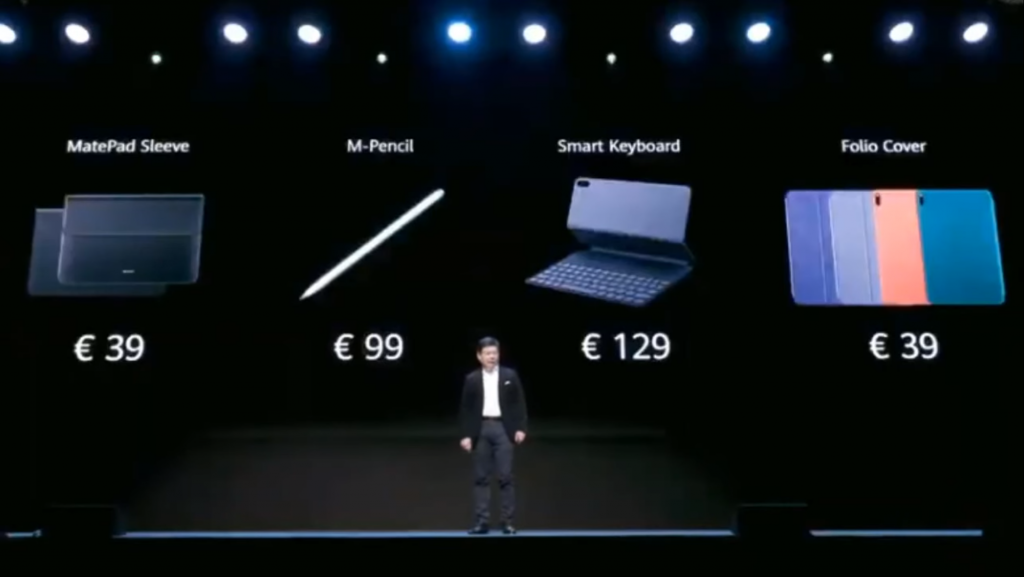 It will be interesting to see whether this tablet is successful in the West or not, due to its lack of Google Mobile Services and Google Play Store, although AppGallery already has most productivity-focused applications users might require, such as WPS Office or Microsoft's Office suit.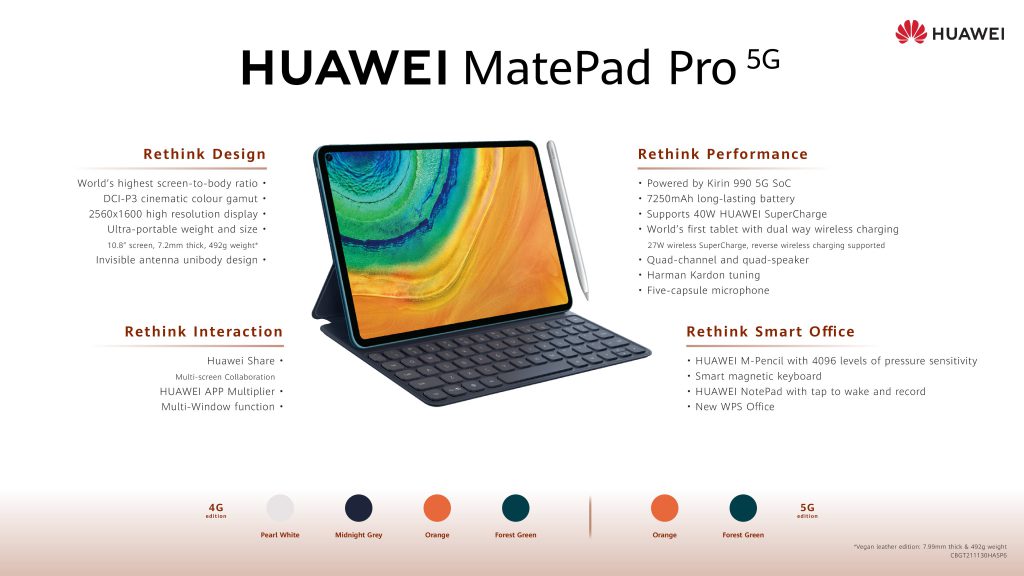 More on this subject:​