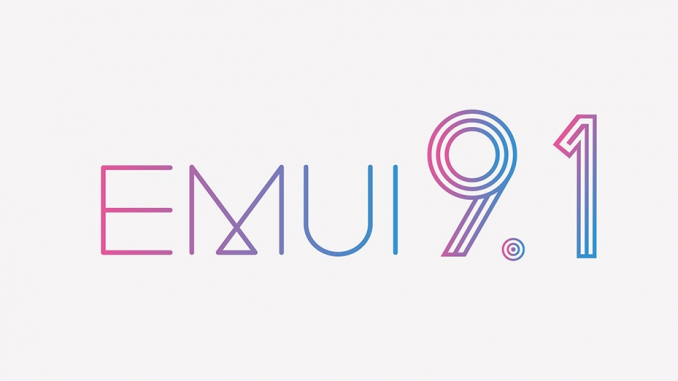 Against all odds, Huawei and EMUI have decided to start rolling out the EMUI9.1 update to dozens of models in Europe too.
Artículo disponible en Español | Article disponible en Français
Initially, it seemed the EMUI9.1 update was going to follow a similar path as did the EMUI8.1 and EMUI8.2 updates, by only being available on newly released models, with older models being updated directly to the following variant. Some examples would be the Mate 10 series (Mate 10, Mate 10 Pro and Mate 10 Porsche Design) never receiving EMUI8.1 and EMUI8.2, and instead being updated directly to EMUI9.0. The same happened with the P20 series (P20, P20 Pro and Mate RS), which launched with EMUI8.1 back in March 2018 and never received EMUI8.2, instead being upgraded directly to EMUI9.0. The few devices launching with EMUI8.2 were the P Smart+ and Mate 20 Lite, with the P Smart+ getting the EMUI9.0 update in March of this year, and the Mate 20 Lite skipping EMUI9.0 altogether and recently receiving, or being in the process of receiving, EMUI9.1.
The situation changed when the US placed sanctions on Huawei, eventually meaning Huawei would lose access to Android & its partnership with Google. After receiving a 90 days extension, the new date for the separation is mid-August, with Huawei ramping up development of its EMUI version based on Google's Android Q variant, set to release in August too. In Europe, 17 models have been added to the list of devices officially receiving EMUI10.0, with most likely more models added in the future.
So it comes as a surprise that now Huawei announced dozens of models will be getting EMUI9.1. More surprising, the update is already rolling out to some users on the Mate 20 Pro. After all, if EMUI10.0 is arriving in August, why bother updating dozens of models to EMUI9.1, if it's only for barely a few weeks on some of them, before receiving EMUI10.0? The EMUI team could have spent the extra time further optimizing, improving and polishing EMUI10.0, and bringing it to as many devices as possible. Regardless of the decision and choices of Huawei, EMUI9.1 will be deployed on 24 devices, starting by the Mate 20 series this month. Here's the full list currently available:
Mate 20
End of July 2019
Mate 20 X
Middle of July 2019
Mate 20 Pro
Supposedly "End of July 2019",
although already available
Mate 20 RS Porsche Design
Middle of July 2019
P20
End of July 2019
P20 Pro
End of July 2019
Mate RS Porsche Design
End of July 2019
Mate 10
End of July 2019
Mate 10 Pro
End of July 2019
Mate 10 Porsche Design
End of July 2019
P10
End of August 2019
P10 Plus
End of August 2019
Mate 9
End of August 2019
Mate 9 Porsche Design
End of August 2019
P Smart 2019
Middle of August 2019
P Smart+ (2019)
Middle of August 2019
P Smart+ (2018)
End of July 2019
Mate 20 Lite
Supposedly "End of August 2019",
although already available
P20 Lite
End of June 2019, already available
P Smart
End of June 2019, already available
P30 Lite
Early of August 2019
Y6 (2019)
Early of September 2019
Y5 (2019)
Middle of August 2019
P Smart Z
To be decided, likely end of August 2019, judging by the other dates
As a clarification, some of these dates differ from what can be seen on Huawei's EMUI9.1 announcement. This is normal: we've used the information from Huawei Mobile Spain. Regardless, it should match more or less the final deployment dates. Furthermore, some of the models listed on Huawei's global announcement do not appear on Huawei's announcement for Europe, such as the Y9 (2019), Y6 Pro (2019) or Mate 9 Pro. This is most likely due to these three models not really being sold in Europe.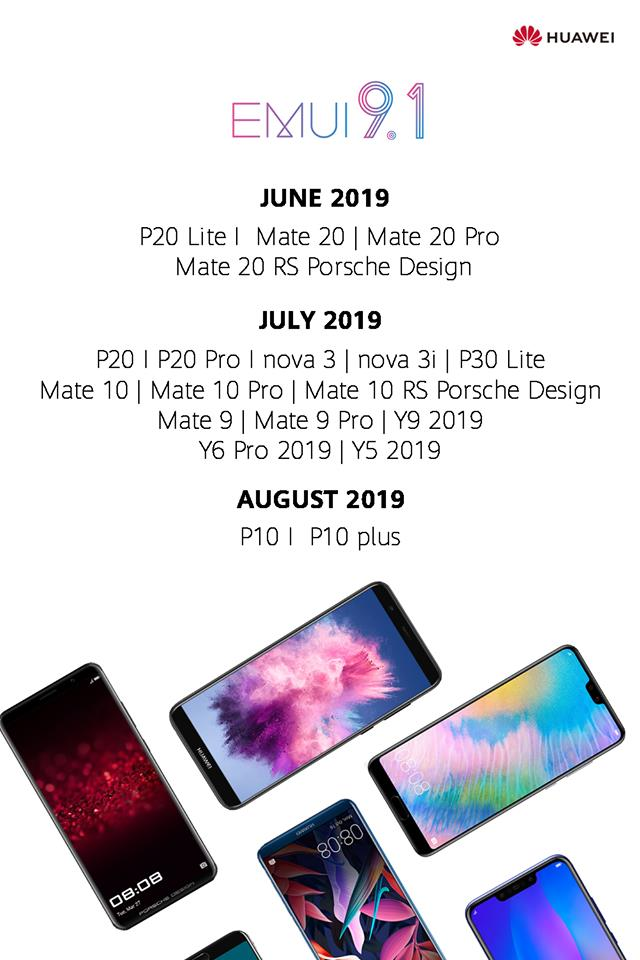 As mentioned in this list, and as we have been able to confirm from numerous sources, the updates for Mate 20 Pro, P20 Lite, Mate 20 Lite and P Smart are already rolling out across Europe. In most cases, the update will appear in the updater, as per usual, although many users are reporting getting it via a notification on HiCare. It is also possible to update via HiSuite on PC. The update is being rolled out in waves, meaning it could take up to a few weeks to reach all models. The update also depends on the user's country of residence and whether the device is locked or not. For instance, users in Spain are already enjoying EMUI9.1 on the P Smart, while in other countries it should be arriving by the end of July 2019.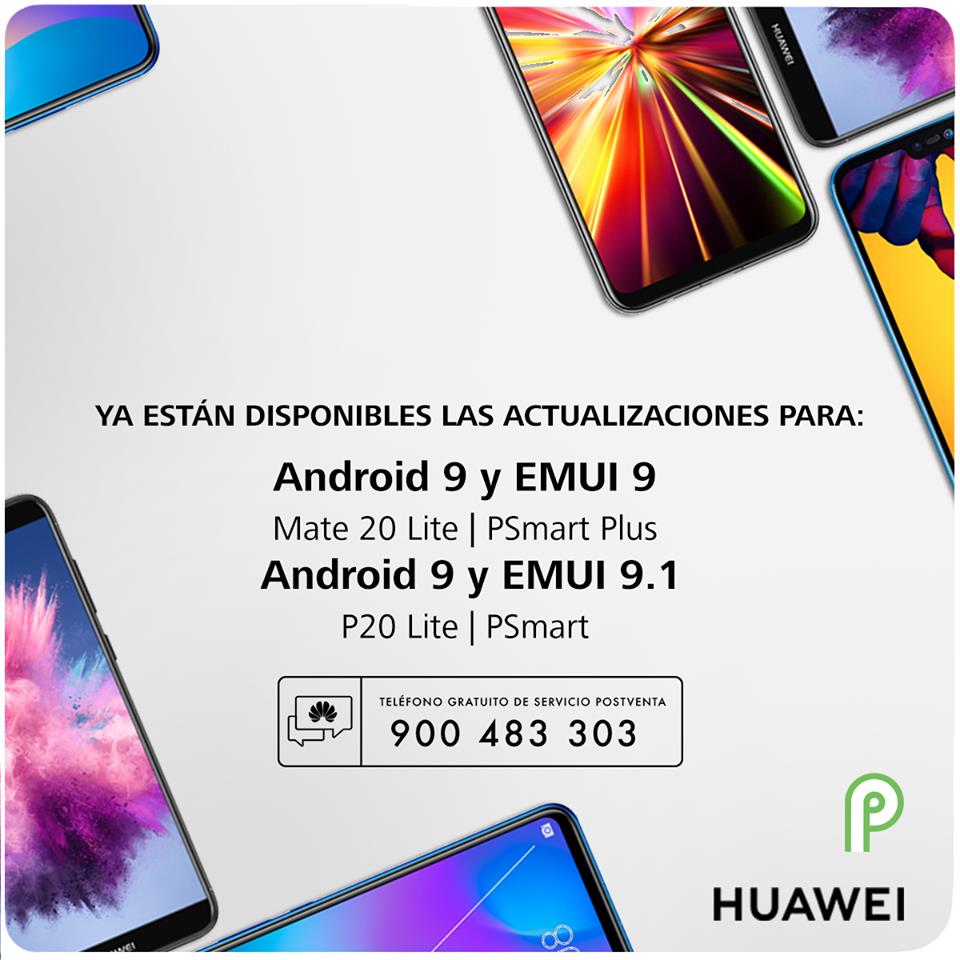 Concerning EMUI9.1, this new version of Android 9.0 comes with a few improvements over EMUI9.0, such as redesigned icons and simplified menus. Overall, EMUI9.1 brings the following novelties:
Redesigned icons, simplified menus and new themes.
Addition of Huawei's EROFS (Extendable Read-Only File System), which complements the existing file system, being F2FS. According to the claims made by Huawei, EROFS allows for random read speeds of up to 20% faster and giving users up to 2GB of extra storage space on their devices.
EMUI9.1 comes with the new version of GPU Turbo, GPU Turbo 3.0, bringing compatibility to 25 different popular games. GPU Turbo optimizes the gaming experience of the user, allowing for higher and more stable framerates with a lower SoC power consumption. According to Huawei, GPU Turbo 3.0 reduces power consumption by 10% compared to GPU Turbo 2.0.
Addition of Huawei Vlog, which allows users to edit videos. The device will also randomly create "Highlight" videos, and add effects to these highlights. Please note that Huawei Vlog is only available through a separate update.
On the P30 Pro, EMUI9.1 and an application released separately add AR Measure, utilizing the ToF camera, allowing users to measure objects. This function is limited to the P30 Pro, and will be included in a later update.
Huawei Share OneHop. We've already covered this feature in detail in a different article. In a few words, Huawei Share OneHop allows users to quickly transfer pictures, videos and other files to a compatible Huawei MateBook. It is also possible to record the screen for up to 60 seconds and share the clipboard between both devices.
Huawei CarKey. Huawei CarKey allows users to unlock their cars without needing the car key, although compatibility is extremely limited for now.
As per usual, before any update that might modify the operating system, it is strongly recommend to backup all personal data using one of the many backup solutions offered, such as Huawei Backup, Huawei Cloud, Huawei HiSuite, or the user's preferred backup method. If, after the update, any issues or bugs appear, it is strongly recommended to factory reset the device, which will most likely fix many of the issues. If these issues do not go away after a factory reset, the user can choose to downgrade the software via Huawei HiSuite, or enter in contact with Huawei's hotline/service centres.
We want to make it clear one more time: this article only concerns European Huawei users and European Huawei devices. We do not have any information on the updates from other regions.
More on this subject:​