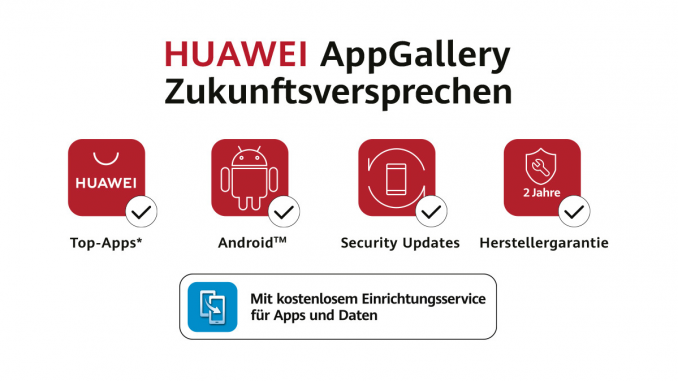 In Germany, Huawei has launched an application allowing users to easily search their favourite applications on newer Huawei devices.
Artículo disponible en Español | Article disponible en Français
In Germany, Huawei has launched an application named "AppSuche" (essentially meaning "AppSearch"), which allows users to easily find where to download a multitude of popular applications. The main purpose of this application is to complement Huawei's AppGallery, as dozens of apps are currently not available in this one. With AppSuche, Huawei is making it easier for "regular" consumers (in other words, users without much technical/software knowledge) to adapt to devices lacking the usual Google services and the Google Play Store, enabling the company to sell their newer devices, such as the Mate 30 Pro or the P40 Lite.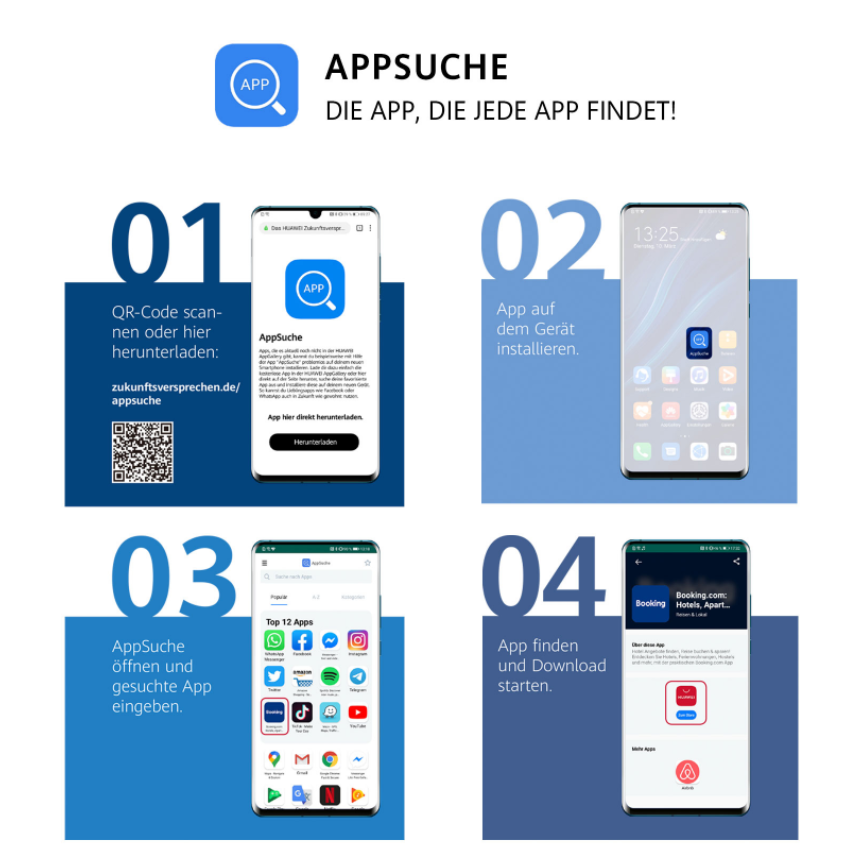 AppSuche is extremely similar to another application named "TrouvApp", which is available in some regions through AppGallery, and does essentially the same. As we've just mentioned, AppSuche is in no way a replacement for Huawei AppGallery, and instead complements it, guiding users to alternative stores where they can find the applications they might require. Of course, we can only hope that AppGallery will continue to grow and eventually offer all the applications we need, without having to go through third-party stores.
If we now have a look at the app itself, which can be download here, this one appears to be currently available in German and English, depending on the system language. We've tested it in French, and in this case, the app launches in German. The app in itself is quite basic, welcoming users with a list of the most popular apps and then being divided in categories and with apps listed in alphabetical order:
Of course, as it can be seen on the second screenshot, this application is aimed at the German market. While many of the applications are international, and can be used by all users, some are specific to Germany, such as the various ALDI apps. Huawei has also gone an extra step and classified the many applications listed in multiple categories, making it easier to find what one is looking for, or possible alternatives to this app.
A quick look at some apps shows Huawei is linking to a number of sources. For instance, for WhatsApp, AppSuche is linking to the website of the developer, as the APK is available on this one. However, if the app is available directly through AppGallery, such as for Telegram, AppSuche provides a link to this one. Otherwise, Huawei also links to "Apk Monk", APKPure, Amazon Appstore, APKMirror or just the browser, such as for YouTube. We've not seen any other stores linked, although we've not gone through each and every app listed:
Further confirming this application is currently only aimed at the German market, the description of each app is only available in German. AppSuche also shows similar applications after the download links, such as Facebook Messenger and Telegram for WhatsApp.
From what we've seen, AppSuche is not a unified effort by Huawei, as, in other countries, the strategies differ. While in Germany the company is already using AppSuche on official marketing material, such as on their P40 Lite advertisements, in Italy, Huawei is talking about TrouvApp on their community forums. The same goes for the French community, with a user having shared TrouvApp.

More on this subject:​