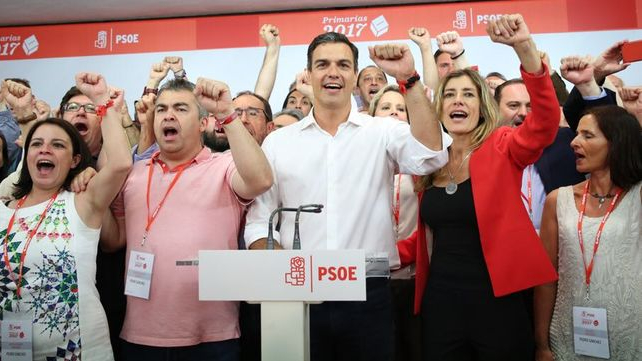 The no-confidence motion led by the PSOE last week ended Friday. Sánchez, from the PSOE, will be the new president until next elections.
Artículo disponible en Español | Article disponible en Français
For the first time since the introduction of the 1978 Constitution, a no-confidence motion against a president of the government has been successful. Mariano Rajoy has become the first president to be dismissed by the parliament.

The PSOE managed to obtain the votes needed for a successful no-confidence motion against Rajoy. With the backing of Podemos and the independentist parties, they obtained in the Congress 180 votes for, 169 against and one abstention. 176 votes were needed.

The new president of the government is Pedro Sánchez of the PSOE. Sánchez has committed to open the dialogue with the Catalonian independentists, as well as respecting the budgets voted by Rajoy's government.

The key party that allowed this no-confidence motion to be successful was the Basque independentists. Ironically, this one had obtained from Rajoy the budget they wanted just a few days before the PSOE filed the no-confidence motion.

Podemos, that had already claimed they would file another no-confidence motion if the PSOEs one failed, has already asked to form part of the new government.

The last words from the today ex-president of the government were "It was an honour, good luck to all". A sentence that, seeing the current situation, is rather ironic. 
More on this subject: