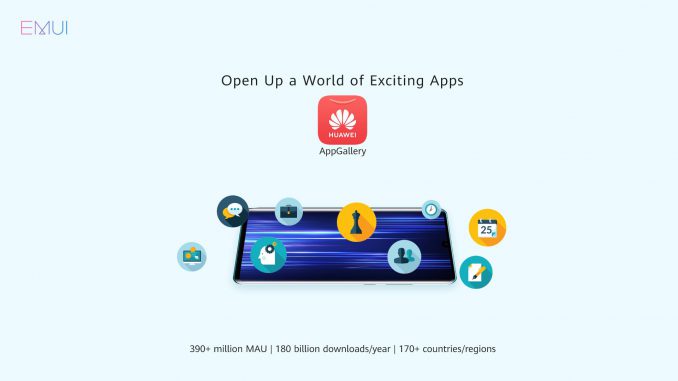 Huawei has just added a new feature to AppGallery, allowing users to pre-order applications to get exclusive benefits.
Artículo disponible en Español | Article disponible en Français
As time goes by, Huawei keeps improving their app store, making it more attractive to existing users that still use the Google Play Store, as well as for future users that might acquire an HMS-only smartphone. While the brand had already made a big presentation effort at the beginning of this year, bringing a "Top collections" feature regrouping the most popular and useful applications in various categories, we now see the arrival of pre-orders, giving exclusive rewards to users. Of course, this feature is not exactly new, with the Chinese version of AppGallery offering the ability to pre-order applications since a long time. However, until now, this feature was unavailable in Europe.
Currently, there are only two applications up for pre-order, both being games, and both with over 1K reservations, being "BlastUP" and "Epic War". Both appear to be releasing this month, in May 2020, although a more specific date isn't provided.
When users decide to pre-order an application, they are presented with two options, being downloading it via Wi-Fi automatically or notifying the user once this one is released:
Pre-ordered applications are all listed in the "Pre-order" section under the "Me" tab on AppGallery. This way, users can easily find and keep track of the applications they've pre-ordered and the rewards they've reserved, as well as further manage these with, for example, the option of cancelling said pre-order. Of course, cancelling a pre-order means the user will also lose whatever exclusive rewards they were going to get initially, which makes sense.
As previously mentioned, this feature isn't exactly new to AppGallery, with Chinese users having had the possibility of pre-ordering games and applications for a while now. With the Chinese market not having a main application store and instead relying on the manufacturers' stores or specific third-party app stores such as Tencent's, each store has thousands of applications, fully covering the needs of users. For this reason, the pre-order section on the Chinese variant of AppGallery has dozens of apps with hundreds of thousands of reservations, as it can be seen on the following screenshots:
The pre-order system is identical to Europe, with pre-ordered applications listed on a separate list under the "Me" tab, and giving the ability of cancelling these pre-orders, losing, once more, any special rewards users were initially entitled to.
Of course, it is also worth noting the customization of the store page of some apps, with Huawei giving developers quite a lot freedom in how to customize these with, for example, a huge banner, special colours and others. As far as we are aware, this customization ability is also available in Europe, with a few developers having made use, or making use, of it.
On the screenshots, we can also notice another addition, being an "Early access games" row, which lists multiple applications that are currently being developed and not yet fully finished. Early access games are not exactly new, with the PC platform Steam easily being one of the main pioneers, allowing developers to publish half-finished games and continue working on them while simultaneously receiving feedback from players. On smartphones, other stores also offer early access games, such as Google's Play Store.

The Chinese version of AppGallery still has a few other features that aren't present abroad, such as a forum on some of the more popular games and applications, where users can share screenshots of the game, post questions, bugs and interact with each other. Developers can also make announcements on this forum, in a similar way to what Steam offers on their platform, with a dedicated "Community hub" for each game. Of course, this specific feature might be relatively difficult to implement outside of China, due to the differences between the Chinese and foreign markets. For instance, while China has a population of 1.4 billion people, with the majority speaking the same language, other parts of the world are divided in smaller territories, with each having their own national language and, in some cases, multiple different languages.
However, one can look at Steam and see how the community has mostly "self-regulated", with the majority of users relying on English to communicate with each other and with the developers, while creating themselves more targeted communities, both on Steam and on third-party platforms such as Discord.
This article was updated on the 8th of May 2020 with information about the forums on the Chinese version of AppGallery.
More on this subject:​