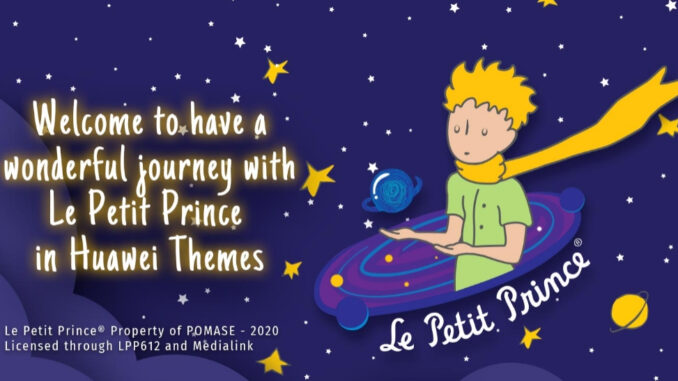 Huawei has launched a collection of themes based around the famous "Le Petit Prince" book.
Artículo disponible en Español | Article disponible en Français
"Le Petit Prince" ("The Little Prince" in English) is a book known all over the world, which has marked generations of children and students, and is, nearly 80 years later, an important literature work, with students in France asked to read the book for school. At the same, Saint-Exupéry's book and its main character, the little prince, have become an impressive money machine, with derived merchandise and collaborations with multiple brands for specific products. Not only this, but the book has an entire official online store dedicated to it, with a physical retail location in Paris. Therefore, it is unsurprising to see a collection of themes for Huawei smartphones with various illustrations of the main character, with each theme coming with its own icons and colours. Before going any further, it might be worth pointing out that these themes are not free, with each costing 0.99€, but coming with a short trial period of a few minutes.
In all, there are 6 different designs to choose from, all costing 0.99€, and with each design having its own features, with, for example, an animated lock screen or, as previously mentioned, a set of customized icons for the applications.
If we start with the first theme, "Look at the Stars", this one comes with a darker theme, with the icons still being fairly easy to understand, which is not always the case with custom themes. Some work has also been done in the default applications, such as in the calling and messaging application, with a different font for the numbers and even an additional drawing for the SMSs.
The second theme, "Little Prince and his Rose", depicts the character with his rose, with this theme being much softer overall. Some work has been done on the numbers on the keypad, making them slightly difficult to read, as both the drawings and the numbers overlap.
The third theme is "Fantasy Planet B612", which comes with a lot of pink.
The next theme, "Life is a journey", depicts the character with his plane. Here, we can start noticing that not all icons are customized for each theme, with some being reused left and right, which, in itself, is not a bad thing, as some colours have been changed to match the overall theme.
The fifth theme is "Expectation of Little Prince" which, again, uses a lot of pink. Here, the keypad is barely visible, due to the choice of colours.
Lastly, we have "Romantic Planet B612".
Huawei regularly makes new exclusive collections for their users, either on their own or in partnership with various well-known companies, photographers, or artists, such as when they released the Notre-Dame de Paris themes last year to commemorate the cathedral.
At the same time, Huawei Themes is a great way to customize the look and feel of the operating system, being able to choose different icons and even lettering, hiding the EMUI style that some people might dislike and thus making the experience more bearable. The manufacturer also regularly pushes out collections matching specific holidays, such as Halloween, together with large discounts to convince buyers. Of course, artists earn part of the royalties from each sale, being an interesting way to promote their art and have an extra source of income.
More on this subject:​