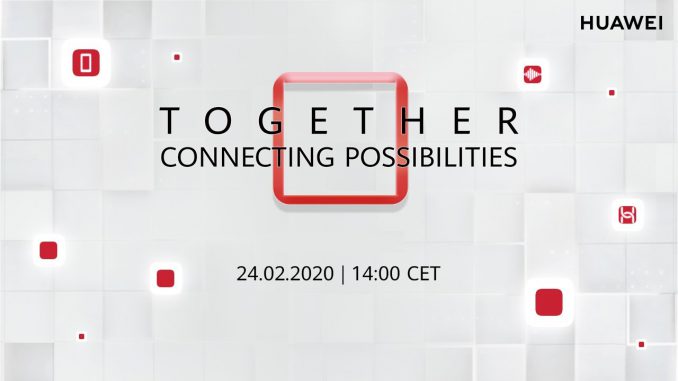 While this year's edition was slightly different from others due to the coronavirus, Huawei still went ahead and presented various new products.
Artículo disponible en Español | Article disponible en Français
This year, the Mobile World Congress ended up being cancelled over fears of the coronavirus. While the cancellation of this important consumer event resulted in the cancellation and the delay of the launch of various products from many brands, some decided to hold their presentation regardless, such as Huawei. However, this year, the company pre-recorded the event with an empty room, and livestreamed this recording on the following day, which is understandable, taking in account the situation.
The presentation opened with a speech from Andrew Garrihy, director of brand at Huawei Consumer Business Group, giving a quick overview of what's to come this year, showing a grand vision of a seamlessly connected world powered by the manufacturer's products.
This speech was followed by the entrance of Richard Yu, the CEO of Huawei's Consumer Business Group, which, as per usual, thanked consumers and partners for their continued support and enabling the brand to be where it is now. Mr. Yu reminded us that, despite the tough year the company has gone through, with numerous accusations of spying and American sanctions, they managed to end the year with an estimated revenue of 850 billion yuan [~110 billion euros], representing an 18% year-on-year growth. The Huawei Consumer BG also managed to place second worldwide in terms of smartphone shipments, with Samsung remaining as number one and Apple shifting to the third position, representing some 240 million smartphones shipped, an 16.8% year-on-year growth. This is unsurprising, seeing the amount of devices Huawei released in 2019, as well as its massive market share in its home market, China.
While the smartphone segment suffered due to US sanctions, other unaffected segments managed to grow at a surprising pace, with PC (MateBooks) and wireless audio (FreeBuds) shipments both increasing by over 200%, and wearables (Watch GT2) shipments increasing by over 170%. Meanwhile, in terms of new products such as 5G smartphones, in other words, the Mate 30 series, the company has already shipped over 10 million units by the end of January 2020, with a 39% growth in this new category.
Huawei also ranked in the top five worldwide in terms of investment in research and development (R&D) for 2019, with over 15 billion euros invested throughout their portfolio of products. Of course, this trend is set to continue.
The presentation then moved to the long-term strategy of Huawei, which we've already covered in various previous articles. This strategy, titled "1+8+N", puts the smartphone at the centre of it, with the 8 referring to 8 different categories of products, such as tablets, PCs, TVs or wearables. Lastly, we have "N", referring to a series of scenarios users are bound to experience, such as watching videos or playing games, with the combination of all these products leading to this final experience. To connect these various categories of products, consumers can also rely on products from the manufacturer, such as routers.
If we now move on to the new products announced during the presentation, we find the Mate Xs, the second foldable phone from the company, which had been leaked and teased for a few months now. This new foldable is, in a few words, an updated version of the Mate X, with most of the specifications remaining unchanged, but coming with an improved hinge and display, as well as an upgraded SoC.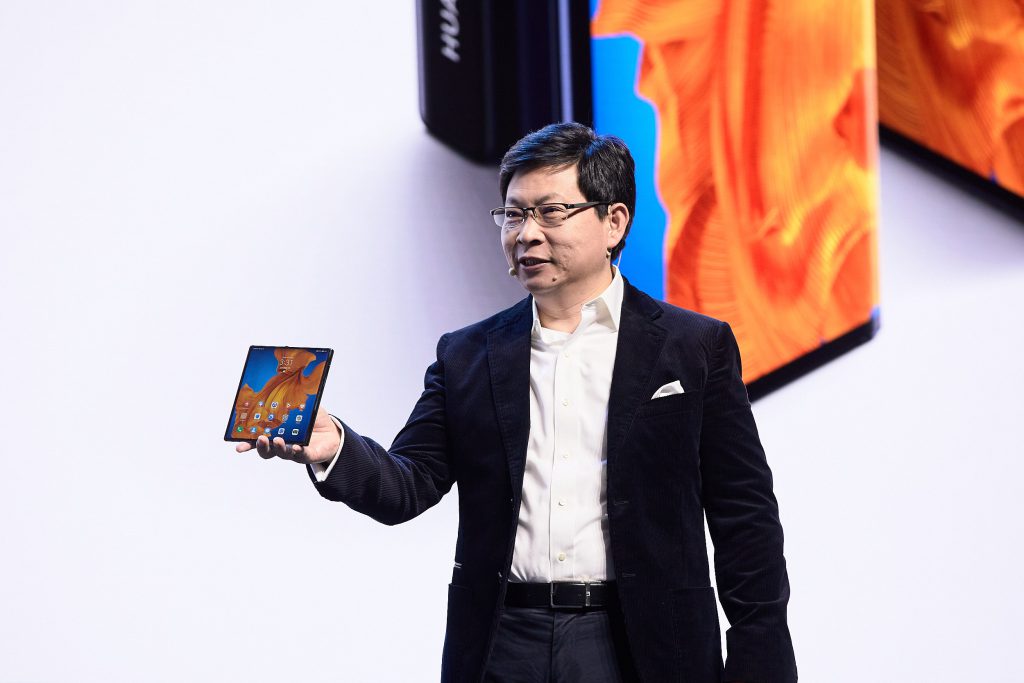 The display is 8" when unfolded, and 6.6" when folded, with the back screen being 6.38". This new flexible display is made with a double layer of optical polyimide, being 80% stronger than a single layer, and, according to the company, the material used is three times more expensive than gold. For the hinge, adopting a "Falcon wing" design, this one has been improved and reinforced, being made of zirconium-based liquid metal, which is 30% harder than titanium alloy. From the presentation and pictures, we can also notice Huawei has added a piece around the hinge area, likely to keep dust and other particles out. The only other change is the SoC, switching the Kirin 980+Balong 5000 for the Kirin 990 5G, being more powerful and energy efficient, making the battery last longer while performing the same tasks. For the rest, we find two small batteries for a total of 4500mAh, with Huawei's 55W SuperCharge, doing 0 to 85% in 30 minutes. The camera remains the same, being 40MP+16MP+8MP+ToF.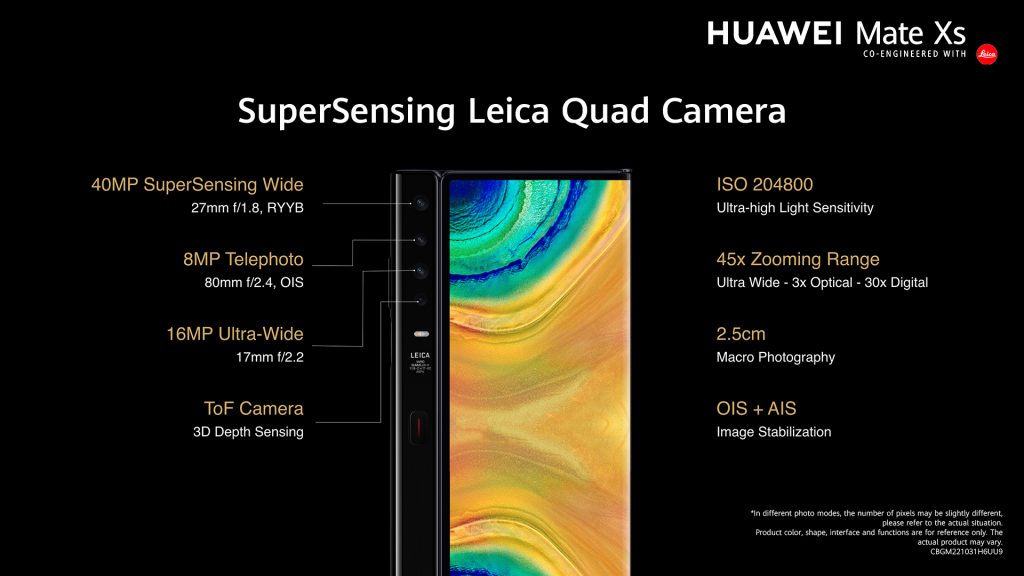 Lastly, we find various optimizations software-wise, improving the multi-tasking experience on EMUI10. The RAM and memory configuration remain unchanged, being 8GB+512GB respectively. However, this year, the price has increased, from 2299€ for the Mate X to 2499€ for the Mate Xs. The device should be available globally next month, in March.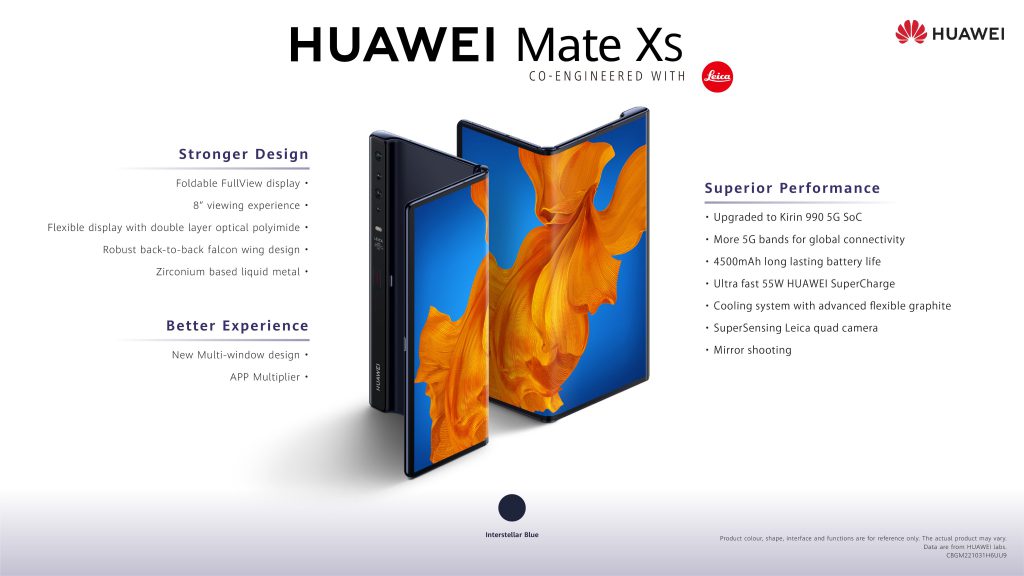 We then have a "new" product, the MatePad Pro and the MatePad Pro 5G. This product is not exactly new, having been announced at the end of 2019 in China, and having been available ever since. This new high-end tablet comes with a 10.8" display and is powered by either the Kirin 990 or the Kirin 990 5G, depending on the specifications. The tablet itself is quite compact, with thin bezels and a thickness of 7.2 millimetres for the regular version, weighting 460 grams. Inside, we find a 7250mAh battery, with Huawei's 40W wired SuperCharge and supporting 15W wireless charging. However, the 5G variant supports Huawei's 27W wireless SuperCharge. In terms of RAM and memory configurations, there are various options, ranging from 6GB+128GB to 8GB+128/256/512GB, and coming with EMUI10 with various optimizations to make full-use of the display of the tablet, such as APP Multiplier, a new feature from Huawei, which displays an application with two different views. We also find features such as multi-screen collaboration, previously seen on the MateBooks, which allows to connect and display the smartphone screen directly on the tablet, making multi-tasking easier.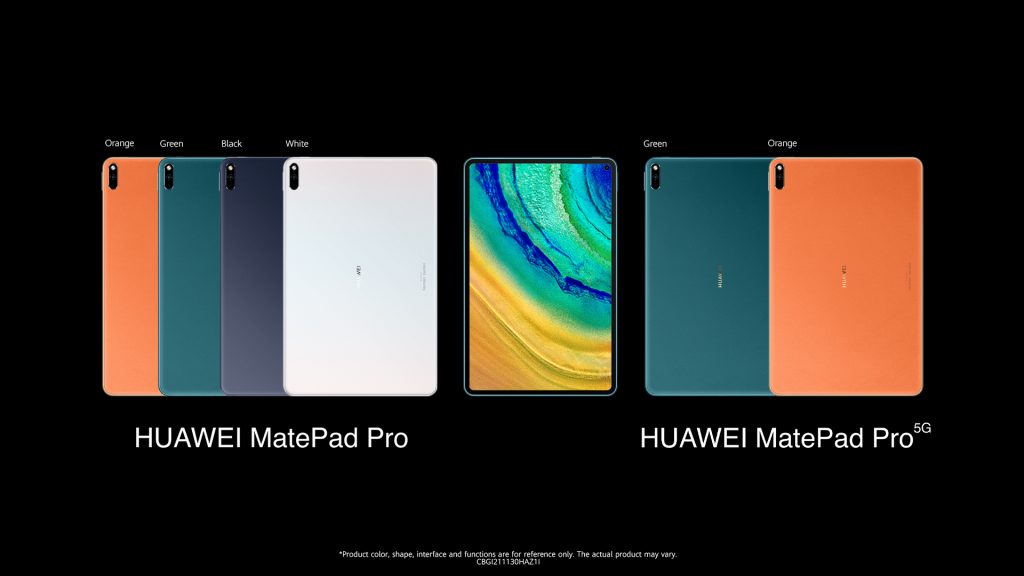 There are various accessories available with the MatePad Pro, such as a Bluetooth keyboard which pairs automatically and supports wireless charging, costing 129€, or a new pen, the "M-Pencil", supporting 4096 levels of pressure sensitivity, tilt for shading, palm rejection and wireless charging, and costing 99€. The MatePad Pro is also available in a rather refreshing set of colours, being orange, green, black and white, with the orange and green being vegan leather, as seen on the Mate 30 series. The regular MatePad Pro should be available globally from April onwards, with various versions available, ranging from 6GB+128GB for 549€ to 8GB+256GB+M-Pencil for 749€. Meanwhile, the 5G variant will be available in 8GB+256GB/512GB, for 799€ and 949€ respectively. We also have two other accessories, the MatePad Sleeve and the folio cover, each costing 39€.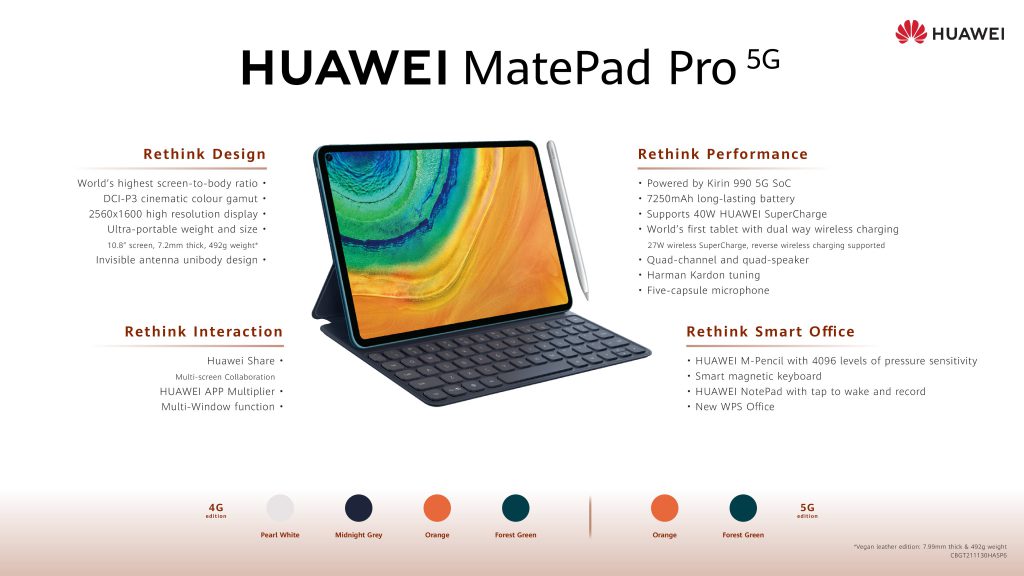 As with previous editions of the Mobile World Congress, Huawei announced updated versions of the MateBook laptops, with a new MateBook X Pro (2020), which further improves on the 2019 version with a tactile FullView display, with a resolution of 3000×2000, and the usual webcam hiding under a key. Inside, we find Intel's 10th generation of CPUs, with an i5 variant and an i7 variant, with the i7 being the i7-10510U, a mobile processor with 4 cores and 8 threads, a base frequency of 1.80GHz and a max turbo frequency of 4.90GHz. For the GPU, the MateBook X Pro (2020) settles for the Nvidia MX250, and comes with 16GB of RAM. Here too, Huawei introduces a new colour, Emerald Green, joining the Space Grey and Mystic Silver variants. Pricing-wise, the laptop will start at 1499€ for the i5 version and go up to 1999€ for the i7 version, with no mention of the availability.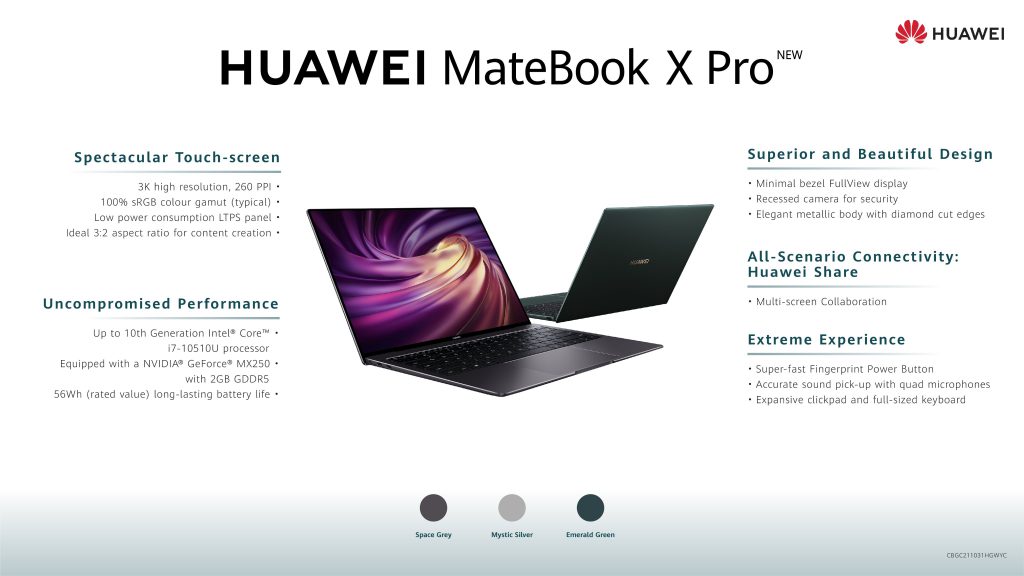 Of course, we also find updated versions of the MateBook D 14 and MateBook D 15, which also feature Intel's 10th generation, or AMD's Ryzen 7 mobile processors coupled with Radeon RX Vega 10 graphics, depending on the model. Huawei has also updated the cooling, adding more blades on the fan, thus increasing the airflow. We also see the arrival of features that, until now, were only seen on the MateBook X Pro line-up, such as a fingerprint reader on the power button or the camera hidden under a key on the keyboard, reducing the size of the bezels.
The MateBook D line-up also features more connectivity thanks to its bigger size, with both the MateBook D 14 and 15 having a USB-C and HDMI port, a headphone jack, as well as two USB-A ports on the MateBook D 14 and three of them on the MateBook D 15. Pricing-wise, the MateBook D 15 starts at 649€ and goes up to 949€, while the MateBook D 14 starts at 699€ and goes up to 949€, depending on the specifications. Availability-wise, nothing was mentioned, although they should be coming out soon.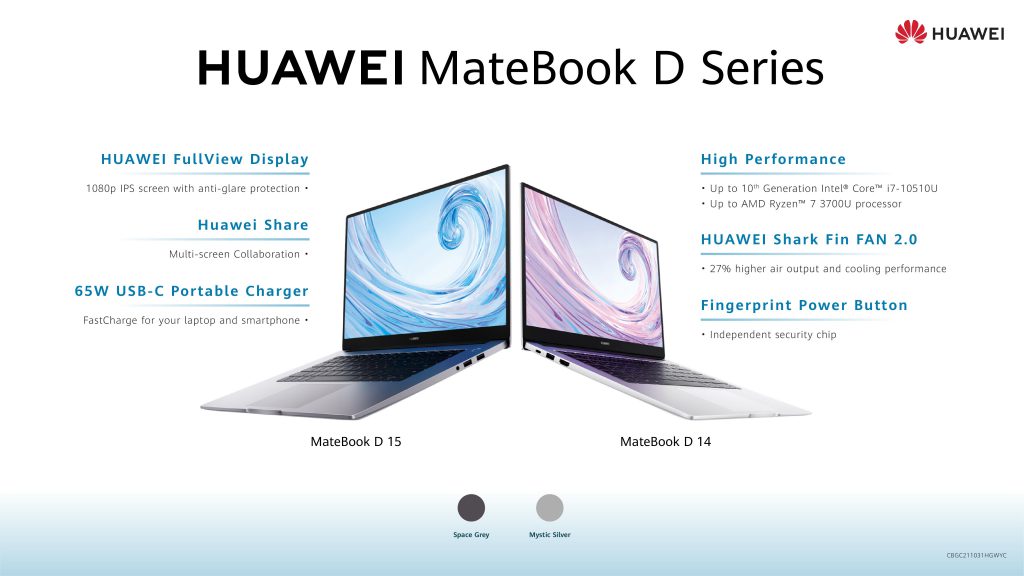 To connect these various products, the manufacturer announced a new router, the Huawei WiFi AX3, featuring WiFi 6 and what the company calls "Wi-Fi 6+", a faster variant supporting the 160MHz band on 5GHz, pushing download speeds to up to 2400Mbps. This router also comes with technology to improve the signal strength in case there are obstacles between the router and the devices.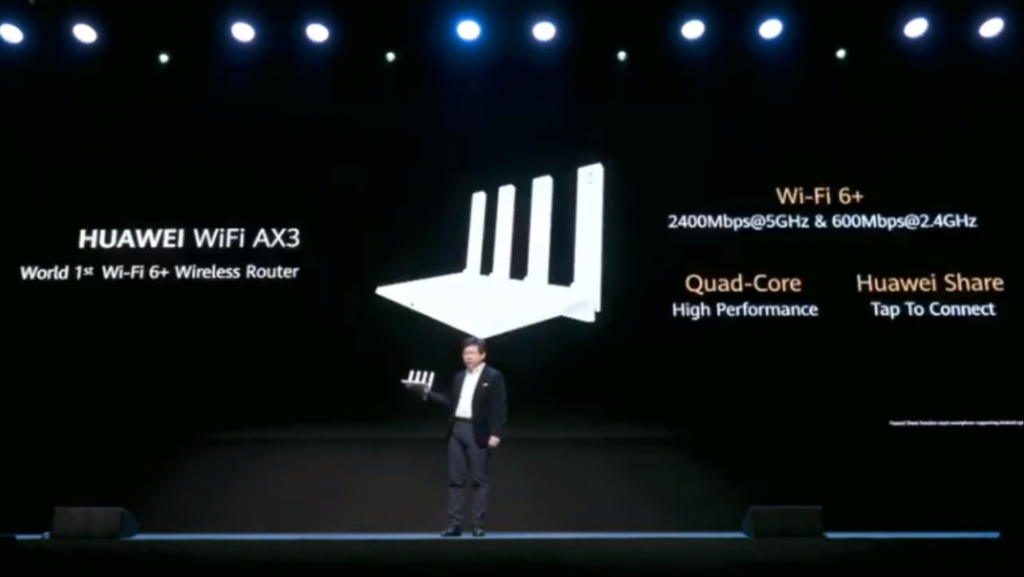 The manufacturer also used this opportunity to announce two new chipsets compatible with their Wi-Fi 6+, the Gigahome 650 for routers and the Kirin W650 for smartphones, which, logically, we should be seeing in future smartphones of the brand.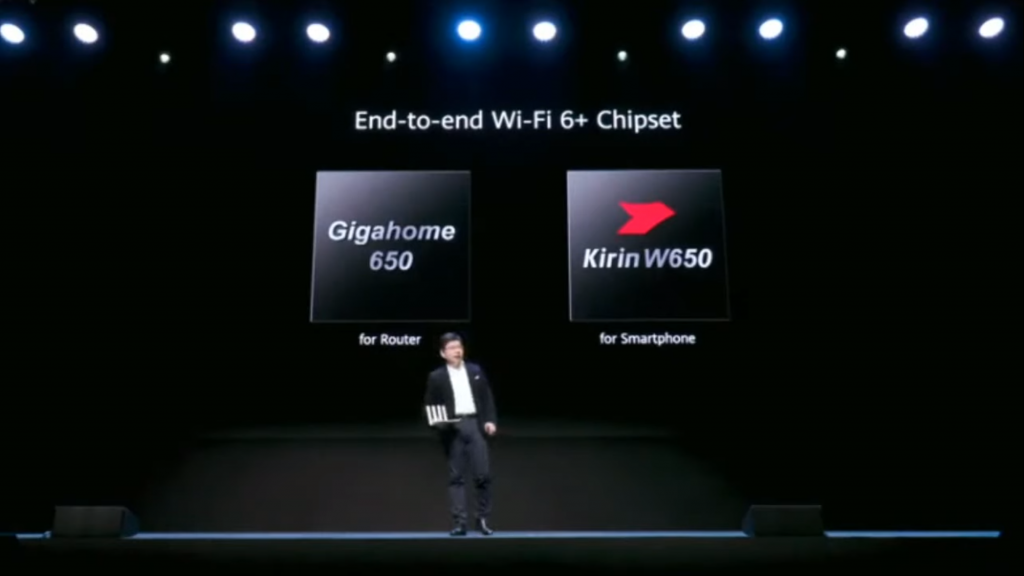 Huawei also showcased an updated version of their 5G CPE Pro, the 5G CPE Pro 2, a 5G router that can be used to provide an internet connection to both homes and businesses. Just as the AX3, this new 5G router supports Huawei's Wi-Fi 6+, with download speeds of up to 2400Mbps on the 5GHz channel and 600Mbps on the 2.4Ghz channel. For 5G, Huawei claims their router can support download speeds of up to 3.6Gbps, with 11 different 5G bands covered, making this product compatible with the networks of various carriers throughout the world.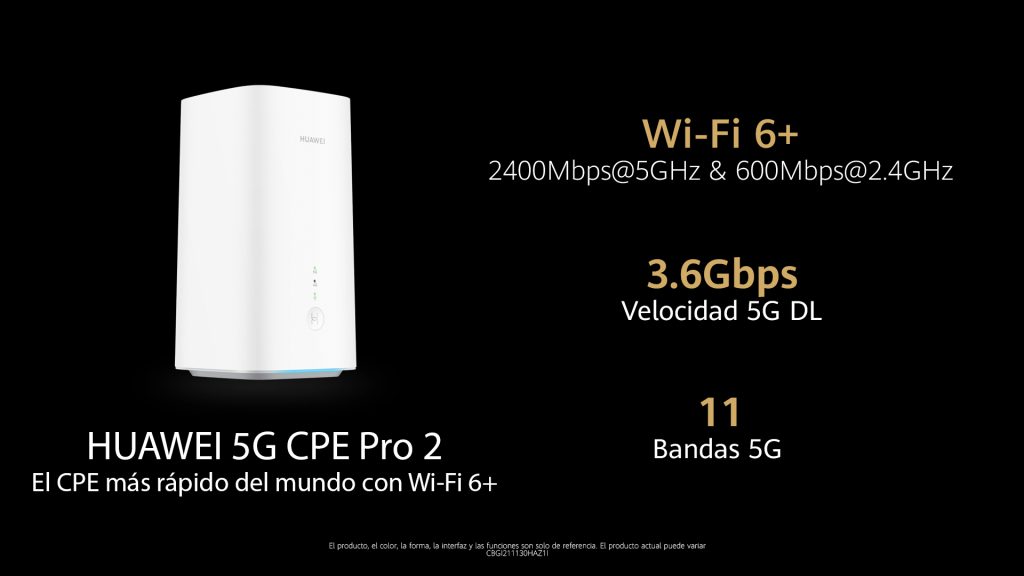 We also see the launch of a 5G module for IoT products, the Huawei 5G Module MH5000, compatible with both NSA/SA network architectures, with download speeds of up to 2.3Gbps and working in some of the toughest environments, with temperatures ranging from -40ºC to 85ºC. The manufacturer claims this chipset can work for over 10 years, which is rather impressive, and that it comes with an industrial LGA package for easy integration with a wide range of products. It also supports 18 different types of hardware interfaces.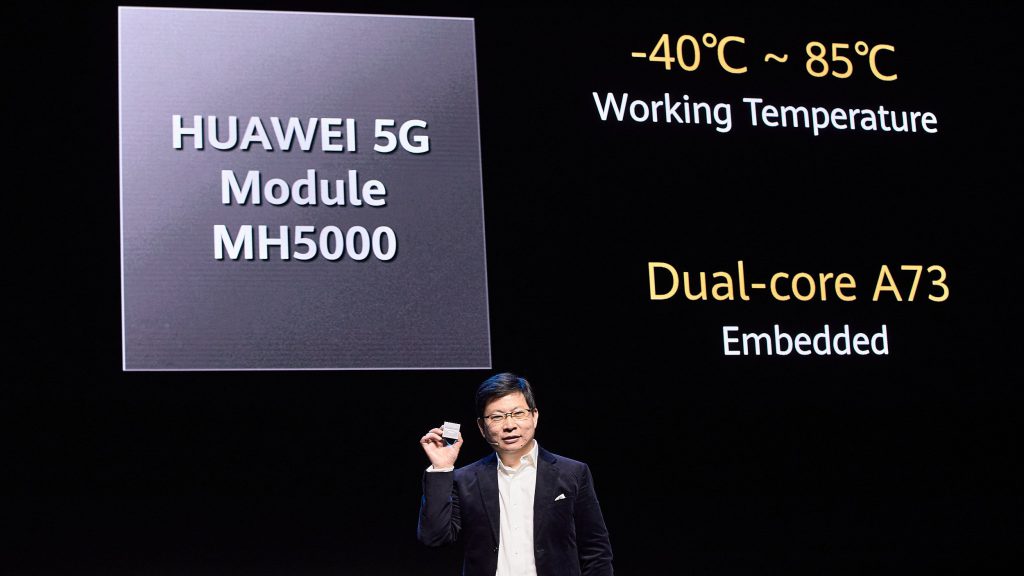 The launch event ended with some more details about Huawei's long-term strategy, with a more in-depth presentation of the Huawei Mobile Services and the HMS Core, which is now updated to HMS Core 4.0, with easier and faster implementation in applications. The manufacturer also reminded us that, last year, they launched the "Shining-star" program, a 1 billion USD fund to convince developers to join their platform, and organized, and still organizes, over 100 different events worldwide to present their services and provide help to developers. The company has also launched a series of easy to implement "Kits", such as the Camera Kit, Location Kit or Scan Kit, which, as the name imply, allow apps to use the camera, location or the scan feature on Huawei smartphones, without having to use a third-party service… such as Google's.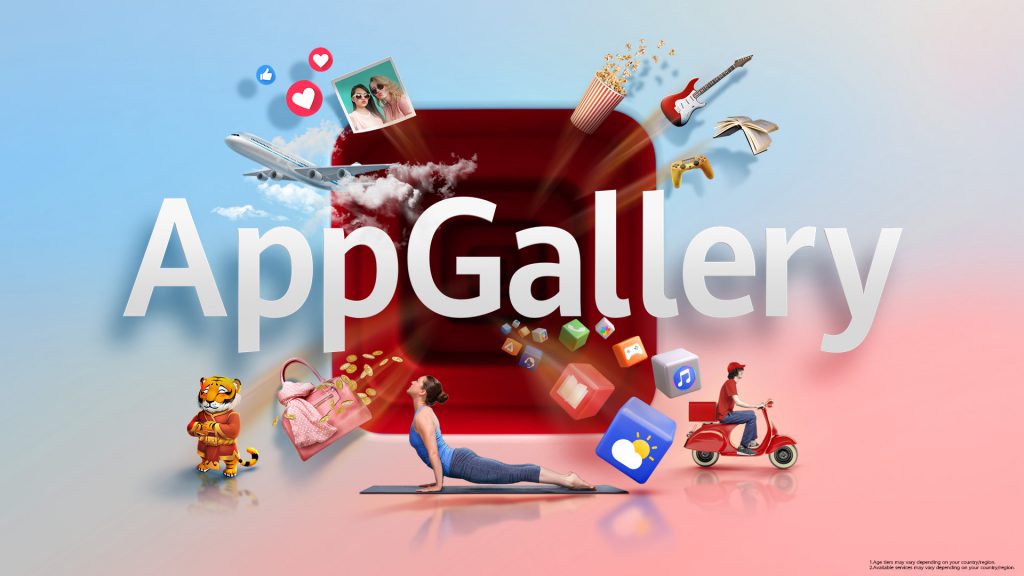 The manufacturer is also betting on their existing userbase to convince developers, covering 170 different countries and having over 400 million monthly active users, a non-negligible number, and with their app store ranking 3rd worldwide. The same can be said about the many services the brand has, such as their browser, Huawei Music, Video or Reader, the Huawei Mobile Cloud and others. Furthermore, Huawei has been convincing some of the most popular developers in each region to join their service, with AppGallery now offering dozens of popular applications from regions such as Asia-Pacific, Middle East & Africa or Europe. Sadly, while the effort is commendable, AppGallery is still far from being usable, with key applications such as WhatsApp or Facebook still not present.
Ultimately, it is clear that the brand has no intention of sitting back and disappearing from the West without putting up a fight first, using part of their large resources to finance the expansion of their ecosystem outside of China, and, eventually, offering a comparable or better experience and ecosystem than their rivals.
More on this subject:​